California Affordable Homes in Short Supply After Cuts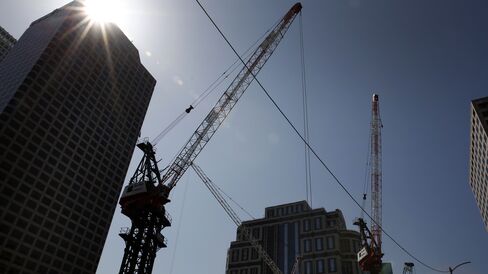 The 160 units at Santa Monica, California's Belmar Apartments received 4,600 applications ahead of the project's July opening, a measure of the competition for scarce affordable housing.
The Related Cos. project, where two-bedroom units rent for $946 a month, is among the last built with financing from redevelopment agencies, the taxpayer-backed programs that Governor Jerry Brown eliminated three years ago to help balance California's budget. Without that source of $1 billion a year, the state's supply of funds for building low- and moderate-income housing is running dry as real estate prices surge.
"The abolishment of the redevelopment agencies by Governor Brown is the single biggest problem" for affordable housing, said William Witte, president of Related's California division, which also is seeking buyers for condominiums next to Belmar with an average price of $2.4 million. "Since there's little to no help from the federal government, the loss of redevelopment funds is devastating."
As Brown runs for re-election, the most-populous state faces a shortage of about 1 million affordable homes, according to the California Housing Partnership Corp. The state's economic renaissance, fueled by the growth of technology companies including Apple Inc. and Google Inc., is leading to surging rents and home prices that are outpacing wage gains, leaving fewer households able to limit their residential spending to 30 percent or less of the local median income.
'Hot Economy'
"It is one of the negative consequences of a hot economy," Brown said during a Sept. 10 press conference in Los Angeles. "Under the capitalist regime, when prices are bid up, the prices go up."
Renters in the Los Angeles area pay about 48 percent of their incomes for shelter, the biggest share of any major U.S. city, according to a report last month by property-research company Zillow Inc. The second-largest U.S. metropolis has a 490,000 affordable-unit deficit, according to the not-for-profit California Housing Partnership. The partnership defines affordability as no more than 30 percent of the local median household income, which was $97,100 in San Francisco and $60,600 in the Los Angeles area, according to Department of Housing and Urban Development data.
In downtown Los Angeles, which has experienced a housing-development boom, more than 3,400 of the 20,000 apartments and condos built since 1999 are considered affordable. Of the area's 22,000 units planned or under construction, just 69 are affordable, said the Central City Association of Los Angeles.
"There are no subsidies, no government assistance," Carol Schatz, the group's president, said in an interview.
Projects Planned
Downtown residential developments planned or under way include projects by Forest City Enterprises Inc., MacFarlane Partners and Mack Urban, as well as the $1 billion Metropolis by Shanghai-based Greenland Holding Group Co., which will include apartments, condominiums and a hotel.
Government programs to intervene in the housing market, such as rent subsidies, have proven ineffective, Brown said during the question-and-answer portion of a Sept. 10 press conference on the signing of a worker sick-leave law.
"That has never provided much affordable housing, at least in the time that I've been around," said Brown, 76, who's seeking his fourth term as governor, including two terms from 1975 to 1983.
Financing Homes
Redevelopment agencies helped finance the construction and rehabilitation of almost 200,000 low- and moderate-income homes since 1984, said Tom Hart, the last executive director of the California Redevelopment Association, the lobbying group for the 400 local agencies. The agencies lacked accountability and did little to ease the affordable-housing shortage, Brown has said.
California, the world's eighth-largest economy, has added 1.42 million jobs since the depths of the recession. The state's total non-farm employment rose to a record 15.5 million positions in July, the most recent month for which figures are available, according to the U.S. Bureau of Labor Statistics.
In San Francisco, where technology companies including Twitter Inc. and Salesforce.com Inc. are based, home prices jumped 14 percent in August from a year earlier to a median $940,000, CoreLogic DataQuick said. In Los Angeles County, values climbed 8.4 percent to $465,000, and statewide they gained 8.9 percent to $393,000, tying June's median for the highest since December 2007, the Irvine, California-based real estate information service said. The state accounted for about 10 percent of U.S. residential sales last year.
Loan Qualifications
Only 30 percent of California households earned enough in the second quarter to qualify for a mortgage on a median-priced single-family home, down from 36 percent a year earlier, according to the California Association of Realtors. In the San Francisco Bay area, only 20 percent could qualify, the trade group said. That compares with 57 percent qualification rate nationally.
Pending home sales in the state fell 8.7 percent in August from a year earlier as "diminished housing affordability continued to hold back" transactions, the California Association of Realtors said in a report today.
"There's a combination of declines in median incomes combined with a real-term increase in housing prices," Matt Schwartz, president of the San Francisco-based California Housing Partnership, said in a telephone interview. "That's a structural shift that we haven't seen before. And that's why we believe there's a strong case for a major state intervention."
'Chilled' Atmosphere
Brown has "chilled the atmosphere" for finding state solutions to the affordable-housing crunch, said Schwartz, whose group has six of its eight board members appointed by the governor. Last year, Brown vetoed a bill that would have let local governments require that developers devote a portion of their projects to affordable rentals. That decision put Brown "well on his way to becoming the most anti-affordable-housing governor in history," Schwartz said at the time.
Developers say they need government assistance to build affordable housing. Redevelopment funds covered about a quarter of the cost of projects by Mercy Housing, a nonprofit builder that opened apartments this year in San Francisco's Mission Bay district, said Doug Shoemaker, president of the Denver-based company's California division.
The 150 low-income units in Mission Bay drew applications from 3,000 would-be renters, and a 90-unit senior-housing project in San Francisco's Tenderloin district garnered 2,000 applications, according to Shoemaker. Mercy Housing is searching for funds to meet demand, he said.
Corporate Housing
"Any time I speak to corporate executives in banking, tech, hospitality -- really in any field -- they always talk to me about affordable housing because they can't find a place for their workforce," Shoemaker said. "If you look at what people earn in the hotel and retail sector, they can't afford market-rate places."
High housing costs threaten the economic recovery -- "California's comeback" -- that Brown touts in his re-election campaign, according to Chris Thornberg, principal at Beacon Economics LLC, a Los Angeles-based research and consulting firm.
"If you don't have housing, you can't do labor," he said in a telephone interview. "If you can't do labor, you are missing a major ingredient for economic growth."
Rents and home prices were a factor in Toyota Motor North America Inc.'s decision, announced in April, to relocate its headquarters from the Los Angeles suburb of Torrance to Plano, Texas, costing California at least 2,000 jobs.
Toyota Decision
"Plano will offer our employees many benefits, including a moderate cost of living, affordable housing and direct travel" to the automaker's factories, suppliers and affiliates, Javier Moreno, a Toyota spokesman, said in an e-mail.
Anthony Hsieh, chief executive officer of mortgage company LoanDepot LLC, said he employs two-thirds of his 3,000 workers outside California, where the high costs of real estate and taxes make it tougher to recruit.
"As an employee or worker, your net cash to spend after housing is less than other states," Hsieh, whose company has dual headquarters in Foothill Ranch, California, and Plano, said in a telephone interview.
Brown eliminated redevelopment agencies after repeated state budget deficits, including a $25 billion gap in 2011, the first year of his current term. This year's budget has a gross surplus of $4.2 billion, with $1.6 billion banked into a "rainy day fund" for future downturns, according to H.D. Palmer, a spokesman for the California Department of Finance. The turnaround spurred Moody's Investors Service to raise its view of California general obligation bond debt to a prime Aa3 rating in June, the highest since 2001.
Lacking Accountability
In addition to the budget savings from eliminating the agencies, Brown cited critical reports by the state controller and legislative analyst's office that found a lack of accountability and billions of unused dollars for affordable housing on the agencies' books.
"There were large balances in a lot of these agencies for low-income housing that had not been spent," Palmer said.
Redevelopment agencies were required to spend at least 20 percent of their $5.5 billion in annual revenue on housing. After their elimination in 2012, the state redirected some of the savings -- $1.55 billion in the two most recent years combined -- to city, county and other local government agencies for any type of spending, Palmer said.
"If they want to apply it to affordable housing, there's nothing to stop them from doing that," Palmer said.
Easing Rules
Thornberg, the Los Angeles-based economist, said that redevelopment agencies never provided significant assistance to low- and moderate-income Californians seeking homes. Policy makers should instead focus on easing regulatory restrictions that hold up all types of housing projects, he said.
"When they were bragging how redevelopment agencies had created all these affordable housing units, that's ridiculous," he said. "The key is, you don't build affordable housing, you build housing. Period. And parts of that will become affordable. It's the trickle-down housing theory."
Brown's solutions for easing the affordable-housing shortage include construction of higher-density residential projects, reduced environmental regulation and improved mass transit, including a high-speed railway, to bring less-expensive homes within reach of jobs.
"It can't be totally compensated by going to borrowing or by taxing and shoving that money on top of a very hot real estate market," Brown said during his Los Angeles visit. "I wish there were a better answer, but those are the facts as they have been since the first time I ran for office."
Kashkari Plan
Neel Kashkari -- the Republican gubernatorial candidate challenging Brown, a Democrat, in November -- has a "plan is to create jobs so that more Californians can achieve the American dream of owning a home," Mary-Sarah Kinner, his spokeswoman, said in an e-mail. "Neel's regulatory plan would help reduce the cost of housing, thereby helping more Californians buy homes." She didn't provide specific proposals.
Witte, the Related Cos. executive and a former director of the City of San Francisco Housing Authority, said it's bad social policy to have such a low level of home affordability. His company has developed more than 9,000 low- and moderate-income units in California, including at the Emerson in downtown Los Angeles, which opens next month with 20 percent of its residences designated affordable.
"I hesitate to use the term moral obligation," he said. "But in a progressive, civilized country, affordable-housing communities are needed to be a truly balanced society."
Before it's here, it's on the Bloomberg Terminal.
LEARN MORE