BlackBerry's Square Passport Phone Targets Business Users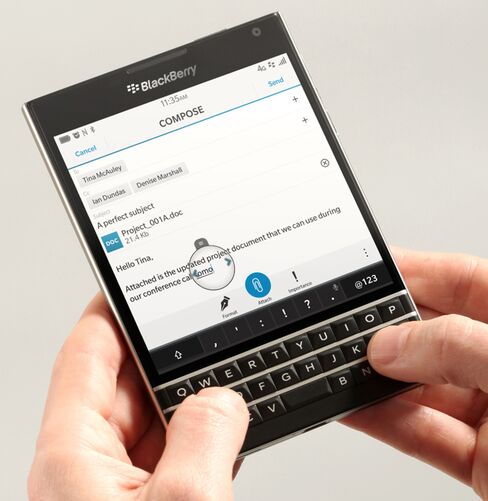 BlackBerry Ltd.'s plans to unveil a square-screened smartphone are further emphasizing Chief Executive Officer John Chen's shift away from the consumer market toward business and professional users.
The Passport is BlackBerry's first major new device slated for a global introduction since Chen set out in November to turn around the company, and some details of the mobile phone have been slowly released for months. BlackBerry has scheduled events tomorrow in Toronto, London and Dubai -- two days before the company releases second-quarter earnings results.
The Passport has a 4.5-inch (11.4-centimeter) screen and a qwerty keyboard that doubles as a touch-sensitive swipe pad, and the focus on work productivity stands in contrast to Apple Inc.'s new iPhone 6 and larger iPhone 6 Plus that cater to video consumption for the consumer market. BlackBerry will sell the new handset for $599 in the U.S. without a mobile plan, undercutting the iPhone 6, which went on sale last week for $649.
Since taking the helm, Chen has outsourced manufacturing to Foxconn Technology Group and focused BlackBerry's efforts on selling device management and messaging software to security-conscious companies and governments. The Waterloo, Ontario-based company's software is now available on iPhones and Android devices.
It's all part of Chen's plan to reach break-even cash flow by the end of this fiscal year and return to profitability during the year that will end in March 2016. The company isn't there yet, and analysts are projecting a loss of 15 cents a share, excluding one-time items, for the quarter than ended Aug. 31.
Consumer Dependence
BlackBerry is trying to win back business users as its market is shrinking because more employees are opting to bring their own device to work, said Ehud Gelblum, an analyst at Citigroup Inc. He estimated the number of employer-provided phones bought each quarter to be around 1 to 1.5 million, down from about 3 million four years ago.
"We therefore believe the success of the device business is once again in the hands of BlackBerry's consumer fans, counter to CEO Chen's enterprise first strategy," Gelblum wrote in a note to clients yesterday.
There's stiff competition to win over consumers these days. Apple sold a record of more than 10 million iPhones the first weekend its two new versions hit stores sporting displays of 4.7 inches and 5.5 inches.
Apple, IBM
Apple is moving into business services, too. The tech giant announced a partnership with International Business Machines Corp. in July to get more iPhones and iPads into businesses and expand IBM's mobile services.
On its company blog, BlackBerry has been touting the benefits of the Passport's square screen and new keyboard for professional customers: better views of Excel spreadsheets on a wider screen, higher resolution to examine X-ray images, and BlackBerry Assistant to get stuff done while you're driving.
"BlackBerry's CEO's attempts to convince Enterprise CEOs and CIOs to give BlackBerry a second chance is bearing some positive results," Mark Sue, an analyst at RBC Capital Markets, wrote in a note yesterday. "The improvements in the balance sheet and restructuring in the business is providing the challenged company much needed time to turn things around."
One thing Chen has accomplished so far is building momentum with investors. The stock had risen 68 percent through yesterday since he was named CEO, giving the company a market value of about $5.8 billion. It's still a far cry from the company's peak of $83 billion.
Today, the shares fell 3.4 percent to $10.56 at the close in New York.
Before it's here, it's on the Bloomberg Terminal.
LEARN MORE