Alibaba Arm to Create $163 Billion Loans Marketplace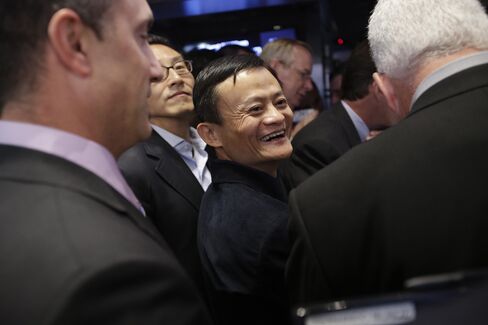 Alibaba Group Holding Ltd.'s finance arm aims to create a marketplace for 1 trillion yuan ($163 billion) of loans in as soon as two years as the e-commerce group encourages more Chinese to borrow and lend.
Alibaba in April started Zhao Cai Bao, a platform that lets small businesses and individuals borrow from investors directly, and has created a 14 billion yuan marketplace, Yuan Leiming, a general manager at Alibaba's financial arm, said yesterday.
The platform allows a borrower to tap a maximum of 200 investors after a financial institution has guaranteed the loan and made sure the money will be paid back. Zhejiang Ant Small & Micro Financial Services Group Co.'s push comes as Alibaba completed a record $25 billion initial public offering in New York this month.
"There was a strong demand for investment products that provide higher returns," Yuan, who is also the chief executive officer of Zhao Cai Bao, said at the Hong Kong Institute of Bankers conference. "Think of us as an exchange for loans."
The finance arm, which is controlled by billionaire Jack Ma, already owns a small-business lending unit, a money-market fund known as Yu'E Bao, a Paypal-like service Alipay, and is close to submitting an application for a banking license.
Alibaba in June 2013 created Yu'E Bao and attracted 574 billion yuan of funds by the end of June this year.
Alibaba fell 3 percent to $87.17 in New York trading yesterday, extending a two-day drop. The stock jumped 38 percent to $93.89 on its first day of trading on Sept. 19.
Investment Returns
Zhao Cai Bao has listed about 11,000 products. The annualized return on a loan for a period of six to 12 months is at least 5.5 percent, according to the company's website.
The online platform is working with more than 40 financial institutions to help guarantee the credit, including Ping An Bank Co. and Zhongan Online Property and Casualty Insurance Co., in which Alibaba's finance arm owns a stake, said Yuan.
"I don't think individual investors have the ability to evaluate the risks in the financial products, so it's up to the financial institutions to screen the risks," said Yuan.
The average loan size has been about 70,000 yuan, said Yuan. There is no cap on how much an individual can invest. The minimum threshold usually depends on the loan size divided by the maximum 200 investor quota.
Zhao Cai Bao plans to attract 1 million people and small businesses to issue loans on the platform by the end of this year, said Yuan.
Alibaba has indicated that the financial arm could conduct its own public offering in the future, and the implied equity value would be at least $25 billion, according to a filing with the U.S. Securities and Exchange Commission.
The e-commerce operator's relationship with its financial business has been a point of contention since Ma transferred Alipay to a company controlled by the billionaire.
Before it's here, it's on the Bloomberg Terminal.
LEARN MORE