Weak Yen Puts Japan at Risk, Says Ex-BOJ Deputy Iwata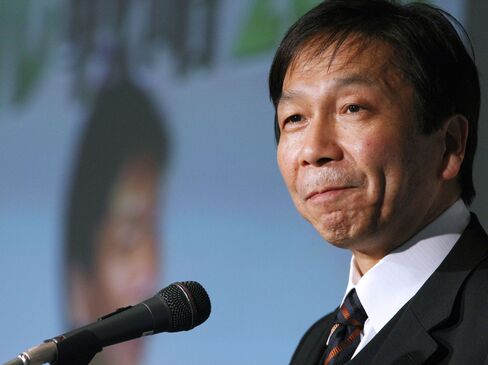 Japan is in danger of falling into a recession as the yen's decline reduces the purchasing power of households and squeezes corporate profits, said a former deputy governor of the Bank of Japan.
"The current yen weakness is slightly excessive," Kazumasa Iwata, the deputy from 2003-2008, said in an interview on Sept. 19 in Tokyo. "Abenomics entails the risk of 'beggar thyself' consequences and signs are already emerging."
The yen is trading near a six-year low against the dollar as diverging monetary policies from the U.S. to Japan threaten to increase exchange-rate volatility. Rising import costs are straining the economy as Prime Minister Shinzo Abe weighs whether Japan can take another sales tax increase to rein in the world's biggest debt burden.
"Currency levels appropriate for reflecting Japan's economic fundamentals are 90-100 yen to the dollar," said Iwata, the president of the Japan Center of Economic Research.
The yen traded at 108.80 per dollar as of 1:51 p.m. in Tokyo after touching 109.46 on Sept. 19, the weakest since August 2008, according Bloomberg data. It's depreciated by 4.5 percent over the past month, the most among the 16 major currencies tracked by Bloomberg.
Haruhiko Kuroda, the BOJ governor handpicked by Abe in 2012, has said he'll do what's needed to achieve the inflation target as he continues unprecedented easing.
Speaking at a Group of 20 meeting in Cairns, Australia, on Sept. 19 after the dollar rose above 109 yen, Kuroda said he didn't see any big problems with current movements in exchange rates.
Kuroda's View
"It's important for foreign-exchange rates to move in a stable manner by reflecting economic fundamentals," he said. "It's natural for it to move in accordance with changes in economic fundamentals."
The central bank should ease monetary policy further if inflation drops below 1 percent, and needs a more realistic timeframe to achieve its 2 percent target, according to Iwata.
"BOJ should scrap the two-year framework for its price stability goal and extend to five years and stick to it," he said. "That's the most that monetary policy can do."
While the weaker yen has made some Japanese manufactured goods cheaper in global markets, rising import prices also mean higher production costs.
Consumer prices excluding fresh food -- the BOJ's main gauge -- rose 3.3 percent in July from a year earlier, with electricity prices climbing 8.5 percent. The corporate goods price index, a measure of wholesale prices, rose 3.9 percent in August from a year earlier, a 17th straight increase, with import prices gaining 4.5 percent, according to BOJ data.
Sales Tax
Abe should go ahead with a plan to raise the sales tax to 10 percent in next year after increasing the levy to 8 percent in April, said Iwata.
If he doesn't, investors may lose their appetite to buy Japanese government bonds, Iwata said.
Japan risks "secular stagnation" if it fails to boost productivity through its growth strategy, and fiscal collapse if investors turn away from its bonds, he said.
Before it's here, it's on the Bloomberg Terminal.
LEARN MORE