China's IPhone 6 Craving Leads to Fistfight in Connecticut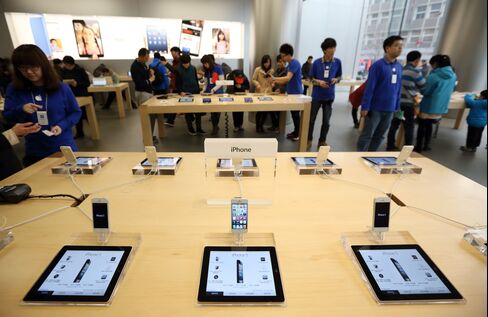 Shoppers at an Apple store came to blows over the chance to resell iPhones in China for as much as four times their retail price.
Fistfights broke out between rival groups in line at the Apple outlet near Yale University in New Haven, Connecticut, according to the city's police department. Three members of two New York-based groups were arrested after a fight among more than a dozen people maneuvering for a place in line, the department said yesterday.
The groups had traveled from New York, about two hours away by car, to buy the iPhone 6 and iPhone 6 Plus in order to resell them in China for large markups, said David Hartman, a police spokesman. While Apple Inc. sold a record of more than 10 million iPhones during the first weekend in stores around the world, the company hasn't said when China will get the new devices.
The world's most populous country isn't on a list of markets that will get the phones in the next wave, beginning Sept. 26, and that's driving up the premium the devices will fetch if brought into China from other countries. Some stores have limited the number of iPhones that can be purchased by each shopper, so groups who aim to bring large quantities to China have to assemble recruits to vie for the stores' limited stock.
"It's our understanding that the markup on these phones when they're resold in China can be upwards of 300 percent," Hartman said in a phone interview. "For the most part, the dozens and hundreds of people who are waiting in line are just doing that."
Apple didn't respond to an e-mail and phone call requesting comment.
IPhone Tourists
Apple's iPhone rollout is the most important event this year for the Cupertino, California-based company, and the availability in stores on Sept. 19 drew long lines of people across the country, eager to get their hands on the new devices. The lines also attracted a swell of tourists looking to buy handsets that aren't available yet back home.
Other shoppers, both American and foreign, have made clear their intent to sell the devices as soon as they're acquired to take advantage of early demand. Filmmaker Casey Neistat released a short documentary online showing people sleeping on the sidewalk outside an Apple store to be among the first line, acquiring two iPhones apiece in cash, then selling them immediately outside of the store. Many of the people interviewed in the documentary didn't speak English, and some replied to questions in Mandarin.
Smuggling Rates
The iPhone's debut has led to skirmishes elsewhere. Large crowds on Friday attempted to storm the Lenox Square mall in Atlanta, the Atlanta Journal-Constitution reported last week.
Last year's introduction of an earlier model, the iPhone 5s, was the first -- and so far only -- time that Apple's phones were available in China on the same day as the global debut.
Previously, the typical three-month lag before the iPhone's introduction in China helped fuel smuggling of about 20 million iPhones into the Asian country annually, according to Jun Zhang, head of China equities research at Rosenblatt Securities Inc. in San Francisco. As many as 5 million iPhones may be taken into China before the new models are officially available, according to Neil Shah, Mumbai-based research director for devices at Counterpoint Research.
"One has to ask the question to what degree is Apple responsible for contributing to this?" said Hartman of the New Haven Police Department. "You know we have a city to police, and this has been going on since Wednesday now."
Before it's here, it's on the Bloomberg Terminal.
LEARN MORE