Hedge Funds Stuck in Failed Iceland Banks Closer to Pay Date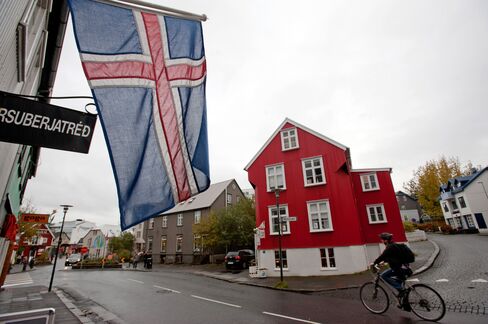 Hedge funds caught in Iceland's $85 billion banking failure may be closer to getting repaid.
The administrators overseeing claims against bankrupt lender Glitnir Bank hf say there are signs recent talks with a government committee will make it easier to complete creditor settlements.
"My impression is that the government had until now not been ready," Steinunn Gudbjartsdottir, head of Glitnir's winding-up committee, said in a phone interview. "Now that they've got their processes in place, it will be possible to complete this sooner rather than later."
The main obstacle to repaying creditors has been Iceland's concern that any outflow of money would drag down the krona and derail efforts to remove capital controls. Yet Glitnir now says it has presented a payment model to policy makers that allows offshore creditors to be reimbursed without disrupting the exchange rate. The plan affects $4.55 billion in cash and cash equivalents, or more than half Glitnir's total assets and about one-third the island's gross domestic product, according to the bank's winding-up committee.
In a proposal to the central bank in November, Glitnir asked for permission "to pay creditors all foreign cash holdings that are held in foreign bank accounts and have never entered the Icelandic economy and therefore don't have any impact on Iceland," Gudbjartsdottir said.
Islandsbanki Sale?
Five-year credit-default swaps on Icelandic debt have dropped to their lowest in more than a year, trading at about 130 basis points at the end of last week, compared with a high of 1,473 basis points at the height of the island's crisis in October 2008, according to data compiled by Bloomberg.
The winding-up committee of Glitnir, the first of Iceland's biggest banks to fail in late 2008, also proposed selling its subsidiary, Islandsbanki hf, for foreign currency, Gudbjartsdottir said.
Glitnir and other banks have held meetings with an executive board created by the government to find a way to coordinate creditor repayments with removing capital controls, Gudbjartsdottir said. The board, which includes representatives from the Finance Ministry and the reserve management unit at the central bank, didn't respond to calls seeking comment.
For the last six years Iceland has relied on the currency restrictions, originally presented as a temporary measure, to shield its exchange rate and current account balance from a capital exodus.
Difficult Decisions
Creditors that have bought claims against Iceland's failed banks include hedge funds Davidson Kempner Capital Management LLC and Taconic Capital Advisors LP. The winding-up committees that represent investors have urged the government to let them sidestep the currency controls and end the payment dispute.
The government's preferred model has so far been to strike a so-called composition agreement that would make creditors owners in holding companies overseeing the failed banks' assets, most of which aren't denominated in kronur.
Gudbjartsdottir said Glitnir is still waiting for a response from the central bank, which is in charge of monitoring the capital controls. The "decisions are difficult," she said. Yet since the creation of the executive board for the removal of capital controls, there are signs things are moving forward, she said.
"The government has said that they plan to introduce conditions allowing the completion of creditor settlements," Gudbjartsdottir said. "And hopefully these conditions will allow us to complete our work. So now we're waiting for the conditions or the framework the government plans to unveil, which will allow us to complete the winding up process."
Before it's here, it's on the Bloomberg Terminal.
LEARN MORE