Ban Ki-Moon Joins 310,000-Strong March for Climate Action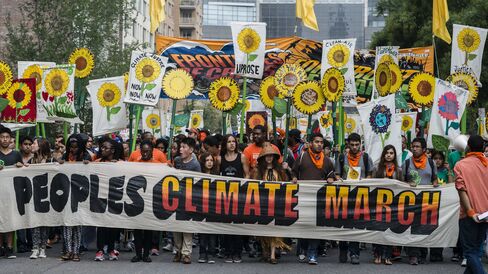 Hundreds of thousands marched through Manhattan and in cities around the world today demanding government action on climate change in what organizers called the largest climate demonstration ever.
The People's Climate March drew more than 310,000 people to New York this weekend, organizers said, tripling the original forecast. Demonstrators, including homeowners flooded by Hurricane Sandy, New York political leaders and indigenous people fighting oil companies in Latin America, chanted, sang and danced in an appeal to global leaders to act on climate change.
"We need to demonstrate there are an awful lot of people that care about climate change and demonstrate that this is a huge issue for all kinds of people," said Bill McKibben, the head of 350.org, the organizing group. "Since the fossil fuel companies have money, we have to have something on our side, and that's people."
The demonstration comes ahead of a United Nations summit this week on climate change and coincided with more than 2,600 events planned in 150 countries. Organizers said the New York march was the city's largest social demonstration in the last decade.
Among the marchers was UN Secretary-General Ban Ki-moon, who will host more than 120 heads of state and government at what he called a "political action forum" on climate change on Sept. 23. It will be the largest gathering of heads of state focusing on climate issues, and will set a framework for talks in Lima in December and Paris next year, when leaders will attempt to hammer out a pact on cutting emissions blamed for global warming.
New Warnings
The summit will open on the heels of new warnings from scientists on the risks of climate change. Last week, meteorologists at the National Oceanic and Atmospheric Administration said that the Earth had its warmest June through August on record and that 2014 is on track to be the warmest year ever.
In a separate report today, scientists said carbon dioxide emissions from burning fossil fuel, the main contributor to climate change, are expected to rise 2.5 percent this year to a record 40 billion tons. The numbers were reported by the Global Carbon Project, a tracking initiative, and published in the journal Nature Geoscience.
"We are not on course for a safe world," UN Special Envoy for Climate Change Mary Robinson, said in an interview. This is "about saving the lives of those affected by climate change as well as future generations."
Sting, DiCaprio
Singer Sting, actor Leonardo DiCaprio and Vermont Independent Senator Bernie Sanders joined the march.
"It's a campaign to solve complacency against climate change," Sting said in an interview. "We are making a statement that is anything but complacent."
In anticipation of the event, the Metropolitan Transit Authority shut subway stations and adjusted bus routes to accommodate the 60,000 people it estimated would be attending. Organizers had said they expected 100,000. The New York Police Department said it doesn't provide crowd estimates.
Activists say they want world leaders to agree to take measures to phase out the use of coal, tar sands, oil and natural gas. Burning those fossil fuels releases greenhouse gases that scientists say are responsible for warming the Earth's temperature.
Lisa Cline and Matt Haasch of Newburgh, New York, had their home on the Hudson flooded by Hurricane Sandy, as the water level rose 9 feet above the tidal peak.
Under Water
"It woke us up to the global situation," Cline said as they exited the march. "If things keep going like they are, our house will be under water in 20 years."
A draft UN report seen by Bloomberg News in August said there is a risk of irreversible damage to the planet unless there's faster action to limit fossil fuel emissions blamed for climate change. The most direct impact of weather on health comes from extreme events such as storms, floods and landslides, according the World Health Organization.
The UN summit took a symbolic hit after China, the world's top carbon polluter, and India, third biggest after the U.S., decided not to send their top political leaders. The last attempt at a global accord broke down in Copenhagen in 2009, when the talks dissolved into finger-pointing between rich and poor nations over which group should move first on emissions reductions. Leaders from Germany, Australia and Canada are also not on the UN's schedule.
"They need to be here in the summit to make commitments," said Winnie Byanyima, executive director of Oxfam International.
New York City Mayor Bill de Blasio, who joined the march, today announced a plan to reduce greenhouse emissions from public and private buildings 80 percent by 2050 from 2005 levels. The plan would make New York the largest municipality to commit to the 80 percent goal, according to a statement.
(Corrects to remove misplaced hyphen in Ban Ki-Moon)
Before it's here, it's on the Bloomberg Terminal.
LEARN MORE