Asia May Need to Sacrifice Growth to Cope With Fed: Basri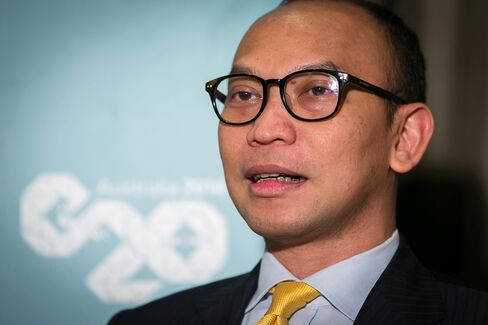 Asia's developing nations may have to sacrifice some growth next year and focus on keeping their economies stable amid potential fallout from higher U.S. interest rates, Indonesian Finance Minister Chatib Basri said.
Capital outflows are a threat facing emerging markets as the prospect of the Federal Reserve lifting rates lures funds, Basri said in an interview yesterday in Cairns, Australia, where Group of 20 finance chiefs met. In Indonesia, where the benchmark rate is already at its highest since 2009, policy makers may have to tighten further to preserve the nation's relative appeal to investors, he said.
"In the short term, some emerging markets may have to choose stabilization over growth," Basri said. "You cannot promote economic growth when dealing with this issue. It will exacerbate the situation."
The U.S. dollar has appreciated as the Fed edges closer to its first rate increase since 2006, while Indonesia's rupiah has dropped for five straight weeks amid global funds pulling money from local stocks in anticipation of higher U.S. borrowing costs. As some of the world's fastest-growing economies adapt to changing policy at the Fed, their contribution to global expansion might weaken, Basri said.
The rupiah declined 0.1 percent to 11,978 against the dollar as of 9:05 a.m. in Jakarta, prices from local banks showed. It has weakened about 4.6 percent in the past six months, among the worst performers of 11 Asian currencies tracked by Bloomberg. The benchmark stock index fell 0.2 percent.
Biggest Challenge
Basri's concern highlights the task facing G-20 finance chiefs as they attempt to lift collective economic growth by an additional 2 percent or more over five years. Officials agreed monetary policy should continue to support the recovery and particularly address deflationary pressures where evident, Australian Treasurer Joe Hockey said yesterday in Cairns.
The prospect of higher rates in the U.S. is the single biggest challenge facing Indonesia's new government, Basri said.
Indonesia's President-elect Joko Widodo -- known as Jokowi -- will inherit an economy growing at the slowest since 2009 and a persistent current-account gap that is weighing on the rupiah. Basri is the top candidate to keep his finance job under Jokowi, who takes office next month, according to a Bloomberg survey of 11 Indonesian analysts and academics.
While growth is slowing, the central bank needs to review its key rate, Arif Budimanta, a member of Jokowi's economic team, said last week, even as Governor Agus Martowardojo said Bank Indonesia's room to maneuver with monetary policy to support the economy is limited due to global conditions.
Budget Deficit
Basri has called for the incoming government to focus on narrowing the budget deficit, raising fuel prices and luring foreign investment. In Indonesia, where the key rate is at 7.5 percent, policy makers may have to hold firm to prevent funds from flowing out of the country, Basri said.
"Maybe the tightening cycle will continue, from both the fiscal and the monetary side," he said. Such a step "is not really conducive to promoting economic growth," he said.
To mitigate the risk of losing funds to the U.S., Indonesia also needs to diversify its base of investors, the finance minister said. Relying more on domestic bond buyers would help, he said.
"If global liquidity becomes tighter because of this tightening policy at the Fed, it will be more difficult for a country like Indonesia to get foreign financing," Basri said.
Before it's here, it's on the Bloomberg Terminal.
LEARN MORE