747 Filled With Supplies Helps on Ebola, But Only So Much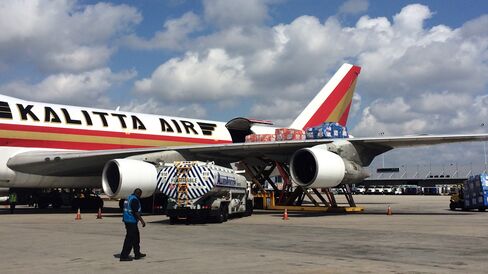 Aid organization Direct Relief had 100 tons of gloves, masks, medicines and gowns stockpiled in a California warehouse. Doctors fighting Ebola were calling from West Africa desperate for supplies.
Getting it there was the challenge. With airlines halting flights and borders closing to stop the disease from spreading, the nonprofit took matters into its own hands, chartering a Boeing 747 that's leaving New York today for Sierra Leone and Liberia. It'll figure out how to pay the $500,000 bill later.
"Sometimes we need to do the work, then hope the financial support follows," Chief Executive Officer Thomas Tighe said.
The shipment, the 11th one Direct Relief has sent to West African nations, is part of newly urgent efforts by agencies and governments to accelerate aid as estimates of the potential spread of the Ebola epidemic grow exponentially.
The U.S. Centers of Disease Control and Prevention's model for a worst-case scenario, presuming no additional aid beyond current resources, shows 550,000 infected people by the end of January. Sierra Leone ordered residents to stay home under a three-day curfew while 28,500 volunteers go door-to-door in an education campaign.
Since the start of the outbreak, the virus has infected 5,357 people, killing 2,630, according to a Sept. 18 World Health Organization report. The disease has spread through five countries, accelerating in cities, including Monrovia, the capital of Liberia.
"Our health workers have been on the front lines and they've been dropping dead because of the lack of equipment," Augustine Kpehe Ngafuan, Liberia's minister of foreign affairs, said today at John F. Kennedy Airport as the plane was being loaded. "The more the health workers have confidence, the more patients will have confidence to go to the hospital."
Ansell, Teva
Direct Relief is sending 2.8 million gloves donated by Australian manufacturer Ansell Ltd.; generic drugs donated from Israel drugmaker Teva Pharmaceuticals Industries Ltd., including azithromycin for bacterial infections. The supplies also include enough rehydration solution to supply two Ebola wards for a year.
The 370 pallets packing $6 million worth of supplies crossed the U.S. in seven 53-foot trailers, then were loaded onto the 747 at Kennedy Airport. Other companies donating supplies include Merck & Co., Covidien Plc and Baxter International Inc.
It is a "significant contribution, but not huge" given the scope of the outbreak, said Darius Mans, president of aid organization Africare, whose 100-person staff in Liberia will help unload the supplies. "This will not be the last one. It can't be."
Slow Aid
Microsoft co-founder Paul Allen this month gave $3 million through his foundation to Airlink, a Washington-based disaster relief organization that specializes in transportation, to organize delivery of supplies to West Africa.
Aid for the outbreak has been slow compared to other disasters that Santa Barbara, California-based Direct Relief has been involved with, including the earthquake in Haiti and the typhoon in the Philippines.
The organization, founded in 1948, got its start helping postwar refugees in Eastern Europe and Greece, according to its website. Direct Relief reported $388 million in revenue for the fiscal year ending June 2013, mainly from grants and contributions. Expenses exceeded revenue by more than $400,000.
"The Red Cross in Manila was absolutely overflowing" after Typhoon Haiyan struck the country, said Andrew McCalla, Direct Relief's director of international programs and emergency response, in a telephone interview. "Talking to the head of drugstores in Sierra Leone, hearing him say, 'We have plenty of space for your 170 pallets,' that tells me something. It wasn't like this in other emergencies."
Border Restrictions
The difference in response may be because Ebola is perceived as a public-health issue, which isn't as riveting as a natural disaster, Tighe said by telephone.
Now the world is mobilizing, Tighe and McCalla said.
The United Nations this week announced the creation of a special emergency mission to respond to the crisis, saying the effort needs to increase greatly.
The body's Security Council also adopted a resolution urging countries to lift travel and border restrictions, and airlines and shipping companies to maintain links with Ebola-affected nations. Blocking movement of people and goods further isolates affected nations and undermines response efforts, according to the text of the resolution.
'Help Us'
The U.S. has pledged as much as $1 billion in aid. It's planning to deploy about 3,000 U.S. military personnel to the region to assist with shipping and distributing medical supplies and building treatment centers.
Efforts that large requires coordination, which can be daunting, aid workers said. Pallets in Direct Relief's shipment are labeled for separate recipients including the ministries of health in Sierra Leone and Liberia, and Wellbody Alliance, a nonprofit organization based in Dorma, in eastern Sierra Leone.
Direct Relief has been in contact with the WHO, the UN, local CDC workers and the U.S. Agency for International Development so everyone knows the shipment is coming, Tighe said. Each of the recipients also knows what the others are getting, "so someone is not bringing in something that nobody else knew about," he said.
That sort of communication is essential so companies and institutions "don't overlap and don't send the same supplies over and over," Ngafuan said.
Bockari K. Stevens, Sierra Leone's ambassador to the U.S., said he was grateful for the shipment but needed more.
"Already we are very late," he said at the airport. "If more was done two months ago, Ebola could be arrested.
''In America, just one billionaire can take care of Ebola,'' he said. ''So I appeal to you to come help us.''
Before it's here, it's on the Bloomberg Terminal.
LEARN MORE