Jobless Claims in U.S. Decline to Two-Month Low of 280,000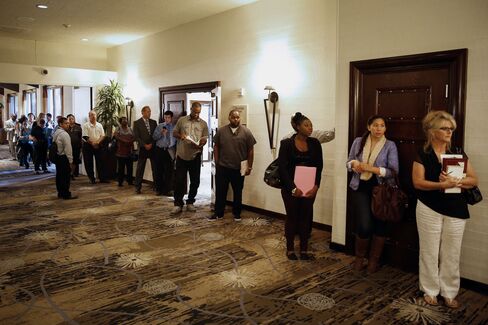 The number of Americans filing applications for unemployment benefits plunged last week to a two-month low, a sign the labor market continues to strengthen.
Jobless claims decreased by 36,000 to 280,000 in the period ended Sept. 13, the Labor Department said today in Washington. The median forecast of 52 economists surveyed by Bloomberg called for a decline to 305,000. Those already collecting unemployment benefits fell to a more than seven-year low.
Companies are retaining workers as stronger household and corporate demand fuels order growth. Fewer firings and more job gains represent a labor market that has "improved somewhat further," even as other indicators point to persistent slack, Federal Reserve policy makers said yesterday.
"The fact that we're falling below 300,000 -- that's a good sign," said Aneta Markowska, chief U.S. economist at Societe Generale in New York, whose forecast for 290,000 claims was the lowest in the Bloomberg survey. "Companies are not laying off. A big chunk of the decline in continuing claims is basically people finding jobs."
Jobless claims last week were the lowest since 279,000 in mid-July and the second-lowest since 2000. Estimates in the Bloomberg survey ranged from 290,000 to 320,000. The prior week's claims were revised from an initial reading of 315,000.
Another report today showed beginning home construction slumped 14.4 percent in August, the most since April 2013, indicating the recovery in housing remains uneven. Housing starts dropped to a 956,000 annualized rate, according to the Commerce Department. Building permits were also down last month.
Stock-index futures held earlier gains after the reports, with the contract on the Standard & Poor's 500 Index expiring in December advancing 0.3 percent to 1,999.2 at 8:41 a.m. in New York.
Monthly Average
The four-week average of initial claims, a less-volatile measure than the weekly figure, decreased to 299,500 from 304,250 the week before.
The number of people continuing to receive jobless benefits dropped by 63,000 to 2.43 million in the week ended Sept. 6, the lowest since May 2007.
In that same period, the unemployment rate among people eligible for benefits fell to 1.8 percent from a revised 1.9 percent the prior week, the report showed.
Initial jobless claims reflect weekly firings and typically decrease before job growth can accelerate. Fed policy makers are keeping close watch over the labor market as they wind down their bond-buying program aimed at boosting growth in the world's biggest economy.
Federal Reserve
The Fed yesterday maintained a commitment to keep interest rates near zero for a "considerable time" after asset purchases are completed, saying the economy is expanding at a moderate pace and inflation is below its goal.
"The labor market has yet to fully recover," Fed Chair Janet Yellen said at a press conference after a meeting of the Federal Open Market Committee yesterday in Washington. "There are still too many people who want jobs but can't find them."
Policy makers tapered monthly bond buying to $15 billion in their seventh consecutive $10 billion cut, staying on course to end the program next month.
Hiring slowed down in August as payrolls grew by 142,000, the smallest increase this year. The unemployment rate fell to 6.1 percent last month from 6.2 percent as Americans left the workforce.
Some companies such as Gannett Co. are still shrinking payrolls to help cut costs or refocus their business. USA Today, which is being spun off from Gannett with the rest of the company's publishing arm, fired as many as 70 employees this month across all departments.
The cuts were meant to "align its staffing levels to meet current market conditions," Gannett said in an e-mailed statement.
Before it's here, it's on the Bloomberg Terminal.
LEARN MORE