China Home Price Drop Spreads as Housing Demand Weakens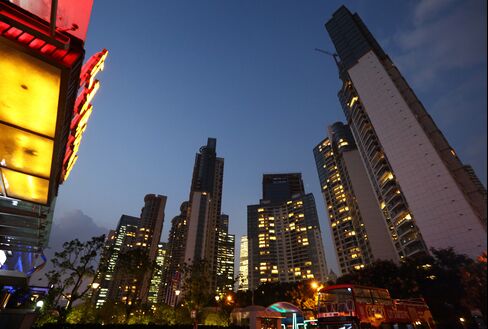 China's new-home prices fell in all but two cities monitored by the government last month as tight credit damped demand even as local home-purchase restrictions were eased.
Prices dropped in 68 of the 70 cities in August from July, including in Beijing and Shanghai, the National Bureau of Statistics said in a statement today, the most since January 2011 when the government changed the way it compiles the data.
Home sales slumped 11 percent in the first eight months of this year amid an economic slowdown after banks tightened property lending to curb default risks. While 37 of the 46 cities that imposed limits on home ownership since 2010 have removed or eased such restrictions as of Sept. 3 to stem the decline in sales, a wait-and-see attitude is still prevalent among homebuyers, according to Centaline Group, parent of the nation's biggest property agency.
"The policy easings only increased the number of people qualified to buy, but the number of those with the ability to didn't rise noticeably" as mortgages remain tight, Donald Yu, a Shenzhen-based analyst at Guotai Junan Securities Co., said by phone. "There's still room for prices to go down further."
Private data also point to continued price declines. The average new-home price fell 0.59 percent in August from July, the fourth consecutive month of declines, according to SouFun Holdings Ltd., the nation's biggest real estate website that tracks 100 cities.
Property Stocks
The Shanghai Stock Exchange Property Index, which tracks 24 developers listed on the city's exchange, closed 1 percent lower, the biggest drop since Aug. 14.
New-home prices dropped 2 percent from July in Hangzhou, the capital of the eastern province of Zhejiang, the biggest decline among all cities. They fell 0.9 percent in Beijing and 1.1 percent in Shanghai, according to the government.
Prices were unchanged in Wenzhou in Zhejiang, while they gained 0.2 percent in Xiamen, a southern port city.
Prices fell in 19 cities from a year earlier, led by a 5.4 percent slide in Hangzhou, as compared to three cities in July, according to today's data.
More Discounts
New-home sales in the first 14 days of September in the 40 cities tracked by Centaline fell 4.7 percent, when measured by the combined space of homes sold, from the same period in August, trailing expectations for a traditionally strong month, the realtor said in a Sept. 15 report.
"We believe most developers will opt to accelerate sales to strike for a more secure cash position amid the market uncertainties," Barclays Plc's Hong Kong-based property analysts led by Alvin Wong wrote in a Sept. 14 report. "More attractive price discounts seem necessary to compensate for the expensive mortgage rate."
The central province of Hubei eased property policies on Sept. 15, cutting taxes and reiterating that interest rates for first-home buyers can be lowered to 70 percent of the central bank's benchmark, a discount that has become rare since last year. Hubei joined regions including Hebei, Sichuan and Fujian in issuing provincial policies to boost local housing markets.
"The cooling measures the government put in place have actually worked," Peter Churchouse, publisher of the Asia Hard Assets report, said today on Bloomberg Television. "The result now is they're going to take the foot off the brake pedal. You're already seeing the easing of tightening measures. That's probably going to mean that we will see a bottoming of this cycle over the course of the next two to three months."
— With assistance by Dingmin Zhang
Before it's here, it's on the Bloomberg Terminal.
LEARN MORE