Stealthy or Normal? Analysts Diverge on PBOC's Action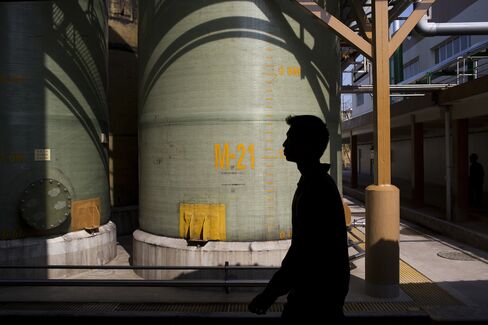 Just a normal banking-system operation to cope with a brief liquidity shortage? Or a secretive move to shore up growth as China faces up to the danger of a hard landing for its economy?
As economists in China woke up to overnight news from website Sina.com that the People's Bank of China was extending 500 billion yuan ($81 billion) of credit to the country's five largest lenders, their interpretations of the step diverged. Without a PBOC statement to explain policy makers' motive or intentions, there was little from officialdom to go on.
The PBOC's maneuver drew attention to a mechanism called the standing lending facility, introduced last year as a collateralized provision of funds to meet large-scale demands for financial institutions' long-term liquidity. The central bank has referred to it in official statements on steps to address fluctuations in money-market rates.
This time, news of extending credit through the SLF to the biggest lenders came less than four days after government data showed the weakest growth in industrial production since the 2008 global credit crisis. Analysts at banks from Goldman Sachs Group Inc. to Mizuho Securities Asia Ltd. linked the move to the signs of economic faltering.
First Response
Shen Jianguang, chief Asia economist at Mizuho in Hong Kong, wrote in a note that the measure was "stealthy easing" and "may help to support the economy, which faces rising risk of a hard landing." Goldman analysts including Beijing-based Song Yu wrote that the injection marked "the first clear policy response to weak August data."
By contrast, Chang Jian, chief China economist at Barclays Plc in Hong Kong, said it was "a normal liquidity operation," in the title of her note on the news.
"We think the latest SLF is mainly aimed at providing liquidity to pre-empt potential liquidity shortages in the banking system in the coming weeks," Chang wrote. Cash needs for the coming National Day holiday, along with initial public offerings of stock, are among the reasons she cites. Pressures for stimulus that stem from the deceleration in growth mean investors may interpret the news as a form of easing, she said.
Zhu Haibin at JPMorgan Chase & Co. in Hong Kong, in his report on the development, cited both economic weakness and volatility in liquidity conditions around the week-long holiday that begins Oct. 1.
One Agreement
One thing analysts did agree on: the 500 billion yuan in credit amounts to roughly the same as a half percentage-point reduction in the required reserve ratio. An RRR cut, several analysts flagged, has greater impact because it makes more funds available for lending without a term limit.
"While the step will ease financial conditions, the impact is likely to be modest," Louis Kuijs, Royal Bank of Scotland Group Plc's chief Greater China economist in Hong Kong.
Kuijs was among analysts judging that the move reduced the immediate chance of a reduction in either the required reserve ratio or benchmarks for lending rates. "Measures such as supporting infrastructure and the property market" are likely, he added.
Wang Tao, Kuijs's counterpart at UBS AG in Hong Kong, wrote that the use of the use of a less transparent or high profile tool reflected the PBOC's desire to support growth without being seen to be conducting 'strong stimulus' or general easing.''
Stocks Climb
The news from Sina.com, part of Shanghai-based Sina Corp., which has a $3 billion market value on the Nasdaq Stock Market, was posted at 10:52 p.m. China time yesterday, according to the website time-stamp.
The Sina.com story, which cited banking analyst Qiu Guanhua at Guotai Junan Securities Co., also sent journalists scrambling. While central bank reporters in Washington and Tokyo have the benefit of embargoed statements to review before public release of significant announcements, no such system yet exists in China.
Investors spoke loud and clear today. Bank stocks rallied in Hong Kong, the yuan halted a four-day slide and one-year interest-rate swaps dropped to the lowest level since June.
— With assistance by Chris Anstey
Before it's here, it's on the Bloomberg Terminal.
LEARN MORE