Softbank's Son Overtakes Yanai as Japan's Richest Person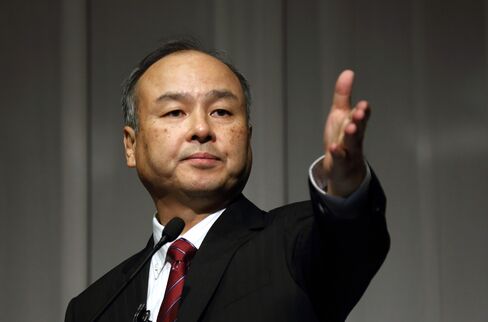 Masayoshi Son surpassed Fast Retailing Co. Chairman Tadashi Yanai as Japan's richest person yesterday after SoftBank Corp. surged 16 percent since the start of last week.
Son, 57, has a net worth of $16.6 billion, according to the Bloomberg Billionaires Index. Yanai, the country's second-richest person, controls a $16.2 billion fortune.
Softbank owns about 34 percent of Alibaba Group Holding Ltd. and is benefiting from plans by China's biggest e-commerce company to raise the amount it's seeking in an initial public offering to as much as $21.8 billion, coming a step closer to breaking a global fundraising record.
"The impending IPO of Alibaba does make Masayoshi Son a lot wealthier," Desmond Chua, a Singapore-based strategist at CMC Markets, said by phone. "While Internet stocks have been volatile, there is good value in some of them. The growing popularity of smartphones suggest the advertising revenue some of these companies would pick up."
Alibaba increased the top end of its IPO price range this week. Even at the higher price, it's offering shares at a price-to-earnings multiple that's below what other publicly traded Chinese Internet peers fetch. Founder Jack Ma told prospective investors in Hong Kong this week that he won't seek too high a valuation, two people who attended the meeting said.
Rare Stumble
The Japanese billionaire controls almost 272 million shares of Softbank directly and through four holding companies. The Bloomberg ranking excludes 63.7 million shares pledged as collateral against possible debts. Hiroe Kotera, a spokeswoman for Softbank, declined to comment on Son's personal shareholdings.
Son stumbled last month when he failed to merge his Sprint Corp. with T-Mobile US Inc. Sprint, controlled by SoftBank, ended talks with the fourth-largest U.S. carrier on regulatory concerns, a person with knowledge of the matter said. That leaves Son with Sprint, the No. 3 carrier in a market where it's dwarfed by larger competitors and growing slower than T-Mobile.
The billionaire may be forging ahead with expansion plans, with Softbank selling bonds just weeks after he abandoned the takeover and signaled he would seek different targets.
Fast Retailing's Yanai, 65, turned his father's tailor shop into Asia's biggest clothing retailer. The company cut its annual profit forecast in July for a second time in the current fiscal year after suffering losses at its J Brand premium denim unit.
'Vigorous Discussion'
The maker of Uniqlo casual apparel has been seeking overseas growth amid slowing domestic demand and will record a special loss for U.S.-based J Brand. It owns 80 percent of the company, which sells premium denim products in more than 2,000 outlets in the U.S., including department stores.
Yanai is on Softbank's board, and contributed to a "vigorous discussion" when he raised concerns about Son's desire to expand into renewable energy after the major earthquake in Japan in March 2011, according to Tokyo-based company's annual report.
Yukie Sakaguchi, a spokeswoman at Fast Retailing, declined to comment on Yanai's holdings.
Yamaguchi-based Fast Retailing has plunged 22 percent this year, compared to a 5.9 percent decline in Softbank. Japan's Nikkei 225 Stock Average dropped 2.3 percent.
Before it's here, it's on the Bloomberg Terminal.
LEARN MORE