Modi Wins $20 Billion Pledge From Xi Amid Border Flare-Up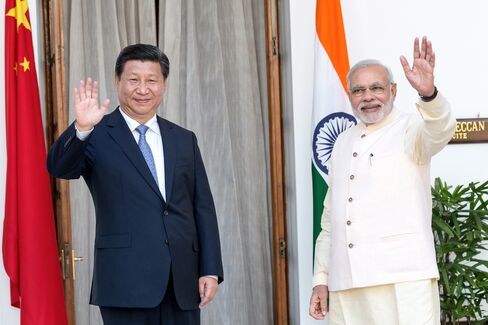 Indian Prime Minister Narendra Modi won a pledge from Chinese President Xi Jinping to invest $20 billion as the leaders sought to adjust a lopsided trade relationship and resolve a flare-up on their disputed border.
Leaders of the world's two most populous countries today announced a five-year plan in which China would invest $20 billion to help reduce India's largest trade deficit with any single country. China will also help set up industrial parks in the Indian states of Maharashtra and Gujarat, which Modi ran before taking power in May.
"We agreed that our economic relations do not do justice to our potential," Modi said at a joint briefing with Xi in New Delhi today. Modi said he received assurances that China would take steps to address a worsening trade balance between the nations and improve market access for Indian companies.
Modi has secured more than $50 billion in financial assistance this month from China and Japan as he seeks help from Asia's biggest economies to revive India's growth. At the same time, he's sought to deter China from asserting control over disputed land along their mountainous border, where competing claims risk leading to a clash that hinders closer economic ties.
"Whatever the trade or commercial progress, there is always a glass ceiling between India and China because of strategic and security dissidence derived from territorial disputes," said C. Uday Bhaskar, a fellow at the Society for Policy Studies in New Delhi. "Even as Xi is here, there's troop movement on the border. If there's a silver lining, it's that Xi is reiterating a point that no shot will be fired in anger, otherwise you're piercing the ozone layer of security."
Border Standoff
About 500 Indian troops are engaged in a standoff with a similar number of Chinese soldiers in the border region of Ladakh, according to an Indian army officer who asked not to be named because the information is sensitive. That's up from 100 troops on each side earlier. Local meetings between the two sides to resolve the issue were called off, the officer said.
Colonel Rohan Anand, an Indian army spokesman in Delhi, confirmed by phone today that a situation was ongoing in the area. He didn't provide details.
Modi today called on Xi to clarify the border in the area while pushing for an "early settlement" of the issue. Xi said that border issues could be solved through "friendly consultations" and don't affect the overall relationship.
"When China and India speak with one voice, the whole world will take notice," Xi said today. "I am convinced as long as India and China draw wisdom from our time honored civilization and demonstrate foresight, courage and vision, then we shall continue to make fresh progress in our strategic and cooperative partnership."
Trade Deficit
China is India's largest commercial partner, and also accounts for its biggest trade deficit. While bilateral commerce exceeded $68.5 billion last year, India posted a trade shortfall of $34.4 billion on imports of Chinese-made heavy machinery, telecom equipment and home appliances, according to data compiled by Bloomberg.
The agreements today included deals for development of railways, pharmaceuticals, peaceful use of outer space and eased restrictions on crossing a border point for pilgrimages to Hindu religious sites.
Indian and Chinese companies signed 24 agreements valued at $3.43 billion in sectors including aircraft leasing and financing, telecom, chemicals, wind power components, textiles and seafood, the Federation of Indian Chambers of Commerce and Industry said in a statement yesterday.
India-China 'Milestone'
"This visit signifies a milestone for India-China trade relations," Suzlon Energy Ltd. Chairman Tulsi R. Tanti said in an e-mailed statement yesterday.
Industrial & Commercial Bank of China Ltd. yesterday signed a deal to provide $2.6 billion in financing for IndiGo to buy and leaseback more than 30 Airbus A320 planes, Aditya Ghosh, the Indian carrier's president, said in a statement. CSR Corp. won a 300 million yuan ($49 million) contract to provide cars and maintenance for a metro line in Mumbai, according to a statement on the website of the National Railway Administration.
In the 14 years through June, China was India's 28th largest source of foreign direct investment with inflows worth $411 million, or 0.18 percent of the total, government data show. Japan was fourth and the U.S. was fifth.
Tensions have simmered in the past few years over claims to disputed territory on the border. In campaign speeches earlier this year, Modi warned China to drop its "mindset of expansion."
Xi 'Open-Minded'
India accuses China of occupying 38,000 square kilometers (15,000 square miles) in Jammu and Kashmir, while Beijing lays claim to 90,000 square kilometers of land in the Indian state of Arunachal Pradesh. They fought a war over land in 1962. China also opposes the Dalai Lama, Tibet's spiritual leader, who campaigns for autonomy and human rights while in exile in India.
About 30 Tibetan protesters were shouting "We want justice" outside the New Delhi building where Modi met Xi today before Indian police pushed them into vehicles and took them away, television pictures show. Modi reiterated that India won't allow Tibetans to conduct anti-China political activities, and affirmed that Tibet is Chinese territory, Xinhua reported today.
"Xi Jinping's thinking is more realistic and more open-minded, so he can learn more from India," the Dalai Lama told reporters today in televised comments. "Sooner or later you have to solve these problems. Not by force. Through understanding, and understanding comes from talk."
Abe Tweet
Xi's visit follows Modi's trip to Japan, which has its own territorial dispute with China. Japanese Prime Minister Shinzo Abe pledged about 4 trillion yen ($32.68 billion) in economic investment in Indian infrastructure during Modi's trip while also expanding security ties.
"Happy Birthday, Modi-san!" Abe wrote in a post on Twitter yesterday, which was Modi's 64th birthday. "We had a great time together in Kyoto and Tokyo. See you next time!"
The meeting between Modi and Xi is "unlikely to result in meaningful progress towards any bilateral strategic partnership," Arvind Ramakrishnan, head of India at U.K.-based risk adviser Maplecroft, said in an e-mail. "Modi is far more inclined to cultivate strategic ties with Japan and the U.S. in order to make India a counter-balance against Chinese influence in the Asian region."
Before it's here, it's on the Bloomberg Terminal.
LEARN MORE