Buffett's Salty Steak Draws Warning From Wells Fargo CEO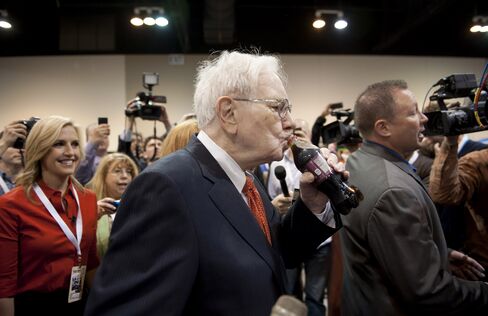 Wells Fargo & Co. Chief Executive Officer John Stumpf, telling the story of his first meal with Warren Buffett in Omaha, Nebraska, said the billionaire investor's eating habits came as a shock.
Stumpf, responding to a question about Buffett at the National Press Club in Washington today, said the world's third-richest person dined on a T-bone steak cooked medium rare, a side of chicken parmigiana, mashed potatoes and a Cherry Coke. Buffett, 84, runs Berkshire Hathaway Inc., the largest shareholder in San Francisco-based Wells Fargo.
"Warren eats a full meal, let me tell you," said Stumpf, 61. "When the food comes, Warren grabs a salt shaker in his left hand and one in his right hand, and it's a snowstorm. And I know a snowstorm when I see one because I'm from Minnesota."
Stumpf said he suggested Buffett, whose preference for hamburgers over vegetables is part of his folksy persona, should cut back on the sodium and consider getting a colonoscopy. Buffett had a procedure to remove polyps from his colon in 2000 that were discovered during a routine examination.
"I went in with a colon and came out with a semicolon," Buffett, reprising one of his old jokes, said today in an e-mail sent by his assistant. He declined to comment further on Stumpf's remarks.
Berkshire, which has held stock in Wells Fargo since 1989, owns companies including Dairy Queen and See's Candies and is the biggest shareholder of Coca-Cola Co. Last month, Berkshire said it would help finance Burger King Worldwide Inc.'s purchase of Canadian doughnut chain Tim Hortons Inc.
"Warren is just a terrific human being," Stumpf said, adding that the investor doesn't meddle in Wells Fargo's affairs.
Stumpf, in his nearly hour-long speech today, also discussed matters including philanthropy and how regulation is hurting the U.S. economy.
Before it's here, it's on the Bloomberg Terminal.
LEARN MORE