Alibaba Buyers Say IPO Too Cheap to Miss Even With Risks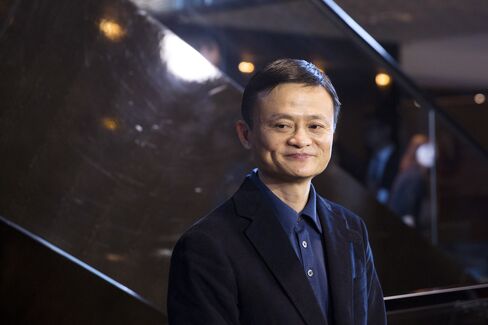 U.S. fund managers studying an investment in Alibaba Group Holding Ltd. are worried about everything from corporate governance to bull market fatigue. They're buying anyway, afraid of missing a bargain.
Thornburg Investment Management Inc. sees Alibaba trading at a discount to Internet stocks and is planning to buy shares through the initial public offering. Clough Capital Partners LP left road show meetings convinced of the company's growth potential. Krane Fund Advisors LLC is so optimistic about demand from individuals that it created an exchange-traded fund last year with plans to buy shares in China's biggest e-commerce company when it goes public.
In interviews with more than a dozen fund managers with about $400 billion under management, about half of those that routinely participate in IPOs said they'll buy shares. The results mirror a poll of securities professionals by the brokerage ConvergEx Group Inc., which found 49 percent of respondents interested in owning the stock, a level it said represents "remarkable" enthusiasm.
"We look at it as a multiyear growth story and also compare it to peers, which also have high valuations for similar growth targets," Eric Brock, a portfolio manager at Clough Capital, which oversees more than $4.5 billion. "I'd be comfortable with the shares pricing even a bit above the higher targeted range."
Comparable Companies
Alibaba plans to set a final price for the shares tomorrow after raising the projected price range to a minimum of $66, which had previously been the proposed maximum. The Hangzhou-based firm runs a group of Internet-based e-commerce businesses that saw $248 billion in transactions last year and a payment application called Alipay.
The IPO could top Agricultural Bank of China Ltd.'s more than $22 billion sale in 2010 as the world's biggest. Its size has the potential to increase should Alibaba price shares above the range, which it can do without additional filings.
Alibaba is seeking a market value of up to $167.6 billion, or 29 times four analyst estimates for earnings in the year through March 2015 compiled by Bloomberg. Analysts expect Alibaba's net income to rise more than 50 percent this fiscal year from the previous 12 months.
"Valuation is attractive," Di Zhou, an equity analyst at Thornburg Investment Management in Santa Fe, New Mexico, said in a Sept. 15 phone interview. The firm oversees $88 billion. "They're telling a real good story about e-commerce. At least they should deserve the same multiple as their peers."
Baidu Inc., China's biggest search engine, trades at about 34 times estimates of this year's earnings, while Tencent Holdings Ltd., the largest publicly traded Chinese Internet company, is around 37 times. Amazon.com Inc. fetches almost 135 times forecast 2014 earnings.
Justin Dini, a spokesman for Alibaba at Brunswick Group LLC, declined to comment.
'Attractive' Valuation
Chinese Internet and e-commerce companies that trade in Hong Kong and New York command a median of 43 times estimated earnings, data compiled by Bloomberg show.
Another lure is profitability. Alibaba's earnings before interest, taxes, depreciation and amortization amount to 59 percent of revenue, the most out of 10 comparable companies, according Wedbush Securities Inc.
That group includes Google Inc., Facebook Inc., Amazon.com, Baidu and Tencent, among others. By contrast, Twitter Inc. and Chinese e-retailer JD.com Inc. have negative Ebitda margins.
'Mature' Company
"This is a mature company that's been in existence for 15 years but it's still experiencing tremendous growth," Brendan Ahern, managing director at New York-based Krane Fund Advisors LLC, which oversees three Chinese exchange-traded funds, said in a Sept. 15 phone interview. It's "going to benefit from macro tailwinds helping all companies in the space, especially with the continued adoption of the Internet and rise of domestic consumption in China," he said.
Chinese Internet users have grown to 632 million, greater than the population of any other country except India, and could exceed 850 million by 2015, according to government data. McKinsey & Co. predicts online retailing in the world's second-largest economy will reach $395 billion next year, triple its 2011 level.
Alibaba's offering will be the biggest public debut since Facebook, whose shares fell more than 50 percent in the four months after its IPO. Investors who sold at the bottom missed out as the stock quadrupled, pushing the market value to almost $200 billion and making it the 14th largest company in the Standard & Poor's 500.
Bubble Talk
Facebook went public in May 2012, when the S&P 500 was hovering around 1,300, more than 200 points away from its previous high. The benchmark gauge for American equity has rallied more than 50 percent since then. That alone gives some investors pause, said Kevin Headland, director of the portfolio advisory group at Manulife Asset Management Ltd. in Toronto. The firm manages $281 billion.
"People are talking about how this might be the 1999 tech bubble all over again when everything launched an IPO," Headland said. "I don't think this is happening, these are actual solid companies. Alibaba's been around for a while."
Other potential buyers left the road show with questions about corporate governance. For example, they sought more information about Alibaba's relationship with Alipay, the Paypal-like business that was separated from Alibaba four years ago without the knowledge of shareholders Yahoo! Inc. and SoftBank Corp.
Investors said they are also trying to get accustomed to Alibaba's management structure, which gives 30 individuals the ability to nominate a majority of the board.
'No Say'
New York University Professor Aswath Damodaran warned in a Sept. 8 blog post that Alibaba "will remain Jack Ma's company for foreseeable future and you will have no say in what the company does." Damordaran said he prefers an indirect investment in Alibaba by holding onto shares of Yahoo, which owns roughly 23 percent of the company and will see the stake cut to 16 percent in the offering.
"The governance in China is so inferior to the U.S. and that's a warning sign," Rob Lutts of Cabot Money Management Inc. in Salem, Massachusetts, whose analyst attended a standing room-only roadshow in Boston, said in a Sept. 16 phone interview. "The bigger picture on the industry and the company is very positive and it's priced for that, but the average retail investor is not aware of what's under the covers."
'Limited' Upside
Lutts sees "limited" upside for Alibaba and forecasts a "more than 50 percent chance" investors will be able to buy shares at or below the IPO price in the open market.
Less than a quarter of the participants in the survey by ConvergEx Group predicted the stock will decline in its first month of trading. Out of those forecasting a share increase, 33 percent see Alibaba gaining more than 10 percent over first month of trading.
Some fund managers said demand for Alibaba stock means they won't be able to participate in the offering even if they want to. Capital Advisors Inc. in Tulsa, Oklahoma, is interested in Alibaba, but isn't close enough to any investment banks to receive share allocation, according to Channing Smith, a managing director at the firm.
Smith said Alibaba should be able to defend its market position in China, an attribute that will be "extremely valuable." He forecasts that the shares will start trading over $100.
"There is going to be enormous enthusiasm by investors to get into the name," Smith, who helps oversee about $1.5 billion at Capital Advisors, said in a phone interview. "With the market sentiment as high as it is, it really has all the ingredients to really take off."
Before it's here, it's on the Bloomberg Terminal.
LEARN MORE