Poverty in U.S. Falls for First Time Since Before Recession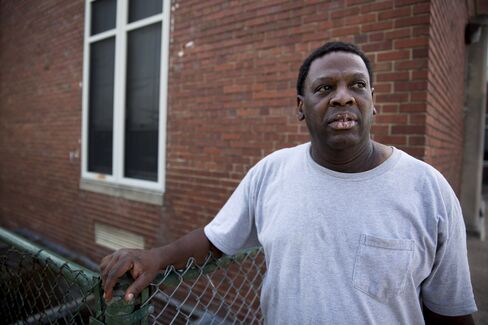 The economic expansion that's now in its sixth year is finally showing signs of trickling down to the poorest Americans.
The U.S. poverty rate eased to 14.5 percent in 2013 from 15 percent in the prior year, the first decline since 2006, the year before the last recession began, according to Census Bureau data released today. The decrease came as child poverty dropped by the most since 1966.
Faster economic growth and a jobless rate that dropped to 7.4 percent on average in 2013 from 9.3 percent in 2009 have helped to reduce the rate of poverty. Even so, there were 45.3 million impoverished Americans, little changed from 2012, and the rate remains higher than 12.5 percent in 2007.
"We're certainly seeing an increase in year-round, full-time employment," Chuck Nelson, an assistant division chief at the Census Bureau said on a conference call after the release. "It seemed to accelerate a little bit in 2013, which is why we've seen this drop in poverty."
Marty Matthews, a 52-year-old from Washington, is among those who could soon be on firmer financial footing. Matthews started a new construction job in Laurel, Maryland, this week after losing his old job as a contractor for the Department of Defense in January. He had little money saved, and wasn't able to claim unemployment insurance for months because his former employer disputed his claim -- so he's fallen behind on rent and child support.
"Just my nose and mouth are above water, just enough to breathe, and I just feel submerged," he said in an interview.
Child Poverty
Child poverty dropped to 19.9 percent last year, from 21.8 percent in 2012, today's report showed. The rate for those 65 years and older climbed to 9.5 percent in 2013 from 9.1 percent.
An inhospitable job market has weighed on incomes for many families, though a pickup in hiring may be starting to bring relief. Median earnings for U.S. households rose to $51,939 in 2013 from an estimated $51,759 the previous year, today's Census data showed. In 2007, the median income was $56,436.
Even as income and poverty trends show glimmers of improvement, there is significant work to be done, said Heather Boushey, executive director at the Washington Center for Equitable Growth.
"Not only have we not gotten back to incomes before the recession began, we still haven't gotten back to our 1996 incomes, and that's just sad," Boushey said. "You've seen these historically high levels of the long-term unemployed, and all of that is related to poverty."
Lowest Earners
Those at the bottom of the income scale have borne the brunt of economic weakness. The lowest quintile of earners took home 3.2 percent of money income in 2013, the same as in 2012 and down from 3.4 percent in 2007. The top quintile claimed 51 percent of all money income in both 2013 and 2012, today's report showed, compared with 49.7 percent in 2007.
The poverty threshold in 2013 for one person under the age of 65 was $12,119. It was $18,769 for a family with one parent and two children. The official poverty definition looks at money income before taxes and tax credits, and excludes both capital gains and non-cash benefits such as the Supplemental Nutrition Assistance Program, commonly known as food stamps, Medicaid and public housing.
For some, the economy has done little to alleviate the struggle. Melissa Mitchell, a 44-year-old from Raleigh, North Carolina, wishes she could do laundry on a whim. Her $7.25 hourly wage at Burger King is stretched so thin that she often has to wait weeks to afford detergent.
Mitchell was in even worse financial straits last year, when she was looking for work and raising her 9-year-old granddaughter, who was temporarily in her custody.
Part-time Work
"It was rough -- donations, help from the state," she said. While grateful to be working part time for Burger King Worldwide Inc., she said low pay and limited hours don't cut it.
"I just can't pay my rent off of $7.25 an hour at 30 hours a week," Mitchell said.
A more comprehensive gauge, the Supplemental Poverty Measure, takes into account cash and noncash benefits that buy the basic bundle of goods -- food, clothing, shelter and utilities -- to which the poverty level is indexed. That report, which Census says will likely be released in mid-October, last year showed a lower poverty rate for children under 18 and a higher rate for Americans 65 and older.
Safety Net
The measure also showed a much flatter poverty rate through the recession, said Arloc Sherman, a senior researcher at the Washington-based Center on Budget and Policy Priorities. That's because the safety net of federal programs, expanded by the American Recovery and Reinvestment Act, kept households above the poverty consumption threshold even as cash incomes declined.
"We still had a terrible recession, make no mistake, but we pushed back against most of the poverty surge that would have happened, and that was no small feat," said Sherman, who researches poverty. "What's happening now is a kind of uneasy recovery where need is falling and, in some cases, the help that was offered is falling at the same speed, but in some cases it's falling a little bit faster."
In one example, the expiration of long-term unemployment insurance benefits that took effect early this year could make for more poor Americans in next year's report, Sherman said.
Even so, poverty should gradually subside as the job market strengthens, said Isabel Sawhill, co-director for the Center on Children and Families at the Brookings Institution in Washington.
Last Decade
Progress in lifting children out of poverty has eroded over the past decade. About 19.9 percent of children under 18 were growing up poor as of 2013. The rate fell as low of 16.2 percent in 2000.
Some of the persistence in child and overall poverty is due to a larger share of single-parent households, since one-income families by nature have lower earnings, Sawhill said before the report.
High child impoverishment is a warning signal, said Valerie Wilson, director for the Program on Race, Ethnicity, and the Economy at the Economic Policy Institute in Washington.
"We know that poverty has an effect on educational achievement," Wilson said. "That's going to affect these children's preparation to enter the workforce."
In Raleigh, Mitchell is emphasizing to her grandchildren the importance of furthering their education.
"Education -- I tell my grandkids -- is the key," she said. "However, I feel like there should be opportunities; I should be able to pay my rent, I work hard, and I'm not asking for anyone to give me anything. Just pay me, so that I don't have to be classified as someone who always has my hand out."
Before it's here, it's on the Bloomberg Terminal.
LEARN MORE