Whole Foods to Test Rewards Program as Competition Grows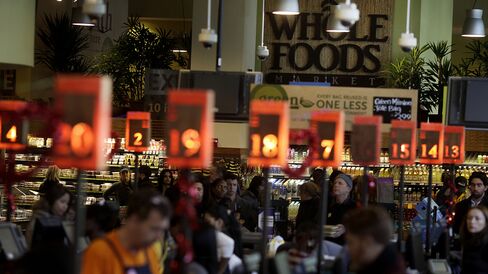 Whole Foods Market Inc., facing stiffer competition among natural-foods sellers, is embracing something it's resisted for more than 30 years: a rewards program.
The grocer will test the plan in its store in Princeton, New Jersey, this month and expand the trial to Philadelphia later this year, Michael Silverman, a Whole Foods spokesman, said in an e-mail. The company expects to introduce a national rewards program by late 2015, he said.
While other grocery chains have had rewards and loyalty programs in place for years, the largest natural-goods retailer in the U.S. is just getting started. Austin, Texas-based Whole Foods recently lowered prices, especially on produce, to better compete with large competitors, such as Kroger Co. and Wal-Mart Stores Inc., that are selling more natural and healthy fare.
With a rewards card or mobile-phone application downloaded from Apple Inc., Whole Foods customers will be able to earn points that can be redeemed for discounts and store experiences, such as cooking classes, Silverman said. The trial period will last about six to eight months.
In July, Whole Foods cut its sales forecast, saying revenue in the current fiscal year will rise as much as 9.9 percent, down from a previous projection for a gain of as much as 11 percent. The grocer also will try to boost sales with a new marketing campaign this fall.
Whole Foods stock has slumped 35 percent this year, while the Standard & Poor's 500 Index gained 7.3 percent. The shares fell 1.4 percent to $37.57 at the close today in New York.
Before it's here, it's on the Bloomberg Terminal.
LEARN MORE