Apple Watch Privacy Questioned by Connecticut AG Jepsen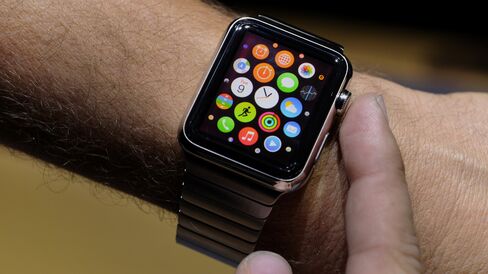 Apple Inc. faces questions by Connecticut Attorney General George Jepsen over privacy protections for users of the company's watch, which includes features such as health tracking, unveiled last week as part of its lineup of new products.
Jepsen said he asked Apple's Chief Executive Officer Tim Cook for a meeting with representatives of the Cupertino, California-based company. Privacy is a key issue for Apple as it introduces new services that will require people to trust it with sensitive information. Apple also introduced a mobile payment system called Apple Pay, which will be available starting next month.
The announcements follow new concerns raised about privacy after the release of stolen pictures of naked celebrities such as Kate Upton and Jennifer Lawrence from Apple's iCloud. Apple has said iCloud wasn't breached by hackers and it encouraged people to use stronger passwords and two-step verification.
Jepsen said he wants to know whether Apple will allow users to store personal and health information on the Apple Watch or on computer servers, and how that information will be protected.
He said he would ask Apple if it will review privacy policies for apps, and if it intends to enforce policies requiring it to reject apps that offer diagnoses or treatment advice without regulatory approval.
"When new technologies emerge in consumer markets they inevitably lead to new questions, including questions about privacy," Jepsen said. "Asking those questions and engaging in a proactive dialogue about privacy concerns before a product comes to market is an effective and mutually beneficial way to ensure that consumer privacy is protected."
Touch Screen
The touch-screen Apple Watch, which also includes maps, voice commands and text-message notifications, goes on sale next year starting at $349.
The wearable device, which requires an iPhone to connect with, detects a user's pulse rate and interacts with the company's new apps for monitoring health and workout progress. It comes in two sizes and different models, displays weather, stocks, music apps -- and will tell time in a choice of display styles.
Jepsen said he will seek to find out what information the watch and its applications will collect, and how the company and developers of apps will obtain consent from users to collect and share that data.
Trudy Muller, a spokeswoman for Apple, didn't immediately return a request for comment on Jepsen's letter.
State Inquiries
Attorneys general across the U.S. have urged Apple and other technology companies to enhance privacy and security measures as mobile devices such as smartphones gain popularity.
Following a meeting with Jepsen, Google Inc. last year implemented a policy requiring it to review and approve third-party apps developed for its Google Glass computerized eyewear, before they are made available to users.
Apple, Google and Microsoft Corp. agreed to incorporate "kill switch" technology in smartphone systems after prodding by a group of government officials including New York Attorney General Eric Schneiderman and San Francisco District Attorney George Gascon.
The new Apple Pay offering announced last week comes as the company partners with credit-card companies including American Express Co., MasterCard Inc. and Visa Inc. Apple Pay will work with the latest iPhones and the Apple Watch, and be available for use at retailers include Staples Inc. and Whole Foods Market Inc., the company said.
Apple has stressed that its payment system will be more secure than traditional credit cards and that the company won't track people's spending.
Before it's here, it's on the Bloomberg Terminal.
LEARN MORE