Default Sees Macri Gain on Massa and Scioli in Argentina Poll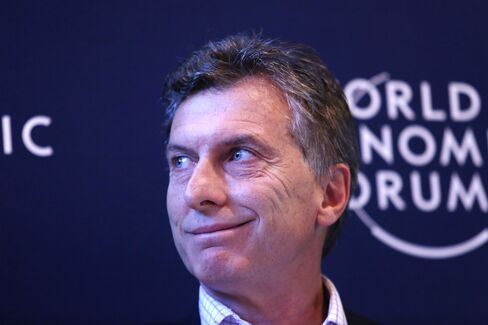 Buenos Aires Mayor Mauricio Macri is gaining the most in polls as the fallout from Argentina's second default in 13 years begins to impinge on candidates with ties to the government ahead of the 2015 presidential election.
A poll by Management & Fit shows 23.2 percent would vote for Macri to become president of South America's second-biggest economy. That compares with 19.1 percent in a July 23-29 survey, according to the Mar del Plata-based polling firm.
Sergio Massa, former chief of staff of President Cristina Fernandez de Kirchner would get 23.5 percent of the votes, while Buenos Aires province Governor Daniel Scioli still leads with 24.3 percent support. The 2,400-person nationwide survey was taken Sept. 2-9 with a 2 percent margin of error.
Argentina, which defaulted July 30 after a U.S. judge blocked a debt payment until the government settles with holdouts from the 2001 default, is experiencing accelerating inflation, negative growth and a widening gap between the official and black market exchange rates for the peso. That's affecting Scioli and Massa, who belong to the ruling Peronist movement and depend on votes from government supporters, Mariel Fornoni, director of Management & Fit, said in a Sept. 8 interview.
Macri, the 55-year-old son of a business tycoon, has said he would abolish income taxes for workers, eliminate export tariffs, reduce a tax on soybean exports by five percentage points per year and resolve a conflict with hedge funds that led to Argentina defaulting for the second time in 13 years.
Massa's Criticism
Massa, who broke from the government and defeated Fernandez's candidate for Buenos Aires province by 12 percentage points in legislative elections last year, has criticized the government's handling of the economy and voted Sept. 10 against a law to pay foreign debt locally that's designed to circumvent the U.S. court ruling.
Still, his affiliation with the Justicialist Party that comprises all members of the Peronist movement named after former President Juan Domingo Peron means he will depend on the same pool of voters as Scioli and his prospects could be damaged if the economy deteriorates further, Fornoni said.
Since the default, the black market peso has tumbled 14 percent to 14.3 pesos per dollar, widening the gap with the official rate to 70 percent and putting further pressure on the government to devalue as consumer prices rose 38.2 percent in August, according to Buenos Aires-based consulting firm Elypsis. The government hasn't issued a figure for annual inflation since February, when it unveiled a new index.
Argentina will hold presidential elections Oct. 25, 2015. Fernandez's disapproval rating rose in the M&F Consultora poll from 36.9 percent in August to 43.8 percent in September. Fernandez isn't eligible for re-election.
Before it's here, it's on the Bloomberg Terminal.
LEARN MORE