Bill Clinton = Campaign Strategist in Fight for Senate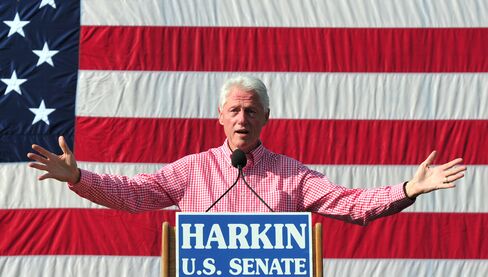 Bill Clinton remains a political strategist at heart.
Standing in an Iowa field on an afternoon his wife was supposed to be the center of attention, the former president couldn't help but weigh in on key Senate contests in Georgia, Arkansas and Kentucky, demonstrating his mastery of minutiae to advise on how to win tough races, especially in his native South.
"Just keep hitting him, I think, you know, and be positive, too," Clinton told Bloomberg Politics Managing Editor Mark Halperin when asked what Democrat Alison Lundergan Grimes must do in Kentucky to beat Mitch McConnell, the Republican Senate leader. "She needs to be positive and draw a contrast."
Clinton follows politics closely and is known to have an encyclopedic knowledge of polling and demographic data.
"In the art of politics he's Michelangelo, and in the science of politics he is Einstein," said Paul Begala, a Democratic strategist close to the Clintons. "He follows political results like a baseball junkie follows box scores. Because he has campaigned in so many places, he has absorbed and integrated millions of data points, yet can assemble them into a narrative that folks can follow."
When President Barack Obama's advisers wanted to get him invested in the 2012 re-election campaign, they turned to the language of political data. That summer, in a high-rise hotel suite in Chicago, Obama campaign manager Jim Messina briefed Clinton on Obama's polling and voter information, drilling down to the precinct level. The session was a turning point, after which Clinton engaged in helping the president's re-election.
Nixon Strategy
Clinton is unique among high-profile political players in his willingness to go all out for allies even when they're likely to lose. Richard Nixon, by comparison, was obsessed with his "batting average" -- the frequency with which candidates he endorsed won. Clinton has been far more active than his recent predecessors in endorsing candidates, raising money for their campaigns and recording automated telephone messages for them. For him, the value is in the fight -- and the loyalty shown -- more than in being assured of ending up on the winning side.
As Hillary Clinton moves closer to a 2016 presidential campaign, her husband's efforts on behalf of Democrats could pay dividends by creating loyalty in those candidates and their supporters. The push could also help prove that Clinton Inc. still has robust electoral strength.
The three southern races are those in which Clinton arguably has the greatest personal investment. He knows all three Democratic candidates and has histories with their families.
Family Ties
Bill Clinton won Arkansas, Kentucky and Georgia in 1992, while Obama lost them all in 2008 and 2012. Democrats are banking on Hillary Clinton to bring them back into play in a potential 2016 bid.
If their party could pull off a midterm upset in either Kentucky or Georgia, states where they have plausible challengers, Republicans would have a tough time winning the net of six seats they need for control of the Senate. Republican strategists dismiss those scenarios as fantasy in a midterm election defined by a Democratic president who is unpopular in both states.
In Georgia, Clinton pointed to the need to register more black voters. He visited there this weekend to boost Democratic Senate candidate Michelle Nunn.
"African-Americans are as under-registered in Georgia, historically, as Hispanics are in Texas," he said in an interview. "If we can increase the number, increase the vote, then I think you just need to go out and find the rest of the state, the people that are for you."
Voter Fraud
Republicans have recognized that threat, and Georgia's top election official, Secretary of State Brian Kemp, has given the Democratic voter registration group, the New Georgia Project, until the end of Monday to produce documents that demonstrate it isn't engaged in voter fraud.
The Georgia Project has registered 85,000 new minority voters for the Senate race that pits Nunn against Republican businessman David Perdue to fill the open seat of retiring Senator Saxby Chambliss, a Republican.
In his native Arkansas, Clinton predicted incumbent Democratic Senator Mark Pryor would prevail in his challenge from Republican U.S. Representative Tom Cotton.
"I think Pryor has really played his hand well, and I still believe that he will probably win, if we get the turnout," he said. "I've studied all the polls and I really believe that we're still in a zone where they're all real close and it depends on who decides to show. And our side's not used to voting in midterms. We gotta get used to it. There's a lot at stake."
Before it's here, it's on the Bloomberg Terminal.
LEARN MORE