Air France, Lufthansa Hit by Strikes in Fight for Future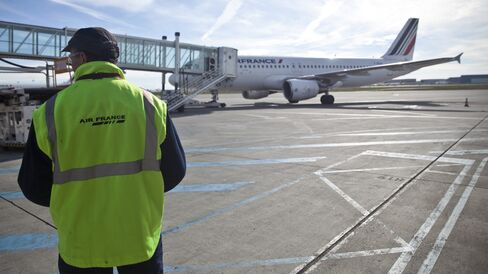 Air France is facing its most disruptive pilot strike since 1998 and Deutsche Lufthansa AG is bracing for another walkout tomorrow as both carriers confront worker resistance to sweeping overhauls aimed at cutting costs.
At Air France, a unit of Air France-KLM Group, 60 percent of pilots walked out today over plans to expand low-cost operations with flight crews paid less than at the main carrier. At Lufthansa, which has suffered a series of one- and three-day strikes over retirement benefits this year, pilots flying long-haul aircraft from Frankfurt will halt work tomorrow.
The strikes at Europe's two biggest airlines threaten to undermine efforts by management to bring costs in line with discount competitors including Ryanair Holdings Plc, which has just bought new aircraft that it says will help cut fares even more. Both carriers have lost money on short-haul operations for years and are moving more business to cheaper subsidiaries, a step contested by employees concerned about their future.
"Short-haul operations of both airlines are in quite a lot of trouble and they're having to cut costs quickly," said Robin Byde, an analyst at Cantor Fitzgerald.
Air France today expects to cancel 52 percent of services on the first day of an action due to run through Sept. 22, and 60 percent may remain grounded tomorrow. The dispute will cost 20 million euros ($26 million) a day in revenue, it said.
Essential Trips
"We're telling people who don't absolutely have to travel to postpone their trip," Air France Head of Operations Catherine Jude said yesterday in a briefing at the carrier's Paris Charles de Gaulle airport base.
Pilots are staging the walkout as Air France-KLM Chief Executive Officer Alexandre de Juniac seeks to end decades of short-haul losses. Former Dutch charter unit Transavia will be further expanded into France with a fleet that could double in size, the company said last week, confirming plans that unions say will prompt job losses and pay cuts at the main airline.
While Lufthansa's pilots formally say the the strikes only target retirement benefits, the number of contested points has increased, including higher wages and the carrier's plans to set up low-cost operations also on long-haul routes.
Lufthansa pilots in April staged a three-day walkout, their first since 2010, forcing the airline to cancel 3,900 flights and trimming profit this year by 60 million euros, with bookings taking about six weeks to recover.
No Substitution
Since then, there was a walkout at the company's Germanwings low-cost arm on Aug. 29 and at Lufthansa's main Frankfurt hub on Sept. 5. Each lasted six hours, causing a total of 334 services to be canceled. Lufthansa also canceled about 140 flights to and from Munich on Sept. 10 when the pilots walked out at the carrier's second German hub. So for the year, the total number of flights canceled is 4,400 flights.
For the French carrier, this week's action could have the biggest effect on travel since an eight-day strike 16 years ago over the French government taking the airline public. That dispute involved 3,000 pilots and forced 75 percent of flights to be scrapped at a cost equivalent to $166 million now.
While Air France in more recent, smaller strikes has limited the cancellations mainly to short flights, the ability to cope with the walkout is limited this time, and pilots "who fly one aircraft can't be substituted for another," Air France's Jude said, declining to give a breakdown of likely long-haul and short-haul cancellations.
Discount Expansion
Air France's SNPL union wants pilots across the company to be paid the same wages and to have the same working conditions. Jean-Louis Barber, the labor group's president, said last week that it was still open to negotiating even as the strike loomed.
De Juniac said Sept. 11 that if pilots don't accept the company's strategy, the expansion of Transavia's French unit may be put on hold. Flights could be added through a new Transavia Europe division that might be based elsewhere.
Strikes are among the reasons that Lufthansa gave a profit warning earlier this year, and Air France-KLM Group may well be forced to revise its own outlook, already pared downward from 2.5 billion euros in Ebitda in July, according to a note published this morning by Raymond James Euro Equities in Paris
Yet short-term hits may be necessary as companies play hardball with unions in seeking to drop costs, said Cantor Fitzgerald's Byde.
"It's not just about the cost base, but about market opportunities," he said in an interview. "The future of the airlines is in question and I can't see management backing down."
Before it's here, it's on the Bloomberg Terminal.
LEARN MORE