Retail Sales in U.S. Increase by Most in Four Months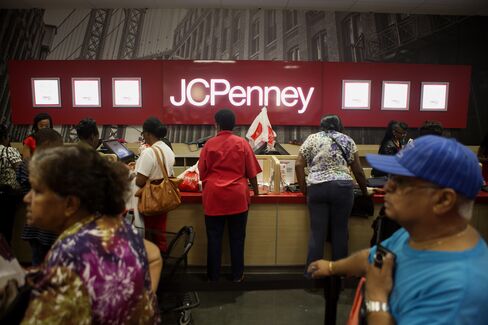 An August pickup in retail sales and revised figures showing demand in prior months was stronger than first reported signal consumers have reclaimed their position among the main sources of U.S. growth.
The 0.6 percent increase in purchases was the biggest in four months and followed a 0.3 percent rise in July, according to Commerce Department figures issued today in Washington. The advance last month was broad-based with 11 of 13 categories improving. Another report today showed the strengthening will probably be sustained as household confidence climbs.
"You're seeing evidence that the consumer may actually be becoming more engaged in the expansion," said Michelle Girard, chief U.S. economist at RBS Securities Inc. in Stamford, Connecticut. "Consumers are feeling better about the outlook for the economy certainly, and that's one of several factors that is supporting the better spending numbers."
A firming job market, rising stock and home prices and a retreat in fuel costs are among reasons Americans feel more comfortable boosting outlays. The sales report prompted some economists to raise forecasts for third-quarter consumer spending and economic growth.
Stocks fell, prompting the first weekly drop in the Standard & Poor's 500 Index in more than a month, as investors speculated the Federal Reserve may raise interest rates sooner than estimated as the economy shows signs of improving. The S&P 500 declined 0.6 percent to 1,985.54 at the close in New York.
Consumer Confidence
Consumer confidence rose in September to the highest level in more than a year as households' views on the outlook for the economy brightened, according to figures issued today by Thomson Reuters/University of Michigan. The group's preliminary index for this month rose to 84.6, the highest since July 2013, from a final reading of 82.5 in August. The median estimate in a Bloomberg survey of 65 economists projected an increase to 83.3.
The survey's current conditions index, which measures Americans' assessment of their personal finances, retreated this month from a seven-year high in August. The measure of expectations six months from now climbed to the highest level since July 2013.
"The consumer is in decent shape right now," said Gus Faucher, an economist at PNC Financial Services Group Inc. in Pittsburgh, who correctly projected the gain in retail sales. "We are looking at solid economic growth in the third quarter."
Survey Results
The increase in purchases last month matched the median forecast of 83 economists surveyed by Bloomberg. Estimates ranged from advances of 0.1 percent to 1.2 percent. July retail sales were previously reported as little changed from a month earlier. June was revised to a 0.4 percent increase from a previously reported 0.2 percent gain.
The pickup in sales last month was paced by auto dealers, which showed a 1.5 percent increase in purchases, the best showing since March.
Industry figures indicate Americans continue to spend on vehicles. Sales of cars and light trucks rose to a 17.5 million annualized rate in August, the highest since January 2006, from a 16.4 million pace a month earlier, according to data from Ward's Automotive Group.
"We're going to close out the year with the highest production plan we've had in seven years," Bill Fay, Toyota Motor Corp.'s U.S. sales chief, said on a conference call this month. "Consumer confidence is up, spending growth is out there in the marketplace, interest rates are stable, fuel prices are stable. It's pretty darn close to ideal."
Excluding Autos
Retail sales excluding autos increased 0.3 percent in August for a second month, today's report showed. That also matched the median forecast of economists surveyed by Bloomberg.
Spending increased 1.4 percent at building-material stores, 0.7 percent each at furniture and electronic merchants and 0.9 percent at sporting goods outlets, today's report showed.
Two categories showed weakness, with sales declining at service stations and general merchandise chains, which include department stores. The Commerce Department's retail sales data aren't adjusted for prices, so the drop at gasoline stations may reflect lower costs at the pump.
Regular gasoline sold at an average $3.42 a gallon as of Sept. 10, the lowest in more than six months, according to AAA, the biggest U.S. motoring group. Lower fuel prices are freeing up money for consumers to spend elsewhere.
Fuel Costs
Another report today showed a decline in the cost of oil helped push down prices of imported goods by 0.9 percent, the most since November, according to figures from the Labor Department. Compared with the same month last year, import prices fell 0.4 percent.
The 4.6 percent drop in the cost of imported fuel last month was the biggest since June 2012, the report showed.
The Commerce Department's retail report showed sales excluding autos, gasoline and building materials, which render the figures used to calculate gross domestic product, climbed 0.4 percent in August for a second month. The July reading was revised up from the 0.1 percent previously estimated.
The August reading plus the revisions prompted economists at Morgan Stanley in New York to raise their tracking estimate of growth this quarter to a 3.5 percent annualized rate from 3.4 percent. Colleagues as Renaissance Macro Research LLC boosted it to 3.9 percent from 3.6 percent.
Target Corp., the second-largest U.S. discount chain, was among those seeing early signs of an improvement in demand.
Deemphasizing Discounts
"While it's still early, we have been pleased with the results so far in the back-to-school and back-to-college season, in which we have seen improved sales trends from guests focused on the occasion rather than promotions," Kathee Tesija, chief merchandising and supply chain officer of Minneapolis-based Target, said on an Aug. 20 earnings conference call.
Employers were more judicious in their hiring last month, adding 142,000 workers to payrolls, after a six-month hiring burst that has put more than 1.4 million Americans to work. The unemployment rate fell to 6.1 percent from 6.2 percent.
Fed officials, who meet next week, have noted the improvement in the economy even as they indicated they are in no rush to begin raising interest rates. Chair Janet Yellen has drawn attention to the sluggish pace of wage growth.
"There has been little evidence of any broad-based acceleration in either wages or compensation," Yellen said in an Aug. 22 speech at the Kansas City Fed's economic conference in Jackson Hole, Wyoming.
Policy makers in June projected the benchmark federal funds rate would rise some time next year. They will issue new forecasts for the rate, along with economic growth, unemployment and inflation, at the conclusion of a Sept. 16-17 meeting of the Federal Open Market Committee.
Before it's here, it's on the Bloomberg Terminal.
LEARN MORE