Pound Seen Tumbling Up to 10% on Scottish Yes Vote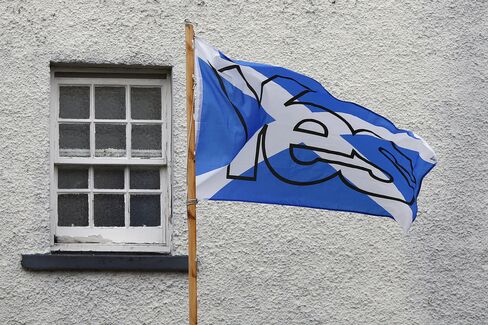 The pound, already suffering its worst month in more than a year, has the potential to tumble 10 percent should the Scots vote for independence from the U.K., according to economists surveyed by Bloomberg.
A victory by Scottish First Minister Alex Salmond's "yes" campaign would mean a 5 percent to 10 percent slide versus the dollar within a month, said 61 percent of the 31 respondents polled by Bloomberg Sept. 5-11. Sterling is already down 5.5 percent from a five-year high in July, and touched its lowest level in 10 months this week as momentum for the separatists increased.
"The question is if it's one bad day or if it just continues and continues as people take fright," Alan Clarke, an economist at Bank of Nova Scotia's Scotiabank unit in London, who took part in Bloomberg's survey, said yesterday by phone. The pound may weaken to about $1.55 the day after a "yes" vote, he said. The currency traded at $1.6255 at 12:31 p.m. in New York.
The result of the Sept. 18 vote is on a knife edge, with an ICM Research Ltd. poll on the Guardian website today putting support for the "yes" campaign at 49 percent, versus 51 percent for those wanting to keep the 307-year-old union. That followed a poll for Glasgow's Daily Record newspaper two days ago putting support for the separatists at 47 percent versus 53 percent for "no." Firms from Standard Life Plc to Royal Bank of Scotland Group Plc have announced plans to move operations south of the border if Salmond wins the campaign.
Volatility Surge
If the "Better Together" campaign prevails, Britain's currency would strengthen by 2 percent to 10 percent versus the dollar, according to more than three quarters of the economists surveyed.
Since climbing to $1.7192 on July 15, the pound has weakened and volatility jumped as markets started to take into account the possibility that the Scots would vote to break away. Sterling fell as low as $1.6052 on Sept. 10 after the nationalists overtook opponents of independence for the first time this year in a YouGov Plc poll for the Sunday Times.
After previously posting the smallest increase in implied volatility among the Group of 10 currencies, the pound has shown the biggest jump this month, data compiled by Bloomberg show. Three-month implied volatility for the pound surged to 8.67 percent on Sept. 9, the highest on a closing basis since August 2013 and up from a 2014 low of 5.03 percent in June.
Bigger Drop
Of the respondents to the Bloomberg survey, 36 percent forecast a slide of 2 percent to 5 percent in sterling in the event of a "yes" vote, with 3 percent predicting a bigger-than-10 percent drop. Sixty-eight percent said a unionist victory would strengthen the pound by 2 percent to 5 percent, with 13 percent seeing a 5 percent to 10 percent advance.
A decline of 10 percent would see the pound depreciate to about $1.46, its weakest level since June 2010.
Uncertainty over whether an independent Scotland would be able to keep using sterling means the currency has been central to the campaign from the start.
All three main U.K. political parties have rejected the idea of a currency union with the remainder of Britain, though Salmond, backed by Nobel Prize winners Joseph Stiglitz and James Mirrlees, insists that's a bluff.
Losses "could send the pound on a long slide downward as uncertainty piles on uncertainty," Bluford Putnam, chief economist at CME Group Inc., the Chicago-based owner of the world's largest futures market, said yesterday by phone. He said sterling may immediately drop 5 percent on a "yes" vote.
'Relaxed Feeling'
As speculation about a separatist victory diminished this week, the pound's implied rate of volatility eased to 7.63 percent. Sterling was little changed today, ending two days of gains, leaving its decline this month at 2.1 percent, the most since May 2013.
Axel Merk, president and founder of Palo Alto, California-based Merk Investments LLC., said he's bought sterling in recent days because he doesn't expect independence to happen. Even if there's a "yes" vote, "life will continue" for Scotland and the rest of the U.K., he said yesterday in a phone interview.
Brian Haggas, the 83-year-old owner of Kenneth Mackenzie Ltd., which makes and exports Scotland's famous Harris Tweed cloth, agreed that the effects of independence may be overblown.
"Certainly, in our company, there's a very relaxed feeling about the whole thing," Haggas, who estimated most of his staff would vote "no" in the referendum, said yesterday by phone from Scotland's Isle of Lewis. "The vast majority of our exports are in dollars, and I think it wouldn't matter either way."
Revising Forecasts
Bank strategists are less sanguine about the potential breakup of the U.K., with many cutting their sterling forecasts this week as the "yes" campaign gathered momentum. ING Groep NV said Sept. 9 independence may push the pound to the mid- $1.50s. Credit Suisse Group AG forecasts a level of $1.50-$1.55.
Sterling would weaken 5 to 10 U.S. cents within a week of a nationalist win, according to Steve Barrow, the head of G-10 strategy of Standard Bank Plc.
"The significance of the outcome means this is fairly unique," Barrow, whose bank took part in the Bloomberg economist survey, said yesterday by phone. "I've being doing this role for 30 years and I can't really think of one that's similar."
Before it's here, it's on the Bloomberg Terminal.
LEARN MORE