'Goodell Must Go' Banners to Fly Above NFL Stadiums on Game Day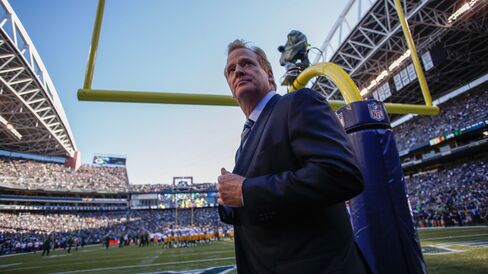 UltraViolet, a women's advocacy organization, will take to the sky tomorrow to call for the ouster of National Football League Commissioner Roger Goodell over his handling of the Ray Rice domestic violence case.
Ultraviolet said it will fly planes over three NFL stadiums prior to Week 2 games tomorrow with banners that read @UltraViolet: #GoodellMustGo. The planes are scheduled to fly for two hours above each facility prior to the no-fly security restrictions that begin one hour before game time.
One plane will fly over MetLife Stadium in East Rutherford, New Jersey, before the New York Giants' game against the Arizona Cardinals. Banners will also be displayed above stadiums in Cleveland and San Francisco, along with one ahead of the Monday night NFL game in Indianapolis.
Ultraviolet and the National Organization of Women called on Goodell to step down as commissioner after a Sept. 10 report said the NFL received security footage five months ago of former Baltimore Ravens running back Rice punching his fiancee in the head and knocking her unconscious. Goodell has said nobody in the NFL saw the video until this week.
Before it's here, it's on the Bloomberg Terminal.
LEARN MORE