Obama Says U.S. to Join EU in Tightening Russia Sanctions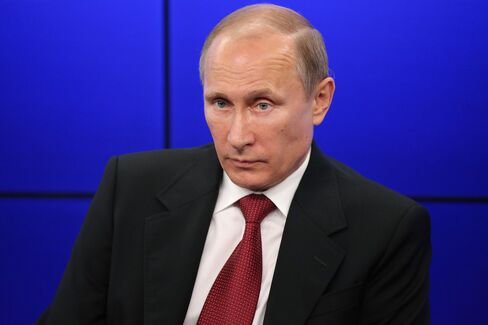 The U.S. joined the European Union in stiffening sanctions on Russia over Ukraine, as the 28-member bloc offered to ease the restrictions once the Kremlin makes a good-faith effort to end the conflict.
The U.S. will "deepen and broaden" measures against Russia's financial, energy, and defense industries, President Barack Obama said in a statement today, adding that the sanctions will take effect tomorrow and details will be released then. The EU said it would also enact its latest round of economic restrictions tomorrow. Europe is acting against a peaceful solution in Ukraine, the Russian Foreign Ministry said.
The moves raise the level of confrontation and follow reprisals last month by Russian President Vladimir Putin with a ban on a range of food imports after an earlier round of U.S. and European penalties. Facing the most significant action against his country since the fall of the Berlin Wall, Putin denies any involvement in the fighting that broke out after he annexed Crimea in March and says Russia's Cold War adversaries are to blame for the standoff.
"We have always stressed the reversibility and scalability of our restrictive measures," EU President Herman Van Rompuy said in a statement from Brussels. A review of the cease-fire in eastern Ukraine by the end of September may lead to EU "proposals to amend, suspend or repeal the set of sanctions in force, in all or in part."
EU Sanctions
Ending days of wrangling, representatives of the EU governments agreed to impose curbs on European assistance for Russian oil exploration and production and on the financing of Russian defense and energy companies. The EU also slapped travel bans and asset freezes on 24 more people accused of destabilizing Ukraine, bringing the total to 119.
Russia will retaliate against an "unfriendly policy which doesn't meet EU interests," Foreign Ministry spokesman Alexander Lukashevich said in Moscow.
Russia's Economy Ministry drafted a list of goods that may be banned, state-run RIA Novosti reported, citing Kremlin economic aide Andrei Belousov. Possible targets include automobile imports -- particularly used cars -- as well as textiles and clothing, according to RIA.
Russia was also weighing restrictions on overflights to the Asia-Pacific as retaliation for sanctions against Aeroflot's low-cost unit Dobrolet.
Record Drop
The ruble weakened to a record against the dollar and Russian stocks fell as the prospect of EU sanctions loomed closer and oil slid for a sixth day. The Russian currency retreated as much 0.9 percent to 37.6205 per dollar, before trading 0.5 percent lower at 8:25 p.m. in Moscow. The Micex Index lost 1.3 percent, the most since Aug. 29. Ten-year local-currency bonds fell for a fourth day.
The fighting in Ukraine has killed more than 3,000 people and driven more than 1 million from their homes. Although Ukrainian authorities said separatists continued to fire on government positions, President Petro Poroshenko said Russia is beginning to withdraw troops from the border conflict zones.
Ukrainian assets rallied in the aftermath of the truce. The yield on Ukrainian bonds maturing in July 2017 fell nine basis points, or 0.09 percentage point, to 12.458 percent.
EU Stance
The EU won't spell out what it wants to see on the ground to justify an easing or lifting of sanctions, according to an official from the bloc who spoke on condition of anonymity. It also won't predict exactly when this decision will be made. The review will cover all sanctions now in force.
Today's sanctions and the ones adopted in July run until end-July 2015, the official said. A unanimous decision by all 28 EU government will be required to renew them.
EU governments first voted for the sanctions on Sept. 5, while laying bare the bloc's divisions over Russia by putting the curbs on hold as the cease-fire between Ukraine and Russian-backed separatists kicked in. Some countries had argued that rushing ahead with the restrictions now would give the Kremlin a pretext to restart the fighting.
The latest sanctions will bar Europeans from lending to or buying stocks or bonds with more than 30-day maturities from five Russian state-owned banks. Three Russian defense and three energy companies will be frozen out of European capital markets.
Arctic Freeze
Services such as drilling, well-testing or logging were forbidden for Russian deep-water, Arctic and shale oil exploration and production. Restrictions were also widened on the sale of civilian equipment and electronics that has military applications.
The sanctions will take effect when published in the EU's Official Journal tomorrow.
EU sanctions decisions require the support of all EU governments, giving any one nation leverage to seek concessions. Several European leaders including Hungary's Viktor Orban had expressed concerns that further penalties against Russia will hurt their own economies.
In July, the EU barred five state-owned Russian banks from selling shares or bonds in Europe. It also restricted the export of equipment to modernize the oil industry, prohibited new contracts to sell arms to Russia, and banned the export of machinery, electronics and other civilian products with military uses -- so-called dual-use goods -- to military users.
Food Ban
Russia responded by banning imports of some EU farm goods, a step that has cut off about 5 billion euros ($6.5 billion) of annual trade and left the bloc struggling to aid its producers.
The Sept. 5 cease-fire continued to show signs of strain, with the separatists shelling Ukrainian troops 20 times during the past day and 129 times since the truce began, Ukrainian military spokesman Andriy Lysenko said in Kiev today.
Yesterday, there was sporadic fighting around the Donetsk airport, and the border guard service said a bomb killed three personnel in the Luhansk region. About 8,000 Russian servicemen have been wounded in Ukraine and 2,000 killed, Lysenko said today. The figures couldn't be independently verified.
Ukrainian parliament Speaker Oleksandr Turchynov said that if the truce doesn't hold, the government in Kiev "will have no alternative but to mobilize all resources after introducing martial law and to clear the country of usurpers."
"Our task is to prevent Donbas from becoming a zone of frozen conflict," Turchynov said today. "I rule out a format in which Ukraine agrees that Russia controls part of the territories of the Donetsk and Luhansk regions."
Before it's here, it's on the Bloomberg Terminal.
LEARN MORE