Toyota Said to Scout for Mexico Plant, Following Rivals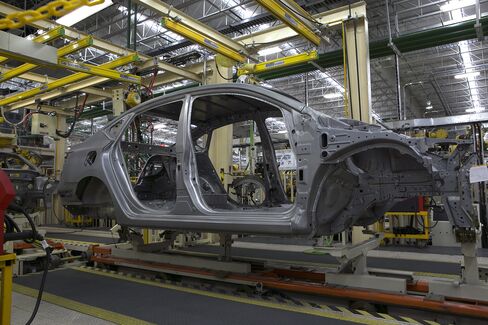 Toyota Motor Corp., the last major automaker without a full assembly plant in Mexico, is scouting the country for possible factory sites, two people with direct knowledge of the matter said.
Executives met this week with Mexican federal officials for preliminary talks about adding a plant in the country, said one of the people, who asked not to be identified because the details aren't public. The company's search spans several states, both people said.
Low labor costs and favorable trade accords are drawing foreign auto producers to Mexico. While Toyota's lack of a high-volume local plant makes the world's largest automaker an outlier among peers in the country, three $1 billion factories have been announced just since June, for Kia Motors Corp., Bayerische Motoren Werke AG and a Daimler AG-Nissan Motor Co. venture.
"Virtually every major manufacturer that's active in the North American market is looking at capacity expansion, and Mexico is definitely a strong candidate to get that capacity," said Michael Robinet, managing director at consultant IHS Automotive in Southfield, Michigan. "Mexico is now the crossroads of the automotive trade in the Western hemisphere."
The size and timing of a new factory for Toyota City, Japan-based Toyota have yet to be decided, according to one of the people familiar with the matter.
"We are always evaluating opportunities in North America in line with market demand, but no decisions have been made," Tania Saldana, a Toyota spokeswoman, said by e-mail, without elaborating. Messages left for comment with a spokeswoman for Mexico's Economy Ministry weren't immediately returned.
$10 Billion
A Toyota plant would add to investments in Mexico that the government says include $10 billion of factories announced or opened since President Enrique Pena Nieto took office in December 2012. Auto output should reach a record 3.2 million this year, the Mexican Automobile Industry Association projects.
"Practically all companies are now in Mexico," association Director General Fausto Cuevas said at a Sept. 8 press conference. "Mexico has shown it's an excellent maker of vehicles, auto parts and components."
Toyota now has a Mexico toehold. Mazda Motor Corp., whose Guanajuato plant cranked out its first car in January, will eventually build 50,000 Toyotas a year.
Toyota rose 0.8 percent to close at 6,218 yen in Tokyo, while Japan's benchmark Topix Index climbed 0.3 percent. Mazda advanced 1.4 percent to 2,613 yen.
Smallest Factory
Toyota also runs a small Tacoma pickup factory near Tijuana, Mexico, that doesn't make vehicles from scratch and isn't considered a full assembly plant.
That factory, Toyota's smallest in North America, has capacity to make 63,000 vehicles annually, said Saldana, the company spokeswoman.
Neither operation is on the scale of Kia's announcement last month for a $1 billion factory to produce 300,000 cars annually, or the Daimler-Nissan commitment in June to build a joint 1 billion euro ($1.3 billion) plant to assemble as many as 300,000 Mercedes-Benz and Infiniti compact cars.
Foreign investment is positioning Mexico to pass Brazil for the top spot in Latin American auto production this year, according to IHS Automotive.
Mexico's ascent is being fueled in part by auto sales in the U.S., the country's largest market, with August volumes running at the fastest annual pace since 2006. The boom coincides with a slump in Brazilian output as domestic demand cools, setting up a shift in leadership of the Latin American industry faster than analysts predicted.
"Given that everyone else is in Mexico now in some form, and Toyota's own plans to grow, it doesn't surprise me that they're looking," said Ed Kim, an industry analyst for researcher AutoPacific Inc. in Tustin, California. "It would surprise me if they weren't."
Before it's here, it's on the Bloomberg Terminal.
LEARN MORE