RadioShack Loan Said Prepared by UBS, Standard General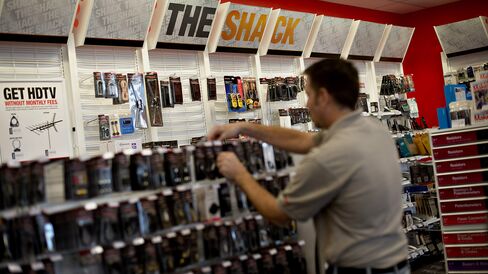 UBS AG is working with Standard General LP on loans for RadioShack Corp., bringing another potential ally to the electronics retailer as it tries to avert bankruptcy, according to three people with knowledge of the matter.
Under the plan, the money raised would first refinance debt outstanding under a $535 million asset-backed revolving credit line from GE Capital, the lending unit of General Electric Co., said the people, who asked not to be named because the negotiations are private.
That would give Fort Worth, Texas-based RadioShack access to more cash since the current debt agreement restricts how much money it can draw from the revolver, according to a Dec. 13 filing with the U.S. Securities and Exchange Commission.
"A rescue package would help the retailer stock up on inventory for the critical holiday season," Oliver Wintermantel, an analyst at International Strategy & Investment Group in New York, said in a telephone interview. The firm has a neutral rating on the shares.
The success of a rescue package depends on whether creditors including Salus Capital Partners LLC will agree to terms that would allow RadioShack to shutter additional stores, the people said.
David Glazek, a spokesman for Standard General, and Merianne Roth, a RadioShack spokeswoman, declined to comment, as did Megan Stinson of UBS.
Liquidity Crunch
Without a capital infusion, the seller of phones and batteries will probably face a liquidity crunch next year, according to a July 29 report by Moody's Investors Services, which rates the company Caa2, denoting a very high credit risk.
Paying down debt may give the retailer enough leeway to close a larger number of underperforming stores, helping the company burn less cash. RadioShack creditors had blocked a plan to shut 1,100 stores earlier this year, forcing the retailer to limit the closings to as many as 200 instead.
RadioShack Chief Executive Officer Joe Magnacca has been remodeling stores and revamping its product lineup in a bid to revive sales. The former Walgreen Co. executive who took over last year brought in a new leadership team and has outlined what he calls the "five pillars" of a turnaround, including boosting efficiency and repositioning its brand.
Still, analysts have grown increasingly concerned that the unprofitable company won't have enough time to execute the turnaround.
Earnings Results
The electronic store's $324.8 million of 6.75 percent notes due May 2019 traded at 42 cents on the dollar last week, according to Trace, the bond-price reporting system of the Financial Industry Regulatory Authority.
RadioShack is set to announce earnings results today. It has reported nine straight quarterly losses and may post a deficit of $69.4 million for the fiscal quarter that ended Aug. 2, according to the average estimate of three analysts surveyed by Bloomberg.
RadioShack shares fell 1 percent to 93 cents yesterday after plunging as much as 19 percent in earlier trading. The stock is down 64 percent this year.
Debtwire reported earlier this week that UBS was working on its own to raise financing for RadioShack, citing people it didn't identify.
Before it's here, it's on the Bloomberg Terminal.
LEARN MORE