Obama's Task: Rally U.S. Public, Allies in Terror Fight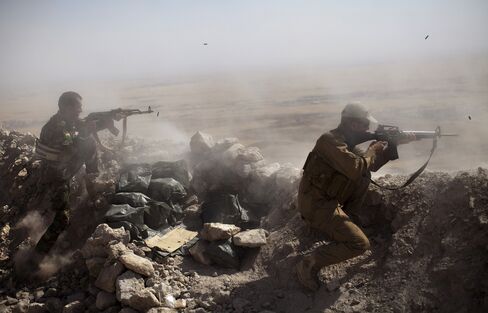 President Barack Obama is ready to announce his strategy for dealing with the Islamic State. The trick will be getting the American public, Congress and allies abroad to sign on.
Obama benefits from a consensus in Washington that it's time -- if not past time -- to start a broader campaign to debilitate the terrorist group that has gained control of a swath of Syria and Iraq.
Still, when Obama speaks from the White House at 9 p.m. local time today, Americans will want to hear why a president who campaigned on getting out of Iraq wants to re-engage militarily, and what it will cost.
"What people want to hear is an explanation of all the elements of a plan to degrade and defeat ISIS," Representative Chris Van Hollen, a Maryland Democrat, said in an interview, referring to Islamic State by an alternate name. "I hope the president uses this as an opportunity to let people know you can't do that in 24 hours, you can't do that by dropping a couple of bombs."
The administration is considering steps including moves to block foreign fighters from entering Syria and Iraq, delivering more aid to moderate factions among Syrian rebels and expanding air strikes to Islamic State targets in Syria.
Obama has taken criticism at home and abroad both for doing too much and doing too little in the Middle East. Now, public sentiment is for doing more. In an ABC News/Washington Post poll released yesterday, 71 percent of those surveyed said they support U.S. air strikes in Iraq and 65 percent said they support expanding them into Syria.
Forceful Response
Key members of Congress and opinion leaders in both parties also want a more forceful response.
"They need to be knocked back hard," House Foreign Affairs Committee Chairman Ed Royce, a California Republican, said of ISIS on MSNBC's "Morning Joe" yesterday. "The war is going to be taken back to them."
Former Vice President Dick Cheney, who will offer a pre-buttal to Obama's speech, met with House Republicans and, according to one House Republican leadership aide, argued in favor of intervening against IS to prevent the terrorist group from expanding across the region and threatening U.S. allies.
Still, Obama will have to answer thorny questions to satisfy Congress, foreign governments, and, most important, the American people. Here are are a few of them:
Election Concerns
-- By What Authority? Republicans and Democrats on Capitol Hill say they don't expect Obama to seek a new authorization of military force to conduct limited operations in Iraq, or possibly Syria. And that's a good thing, they say, because, two months before an election, many members of Congress would be reluctant to vote for war.
While Obama has followed the mandates of the War Powers Act in informing Congress of airstrikes and troop deployments to combat Islamic State in Iraq so far, the president told congressional leaders yesterday "he has the authority he needs" for the missions he'll lay out in his speech, according to a White House statement.
There's a question, legal and foreign policy experts say, whether Obama already has the authority to go after Islamic State under either the 2001 use-of-force resolution enacted to allow President George W. Bush to pursue al-Qaeda and its affiliates or the 2002 Iraq War resolution. If he needs new authority, either now or down the road, Congress might be able to grant it in several ways.
Buy-In Sought
-- Cash or Credit? When Obama told NBC's Chuck Todd last weekend that he was ready to go on offense, he also said he wanted "buy-in" from Congress. His administration is preparing a possible request for a multibillion-dollar package to execute his strategy, according to one administration official.
A congressional appropriation of money for the purpose of fighting Islamic State could provide the political "buy-in" that Obama's seeking. While it's indirect, it's hard for Congress to make the argument that it didn't approve of a war that it funded. It's not clear whether Obama would ask for money in an emergency supplemental -– meaning that it wouldn't have to be offset in the budget.
Republicans are likely to push for, if not outright demand, that any funding be offset with spending cuts elsewhere in the budget. That could create a role reversal for a president who chafed at his Republican predecessor's use of emergency funds to pay for the wars in Iraq and Afghanistan. The amount of money Obama would need to conduct operations in Islamic State depends to a large degree on the scope and duration of the campaign.
Mission Length
-- How Big? How Long? Obama has said that he won't put American boots on the ground to fight Islamic State, but he has sent several hundred U.S. military personnel to the region to protect American interests. Lawmakers will be listening closely for more of that, and to hear what he has to say about whether the scope of the airstrikes will be expanded to hit Islamic State inside Syria. Also key: Just how long Obama says it will take to finish the job.
Expect Obama to keep his options open.
"What we're seeing are some fast-moving developments in the region," Earnest said. "I would anticipate that as the president develops the strategy, it will be one that is continually refined."
Foreign policy analysts say that it will take longer than the rest of Obama's presidency to defeat or marginalize Islamic State.
Time Requirement
"This is not going to be easy and it's going to require a lot of time," Aaron David Miller of the Wilson Center, a Washington-based research group, said on MSNBC yesterday.
-- Coalition of the willing? It's not just Congress and the American public that Obama is trying to persuade. Perhaps more important, he is looking for Sunni Arab allies in the Middle East and European nations to join in a coalition against IS, a fanatic Sunni group.
That's the toughest task.
"Obama has to convince a world that doubts American resolve," said Steve Clemons, the founder of the American Strategy Program at the New America Foundation, a Washington policy organization, and an editor at The Atlantic. "He must seduce Sunni nations to spearhead a global anti-ISIS alliance, and he must show that US power is not in killing terrorists who will keep popping up, but rather compel a serious discussion between the Saudis and Iranians about a balance of power in the region."
If that's accomplished, then "Obama would be filling the world's need to see a smart, strategic America rather than a short-sighted, reactive one."
Before it's here, it's on the Bloomberg Terminal.
LEARN MORE