Beckham Confident That He Can Build Miami Soccer Stadium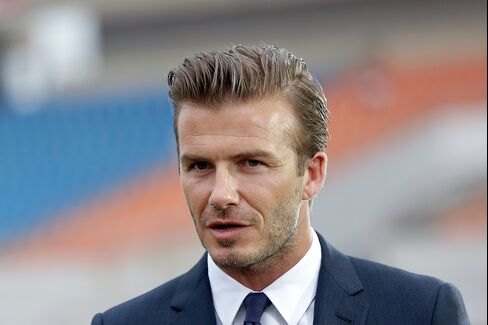 David Beckham says he's confident that he will establish a Major League Soccer team in Miami despite several setbacks with trying to find a spot for a stadium on the city's waterfront.
"Miami will happen," the former Manchester United player said in an interview with Bloomberg Television's Mark Crumpton. "I said I want to bring a team here and I will take a team to Miami. There are speed bumps along the way and we've come up against those."
Beckham is working with Sprint Corp. Chief Executive Officer Marcelo Claure and "American Idol" producer Simon Fuller to bring a team to Florida. Claure, who founded telecommunications company Brightstar Corp., owns Bolivia's top soccer club Bolivar.
Two successive proposals by the group to build a Miami stadium have been rejected after local opposition from groups ranging from Royal Caribbean Cruises Ltd. to billionaire car magnate Norman Braman. Miami-Dade County officials have said they are willing to keep working to find a suitable site.
Beckham said his team will continue to look for sites. He compared the new facility to Old Trafford, Manchester United's home, or Wembley, the stadium of the English national team.
Alternative Sites
"I've been very cheeky in a way because I've gone into Miami and I said 'OK, I wanna build Old Trafford or Wembley stadium next to Buckingham Palace,'" Beckham said. "My dream was to have our stadium on a waterfront. It's not worked out like that and we have alternative sites. It will happen."
Beckham said he supports MLS leadership including head Don Garber who oppose relegation in the competition. European soccer leagues operate under a model where the worst teams in each division are demoted, and replaced by best squads promoted from the lower leagues. The MLS teams keep their places no matter how they perform or where they finish in the standings.
"It's kind of a relief because you know you're not going out of the big leagues," Beckham said. With relegation, "in a way, it makes you fight more. Maybe the league will grow into having a few different divisions. Don Garber and a lot of people in the MLS have done such a great job to get the league as stable as it is."
Before it's here, it's on the Bloomberg Terminal.
LEARN MORE