Barnes & Noble Fights Book Decline by Selling More Toys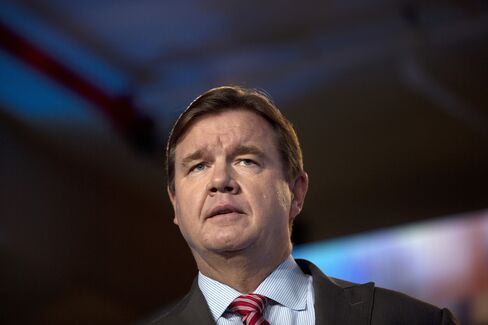 Barnes & Noble Inc., suffering from years of sluggish book sales, is increasingly taking on a new role: toy store.
The retailer's toy sales rose almost 20 percent last quarter from a year earlier, executives said yesterday on a conference call. After promoting the chain as a place for games, dolls and Legos, the company sees the products helping draw customers into its more than 650 locations.
In pushing deeper into toys, Barnes & Noble is capitalizing on a decline in companies dedicated to the market. Toys "R" Us Inc. and other chains have scaled back their locations, while KB Toys -- once the largest mall-based toy retailer -- closed its doors entirely. Barnes & Noble also aims to sell books to toy shoppers once they get in the door, cultivating a new generation of readers.
"People now understand after the last two holidays that we're in that business, and we're in it in a big way," Mitchell Klipper, head of the New York-based company's retail group, said in a phone interview. "And we have stuff you can't find in other retailers."
The push is part of an expansion of nonbook merchandise by Chief Executive Officer Michael Huseby, who is looking to squeeze more revenue from gifts and cafe purchases. Sales in that category made up 23 percent of the revenue for the retail division in fiscal 2013, up from 21 percent the previous year.
Nook Spinoff
Huseby's turnaround plan also includes spinning off Barnes & Noble's unprofitable Nook division, which has struggled to compete with Amazon.com Inc.'s Kindle and Apple Inc.'s iPad. The company reported a narrower loss yesterday for the first quarter after scaling back investments in the Nook business.
Barnes & Noble fell 2.2 percent to $23.56 at the close in New York. The shares have jumped 58 percent this year.
Toy stores haven't had it easy in recent years as consumers flock to Amazon, EBay Inc. and other e-commerce sites. Toys "R" Us, the largest toy chain, reported a loss of $344 million in the first half of fiscal 2014, an increase from $224 million a year earlier.
For Barnes & Noble, the toys and games help make the retailer more of a hangout -- something other companies can't easily replicate. When families can play together inside the store, they tend to linger, Klipper said. The chain's merchandise includes educational board games, Lego sets and dolls from Walt Disney Co.'s "Frozen."
"You sit on the floor, you curl up with a good book with your child," he said. "You don't see anybody going to Bed, Bath & Beyond curling up with a blender."
Before it's here, it's on the Bloomberg Terminal.
LEARN MORE