Ray Rice Prosecutors Defend No-Jail Deal Despite Video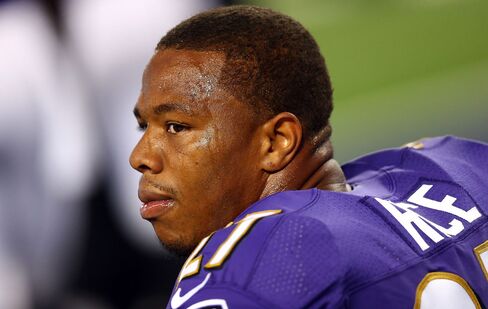 Ray Rice, the former Baltimore Ravens running back shown in an elevator video punching his then-fiancee, didn't get special treatment by avoiding jail and probation, according to New Jersey prosecutors.
The video shows Rice knocking Janay Palmer unconscious in an Atlantic City casino on Feb. 15. It was released two days ago by the website TMZ, prompting the Ravens to cut him with three years remaining on his five-year, $35 million contract. The National Football League also suspended the three-time All-Pro indefinitely after earlier banning him for two games.
Atlantic County Prosecutor James McClain agreed in May to let Rice enter the Pre-Trial Intervention program, a rehabilitation alternative to prosecution. If Rice completes an anger-management program and complies with other terms, the charges will be dropped and he won't have a record of conviction.
"Mr. Rice received the same treatment by the criminal justice system in Atlantic County that any first-time offender has, in similar circumstances," Jay McKeen, a spokesman for McClain, said yesterday in an e-mail. "The decision was correct."
Lawmakers in Trenton criticized the state's PTI program, which lets first-time offenders avoid prosecution for third- or fourth-degree crimes. State Senate President Steve Sweeney asked acting attorney general John Hoffman to review the case and the law. Governor Chris Christie said he wouldn't get involved.
Misdemeanor Charges
Rice, 27, and Palmer were each charged with misdemeanor assault after the 2:52 a.m. incident at the now-closed Revel Casino Hotel. On March 27, Rice was indicted on a charge of aggravated assault, a third-degree offense which can carry a penalty of three to five years in prison.
The complaint against Palmer was dismissed. Palmer and Rice married a day later. She supported his PTI application.
"I don't think that was a tailor-made resolution for a pro football player," said Joseph Hayden, a defense lawyer in New Jersey for 45 years who's not involved in the case. "The victim didn't want this prosecuted. She's married to him. I'm not excusing the conduct. It's inexcusable. But the wishes of the victim normally count for first-time offenders."
Another defense lawyer not involved in the case, Jack Arseneault, said domestic violence convictions are difficult without the cooperation of the victim.
"Domestic violence cases routinely get PTI, sometimes when the physical violence is worse than what we see in that video, which paints a very graphic picture," Arseneault said.
Anger Management
At Rice's arraignment, prosecutors offered a plea bargain involving probation, anger-management counseling and no jail time, which is typical for first-time offenders. As part of the pretrial exchange of evidence, prosecutors gave the video of what happened inside the elevator to Rice's attorney Michael Diamondstein, the Press of Atlantic City reported at the time.
Diamondstein was asked outside the courthouse if that video showed Rice punching his wife, the paper reported.
"It's more complex than that," Diamondstein said. "I can't break it down to you in words that quickly."
Rice pleaded not guilty to the charge on May 1 and applied to enter the PTI program. Prosecutors consented, and on May 20, Superior Court Judge Michael Donio approved Rice's entry.
"This decision was arrived at after careful consideration of the information contained in Mr. Rice's application in light of all the facts gathered during the investigation," McClain said in a statement at the time.
Diamondstein didn't return calls yesterday seeking comment.
Instagram Posting
In a posting yesterday on Instagram, Janay Rice defended her husband and assailed the media.
"THIS IS OUR LIFE!" Janay Rice wrote. "If your intentions were to hurt us, make us feel alone, take all happiness away, you've succeeded on so many levels."
The PTI program is governed by a state law and a court rule that lays out its terms.
"Fundamentally, it turns on the degree of the crime charged," said Lawrence Lustberg, a defense lawyer not involved in the case. "It also turns on the sense of whether the defendant will re-offend. Ray Rice had gone into anger management. The PTI program views that favorably."
Sweeney, the Senate president, called on Christie's attorney general to review the Rice case and the law.
Senator's Statement
"As Senate president, I have a responsibility to see that the law is used to protect women from abuse," Sweeney, a Democrat, said in a statement. "As a husband and father, I have a moral obligation to do what I can to prevent these acts of violence from being repeated."
Assemblywoman Gabriela Mosquera, the Democratic chairwoman of the Women & Children's Committee, also wants the law reviewed.
"After seeing this very graphic video of the events that had previously been reported, it's all the more puzzling as to how the county prosecutor reached a decision that Pre-Trial Intervention was the appropriate course," Mosquera said in a statement. "It's confounding, actually."
Christie, a Republican who appointed McClain, said yesterday he will withhold judgment. Christie, 52, served for almost seven years as New Jersey's top federal prosecutor.
"I do not get involved in critiquing the work of prosecutors in criminal cases while those criminal cases are ongoing," Christie told reporters in Camden, New Jersey.
Christie's Stance
Christie said he won't push for changes to the PTI program, which, he said, is best left to lawmakers and Hoffman.
"If I believe that justice has not been served at the conclusion of the matter, and I have authority under the constitution, then I will," he said. "I don't believe it's helpful for politicians to get involved in the criminal justice system. I hated it when I was a prosecutor."
McClain's predecessor, Ted Housel, said the public outcry over the videotape shouldn't affect the case. Housel, now in private practice, was Atlantic County prosecutor for five years.
"If this were nobody, and nobody cared about them except for the victim, should that person get PTI but Ray Rice shouldn't because the people cried out?," Housel said.
"The problem is that he's an NFL football star who makes all the money in the world," Housel said. "Maybe that's the price he pays for being a public figure."
Before it's here, it's on the Bloomberg Terminal.
LEARN MORE