Apple Pay Leaps Ahead of Mobile-Payments Providers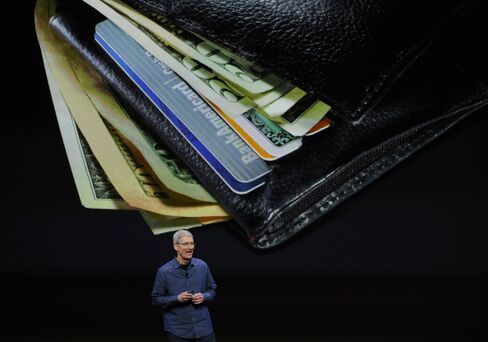 Apple Inc. introduced new iPhones featuring digital credit cards, leaping ahead of mobile-payment providers that have been working for years to make wallets obsolete.
Apple Pay, a feature unveiled yesterday alongside a fresh crop of gadgets from the Cupertino, California-based company, uses sensors to let people pay for goods and services by swiping their smartphones. Apple forged alliances with Visa Inc., MasterCard Inc. and American Express Co. to boost the use of mobile devices for shopping.
While EBay Inc.'s PayPal, Square Inc. and Stripe Inc. have all indicated that they're ready to link their payment services to Apple Pay, they could also see customers relying less on their technology, or struggle to attract new users. Still, the opportunity in the mobile-transaction market remains huge, according to Forrester Research Inc., with payments projected to reach $90 billion in 2017, up from $12.8 billion in 2012.
"If I were PayPal, I'd be worried," said Denee Carrington, an analyst at Forrester. "If the experience is better and the consumer perceives it as more secure, it poses a threat to PayPal."
The shares of EBay, which operates PayPal, have declined
5.8 percent since yesterday's presentation by Apple Chief Executive Officer Tim Cook. The stock closed at $51.10 in New York today.
Mobile Money
Apple is supporting credit and debit cards from Bank of America Corp., Capital One Financial Corp., JPMorgan Chase & Co., Citigroup Inc., Wells Fargo & Co. and other banks, representing 83 percent of credit-card purchase volume in the U.S., according to Apple.
Bloomingdale's Inc., Macy's Inc., McDonald's Corp. , Sephora USA Inc., Subway Restaurants Inc., Walgreen Co. and Whole Foods Market Inc. and other retailers will also support Apple Pay, the iPhone maker said.
Apple, banks, credit-card companies, retailers and mobile-payments providers are all chasing after customers who have become accustomed to paying for coffee, car rides and other transactions with a few taps on their smartphones, instead of pulling out cash or plastic.
Consumers will be comfortable trying Apple's new mobile-payment system because of the partnerships it has forged, Carrington said.
Payment Partnerships
Patrick Collison, Stripe's CEO, said that his startup was already working with Apple so that merchants using its mobile-payments technology will be able to enable transactions via Apple Pay. One of the key design elements of Apple Pay is a wireless computer chip in iPhones that lets people hold their smartphones near a payment terminal in order to complete a sale.
"For Stripe, the opportunity is so obvious -- but it took so long for it to happen," Collison said in an interview on Bloomberg Television. "Apple Pay has a really good chance. It's the first product that's checked all of the boxes."
Braintree, a unit of PayPal that processes mobile payments, said today that it's planning to support Apple Pay, so that merchants using its service will be able tap into Apple's payment technology.
"Our millions of sellers will be able to accept any form of payment that comes across the counter, including Apple Pay," Jack Dorsey, Square's CEO, tweeted.
It wasn't clear to what extent the mobile-payment providers' services would be integrated with Apple Pay's technology, or how they would share in any revenue.
Digital Wallet
Electronic payments have been EBay's fastest-growing revenue source. PayPal, which has 154 million registered users, will start accepting bitcoins, opening up the world's second-biggest Internet payment network to virtual currency transactions, the company said Sept. 8.
Google Inc., PayPal and Softcard, formerly called Isis, have all introduced mobile-payment services that have yet to go mainstream. Meanwhile, Wal-Mart Stores Inc., Target Corp. and dozens of other retailers have also joined to create a mobile payments network dubbed CurrentC, which is being tested in some U.S. locations and is expected to roll out next year.
Before it's here, it's on the Bloomberg Terminal.
LEARN MORE