Kitchen Vaccinations Spurred Harvard Alum's Record Gift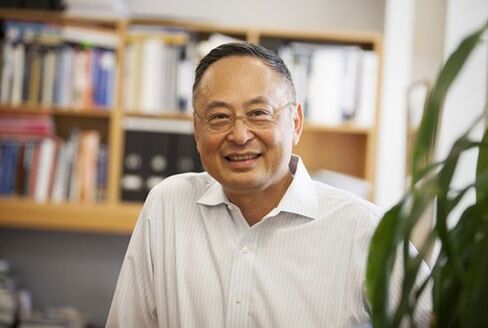 When Gerald Chan was a boy in China in the 1950s, vaccinations weren't freely available, and his mother gave them to neighbor children in the family kitchen.
A nurse, Chan's mother was a hygiene devotee who would wipe down restaurant utensils with ethanol-soaked cotton before letting her children eat with them, said Chan, 63, who yesterday announced a $350 million gift to the Harvard School of Public Health from his family's Morningside Foundation. To keep her syringe clean, his mother disinfected it in boiling water before each jab, he recalled in a speech at the Boston school.
"As you can imagine, the needle was blunted by repeated use, so the injections got extraordinarily painful," said Chan, a board member at Hang Lung Group Ltd., one of the biggest property developers in Hong Kong. "It was no wonder that many children screamed and wailed in our kitchen."
His mother's devotion to sanitation and vaccination, public health interventions that have raised average lifespans globally in the past century, was one of the reasons why Chan decided to make a gift to the school where he earned his master's and doctoral degrees in the 1970s, he said. The other inspiration for the gift was his father, Tseng-Hsi Chan, a real estate investor who helped many friends finance their children's education overseas.
"In keeping with my mother's work in improving people's health and my father's commitment to education, my brothers and I thought it most fitting to celebrate their legacy with a gift to Harvard School of Public Health," Chan said. The school will be renamed the Harvard T.H. Chan School of Public Health in honor of Chan's late father.
'Transformational' Gift
Julio Frenk, the health school's dean, called the gift "transformational," and said it will be focused on addressing pandemics, humanitarian crises, failing health systems and social and environmental threats to health.
The gift is the largest received by Harvard University in its 378-year history, the Cambridge, Massachusetts school said. Harvard, in the midst of a campaign to raise $6.5 billion by 2018, received $150 million in February from Kenneth Griffin, founder and chief executive officer of Citadel Advisors LLC.
The Chan donation is tied with three others as the sixth-biggest gift to any institute of higher education since 2000, according to Indiana University's Lilly Family School of Philanthropy. The largest is a $500 million gift from Philip and Penelope Knight to the Oregon Health and Science University that was announced last year, said Adriene Davis Kalugyer, a spokeswoman for the philanthropy program.
Harvard Square
Gerald Chan's brother Ronnie Chan, who is also involved in the foundation, is chairman of Hang Lung Group, which is known for building luxury malls in Hong Kong and China.
Separately, Gerald Chan recently bought about $120 million worth of property in Harvard Square, the Boston Globe reported in April. Gerald Chan said he has invested in Boston-area properties from the time he was a student.
Through their Morningside Group business, the Chans have also invested extensively in more than 40 life science companies. These include an RNA-based cancer diagnostics firm, an orthopedics company that designs hip implants for Asians, and another company developing therapeutics for diseases of the mitochondria, the cellular structures that produce energy.
Among their investments was BioVex Group Inc., which drugmaker Amgen Inc. bought in 2011 for as much as $1 billion, depending on reaching certain objectives. Amgen, based in Thousand Oaks, California, has submitted BioVex's treatment, a modified virus which provokes the immune system to kill skin cancer cells, for approval in the European Union and the U.S.
Another investment, Chimerix Inc., which makes antiviral therapeutics, began selling shares to the public in April 2013.
Father Impressed
Gerald Chan received his master's and doctoral degrees in radiation physics and radiobiology from the school of public health in the 1970s. Growing up in turbulent times in China limited his father's education. When his father came to visit Harvard, he was very impressed, Chan said.
"It is not a visit that I will soon forget," he said in his speech yesterday, with his mother and family in attendance.
Chan was an excellent student and scientist at the school of public health, said John Little, an emeritus professor of radiobiology who Chan called his mentor. Inspired by Little's studies of the impact of radiation on human health, Chan switched from studying radiation physics, the field in which he gained his master's degree, to earn his doctorate from the school in radiobiology.
Chan wrote several papers while working in his lab, Little said. His early scientific studies have continued to serve Chan as an investor, Little said.
Evaluating Proposals
"He can talk to people at pharmaceutical companies with knowledge of what they're talking about," Little said in an interview. "He can evaluate what they're proposing."
Chan met Frenk, the school's dean, when giving a talk at the institution that centered on entrepreneurship and public health. Students invited Chan to be a commencement speaker in 2012, when he talked about how private enterprise can serve public health needs.
"Many of our graduates will work for the public good in organizations which are private sector in their organization and operation, at once making profits and doing works which were previously consigned to the charitable or the public sector," Chan said in the 2012 address. "For them, the goals of making a profit and doing good works are not mutually exclusive."
Enabling innovation can be a career choice for more public health professionals, Frenk said in an interview.
Entrepreneurship, Innovation
"Traditionally in public health we've had two career paths: research and public service," Frenk said. "Gerald pioneered a third path of going into entrepreneurship and innovation."
Chan said he has worked to make sure his business dealings have held benefits for society. "Even in business," he said, "return is not measured only in financial terms but in human lives and human health."
The public health school will be the second at Harvard, along with the John F. Kennedy School of Government, to be named for an individual. The gift will be invested in the school's endowment, and the funds generated will help relieve the debt burdens of graduates who want to work in underserved areas of the U.S. and other countries, Frenk said.
The money will also support the work of junior faculty and researchers in innovative fields that don't qualify for government funding, as well as "21st-century" classrooms and computer resources, according to Frenk.
"It's a dream gift that allows us to dream bigger than we ever have," he said.
Before it's here, it's on the Bloomberg Terminal.
LEARN MORE