Payrolls Increase Was Smallest of Year in U.S.: Economy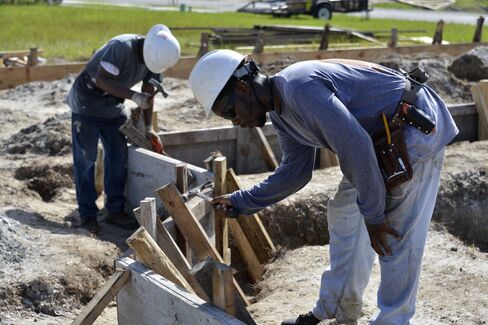 American employers hired fewer workers than forecast in August and the jobless rate dropped because people left the workforce, bolstering those on the Federal Reserve who want to be more deliberate in removing monetary stimulus.
The 142,000 advance in payrolls was the smallest this year and followed a revised 212,000 gain in July, figures from the Labor Department showed today in Washington. The reading was lower than the most pessimistic estimate in a Bloomberg survey of economists. The unemployment rate fell to 6.1 percent last month from 6.2 percent, reflecting a drop in joblessness among teenagers as well as the decline in labor participation.
The slowdown in hiring is at odds with other data -- from manufacturing to auto sales to construction -- that show an economy gathering pace. For Chair Janet Yellen and her Fed colleagues, the report also did little to clarify the degree of slack in the job market as the labor force participation rate fell and wage growth remained limited, while the ranks of the long-term unemployed declined.
"The shortfall in payrolls is disappointing, but it sure looks like a fluke, not a trend," said Diane Swonk, chief economist at Mesirow Financial Inc. in Chicago. "It gives Yellen a little wiggle room to do what she wants," and that is to "not start raising rates any time soon," she said.
Employers limited headcount expansion after going on a six-month hiring burst that put more than 1.4 million Americans to work. Among the industries that dragged down overall payroll growth in August were retail, transportation and manufacturing.
Market 'Healing'
Today's report "is anomalous," said Alan Krueger, an economics professor at Princeton University in New Jersey and former head of President Barack Obama's Council of Economic Advisers. "It sticks out compared to other indicators we're getting about how the job market and the economy are doing. The labor market is healing."
Stocks rose, with the Standard & Poor's 500 Index erasing a weekly loss, as geopolitical tensions eased and high dividend-yielding shares climbed after the jobs report fueled bets the Fed won't rush to raise interest rates. The S&P 500 advanced 0.5 percent to 2,007.71 at the close in New York.
The median projection in the Bloomberg survey of 91 economists called for a 230,000 increase in August payrolls. Estimates ranged from increases of 190,000 to 310,000 after a previously reported 209,000 July gain. Revisions to prior reports subtracted a total of 28,000 jobs from overall payrolls in the previous two months.
The participation rate, which indicates the share of working-age people in the labor force, decreased 0.1 percentage point to 62.8 percent, matching the lowest since 1978.
Fed's Rosengren
Federal Reserve Bank of Boston President Eric Rosengren called the employment report "somewhat disappointing" and said Fed officials shouldn't be in a hurry to unwind monetary stimulus because of elevated slack in the job market.
"Significant excess capacity remains in labor markets," Rosengren said in a speech today at an annual conference held by the New Hampshire and Vermont Bankers Associations in Boston. "It seems to me appropriate for monetary policy to continue to be patient in the interest of ensuring that the economy reaches full employment and the 2 percent inflation target as quickly as possible."
There were patches of improvement in today's report. The number of Americans employed part-time because they couldn't find full-time work dropped by 234,000 in August.
Underemployment Rate
The underemployment rate -- which includes part-time workers who'd prefer a full-time position and people who want to work but have given up looking -- dropped to 12 percent, the lowest since October 2008, from 12.2 percent.
The number of long-term unemployed, those out of work for 27 weeks or more, totaled 2.96 million, the fewest since 2.7 million in January 2009.
Private hiring increased 134,000 in August, also the smallest gain this year. Employment at private service providers increased 112,000, while payrolls were unchanged at factories. Construction companies added 20,000 workers and retail employment dropped by 8,400 in August.
The decline in employment in the retail trade industry reflected a 17,100 decrease in payrolls at grocery stores. Worker protests at New England grocer Market Basket did have an impact on the payroll count, although the extent of the influence can't be determined, Laura Kelter, an economist at the Bureau of Labor Statistics, said in an interview.
Department Stores
Department stores also cut back in August, today's figures showed. Tim Timmons, 62, lost his job as a manager at a Sears Holding Corp. store in March when it closed. He's been looking for similar work since then, with little luck despite four decades of experience, he said.
"The jobs market in general is better than it's been," however, "in my specific case, I don't know that it's improved a lot," said Timmons, who lives in Hope, Indiana. Employers in the retail business "want young guys that are cheaper and easier to train the way they want them," he said.
While payrolls play a role in guiding Fed monetary policy, central bankers look at other figures to determine the strength of the labor market. Worker pay, which influences the outlook for spending, is important in determining if the job market is healed and can withstand tighter monetary policy.
Today's employment report also showed average hourly earnings rose 0.2 percent in August from the prior month. They were up 2.1 percent over the past 12 months, in line with the average since the expansion began in June 2009.
Fed's Yellen
"There has been little evidence of any broad-based acceleration in either wages or compensation," Fed Chair Janet Yellen said in an Aug. 22 speech at the Kansas City Fed's economic conference in Jackson Hole, Wyoming. Limited income growth has held back consumer spending, which accounts for 70 percent of the economy.
Household purchases unexpectedly decreased 0.1 percent in July, the first drop in six months, after rising 0.4 percent the prior month, according to Commerce Department data. Incomes rose at the slowest pace of the year, and savings climbed to the highest level since the end of 2012.
There are pockets of strength. The annualized pace of auto sales adjusted for seasonal trends rose to 17.5 million in August, the fastest since January 2006. Chrysler Group LLC reported its best August for U.S. vehicle deliveries in 12 years, while carmakers including Ford Motor Co. posted results that surpassed analysts' projections.
"Good macroeconomic fundamentals, including the robust manufacturing activity, improving labor market conditions and continued supportive monetary policy, have contributed to this improving trend," Emily Kolinski Morris, senior U.S. economist at Dearborn, Michigan-based Ford, said on a Sept. 3 conference call. "The recent economic indicators remain very favorable and consistent with our expectations for growth."
Assembly Lines
The gains in auto sales have been keeping assembly lines busy. The Institute for Supply Management's factory index climbed in August to the highest level since March 2011, led by a surge in orders for plastics and metals.
While the "labor market has yet to fully recover," Yellen said in her Aug. 22 speech, the debate at the Fed is shifting toward when "we should begin dialing back our extraordinary accommodation."
Policy makers in July tapered monthly bond-buying to $25 billion in their sixth consecutive $10 billion cut, staying on pace to end the purchase program in October. The Fed's next meeting concludes Sept. 17.
(An earlier version of this story corrected average hourly earnings for July.)
Before it's here, it's on the Bloomberg Terminal.
LEARN MORE