Macau Cheap Debt Source for China Amid Basel III Adoption Drag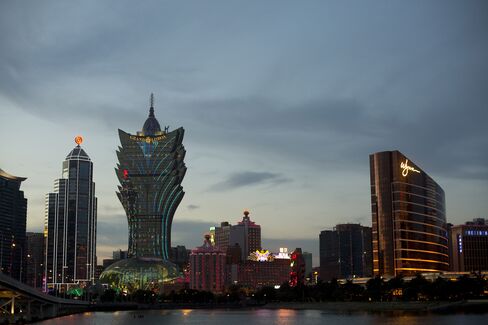 Macau isn't in a hurry to adopt new global banking standards that cushion lenders' balance sheets, instead allowing banks to raise capital at cheaper rates and lend even more to China.
The local branch of Industrial & Commercial Bank of China Ltd. sold $320 million of 10-year subordinated bonds this week with the same characteristics of those sold by European lenders 20 years ago. Under widely-adopted Basel III banking rules, such bonds only count as capital if they feature clauses allowing the issuer to pause or cancel repayments under financial stress. ICBC Macau's notes featured none of that.
Both ICBC's and Bank of China Ltd.'s Macau branches hold about half of the former Portuguese colony's banking assets, according to Ivan Lin, a Hong Kong-based analyst at Fitch Ratings Ltd. Loans to Chinese companies from banks operating in the mainland-controlled gambling hub grew fourfold since 2009 to 20 percent of their assets, the ratings company estimates. Only Hong Kong, which has adopted the new Basel III rules, is more exposed to China in the Asia-Pacific region.
"The high dominance of Chinese banks in the Macau banking sector renders it vulnerable to any dislocation of the Chinese banking sector," Lin said in a phone interview yesterday. "Loan growth has been very fast."
Basel III
Basel III regulations adopted in most of the world, including China, require banks hold the equivalent of at least 8 percent of assets as capital, with over half comprising stock and the rest as Tier 1 and 2 subordinated capital that can be written down if the bank is no longer considered viable.
Investors charge a premium for such loss clauses. Ten-year U.S. dollar-denominated subordinated notes issued by ICBC Asia in October, which are Basel III compliant, have a 4.5 percent coupon. ICBC Macau's bonds sold Sept. 3 pay 3.875 percent.
Macau banks are also required to hold 8 percent of their assets as capital, but with looser restrictions on qualifying investments. Any type of subordinated security is eligible for inclusion, and no loss absorption is required.
Banks in Macau have about 14 percent of their assets as capital, according to The Monetary Authority of Macao. The central bank, which isn't required to disclose the make-up of those assets, has "embarked on the preparation for implementation of Basel III, and will, taking into account the actual situation of the Macao Special Administrative Region, adopt the new measures properly and effectively," Wendy Au, a Monetary Authority of Macao spokeswoman, said in an e-mailed response to Bloomberg News questions.
'No Debt'
There are 29 locally-incorporated banks operating in Macau, according to the central bank's website. Foreign loans surged to 325 billion patacas ($40.7 billion) as of June from 37 billion patacas in December 2007, it shows.
Basel III rules that require a loss-absorption clause for capital securities were suggested by the Bank for International Settlements after the global financial crisis as a way to curb the need for governments to rescue lenders using taxpayer money.
Macau receives enough tax revenue from its casino operators to be able to weather any potential troubles in the financial system, Sonny Hsu, a Hong Kong-based analyst at Moody's Investors Service, said in an interview Sept. 3. "Macau has no debt," he added.
Macau's economy expanded at 10.2 percent in the first half from a year earlier, propelled by its casinos, according to the region's statistics department. Gambling activities generated 361.9 billion patacas in 2013, more than four times the amount collected by all the casinos in Las Vegas last year, according to Bloomberg Intelligence data. Macau is rated Aa2 by Moody's and AA- by Fitch.
Casino Loans
Until 2009, when lending to China took off, Macau's banks focused on mortgage and trade financing, Lin said. He also said most of the corporate lending within Macau is concentrated around its six casino operators. The system is still regulated by an act adopted in 1993, and according to Moody's Hsu, Macau's banks are still regulated by Basel I rules.
In 2004, banks around the world adopted so-called Basel II rules, which made it more difficult for them to have most of their assets concentrated in a few activities or companies. In 2010, the Basel III rules required banks to manage their lending and liquidity risk much more carefully.
In Macau, "a framework for bailing-in creditors to share potential losses is not established yet," said Fitch's Lin.
Before it's here, it's on the Bloomberg Terminal.
LEARN MORE