Alibaba Seeks to Raise Up to $21.1 Billion in U.S. IPO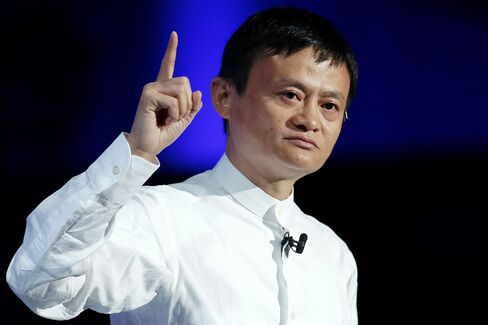 Alibaba Group Holding Ltd., the e-commerce company whose fortunes surged along with China's economy, plans a historic U.S. initial public offering that may also claim the global record.
Alibaba is seeking a valuation of as much as $162.7 billion, larger than 95 percent of the Standard & Poor's 500 Index, as it enters the IPO's final stages. At the high end of the proposed price range, Alibaba would be the third most valuable Internet company traded in the U.S. after Google Inc. and Facebook Inc. The offering could raise as much as $21.1 billion, according to a Sept. 5 regulatory filing.
Even at the high end, the valuation falls below more optimistic estimates of Alibaba's worth -- analysts surveyed in July put its value at $187 billion, on average. That will give China's largest e-commerce company room to raise the IPO price as it builds demand during meetings with fund managers, said Henry Guo, an analyst at JG Capital.
"This is below Wall Street's expectations," said Guo, who is based in San Francisco. "They prefer a smoother start so that they can push up the prices."
Alibaba may temper its valuation, some analysts said in July, which could help it avoid the listing flop of Facebook. Those analysts forecast that Alibaba would value itself at about $154 billion, after applying a discount.
Facebook had a price tag of $104 billion at the time of its IPO in May 2012 and went on to lose half its market value as investors worried about slowing growth and the company's mobile strategy. The stock has since recovered.
Leadership, Structure
While Alibaba's IPO is coming amid growth in China's e-commerce market, investors now must weigh the risks of buying shares in the Hangzhou-based company. The Internet behemoth, whose marketplaces are comparable to those of EBay Inc. and Amazon.com Inc., has a governance arrangement that keeps insiders in control as well as an ownership structure that could face objections from the Chinese government.
Alibaba and selling stockholders -- including Yahoo! Inc., which owns more than 22 percent of the company, Chairman Jack Ma and Vice Chairman Joe Tsai -- plan to sell 320.1 million American depositary shares for $60 to $66 apiece, the filing shows. Those shares are equivalent to a 13 percent stake. The stock will be listed on the New York Stock Exchange under the symbol BABA.
"We believe one thing, today is difficult, tomorrow is more difficult, but the day after tomorrow is beautiful," Ma said in the company's presentation. "So we have to work very hard in order to survive the long journey."
Tsai is selling 4.25 million shares, meaning he could make $280 million if the shares were priced at the top-end. Ma will sell 12.75 million shares, earning as much as $841 million.
Visa, AgBank
Alibaba's sale could exceed Visa Inc.'s $19.7 billion IPO in 2008, the biggest U.S. initial offering to date. Including an overallotment option, Alibaba could raise as much as $24.3 billion, surpassing the existing global record held by Agricultural Bank of China, which raised $22.1 billion in sales in both Hong Kong and Shanghai in 2010.
"This is their initial discussion of pricing, and then as the roadshow goes on and bankers build the books, they'll have an idea about the interest level," Eric Jackson, founder of Ironfire Capital LLC, said in a phone interview from Toronto.
The roadshow will begin tomorrow in New York, people with knowledge of the matter have said. After that, executives will travel to Boston and Baltimore, before heading west to San Francisco, the people said. The executives will then meet with investors in London and Hong Kong. Alibaba is scheduled to price its IPO on Sept. 18, according to data compiled by Bloomberg. The shares would start trading the next day.
Relative Value
Compared with other Internet companies, Alibaba is asking for a price that would make it expensive. At the high end of the IPO range, the company would debut at about 17 times sales in the year through June, well over the multiple of 1.96 times at Amazon and 3.92 times at EBay. Chinese Internet companies Tencent Holdings Ltd. and Baidu Inc. trade at 13.53 times and 12.24 times.
The valuation itself won't stop investors who are drawn to Alibaba's potential, Jackson said.
"In this environment, people want a growth story. People are willing to pay up for growth and Alibaba still has a lot of growth."
Alibaba provides various marketplaces for buyers and sellers as well as services that help them conduct their businesses. Taobao Marketplace, started in 2003, enables millions of individuals and small businesses to sell products. Tmall.com provides a virtual shopping mall, with retailers and brands offering products, and Juhuasuan operates a flash-sales model. The three sites accounted for 82 percent of Alibaba's sales in the year through March.
China E-Commerce
Mainland Internet users have grown to 632 million and could exceed 850 million by 2015, according to government data. Alibaba has been seen as a proxy for this growth with its 279 million active buyers in the year through June, according to its prospectus.
Alibaba "should be attractive to investors because of how exciting the Internet opportunities in China are and because that opportunity itself is not fully discovered," said Gustavo Galindo, based in New York, who helps oversee more than $10 billion of emerging-market assets at Russell Investments.
Profit in the company's first quarter surged as advertisers boosted spending on the Tmall and Taobao platforms, filings show. Net income almost tripled to $1.99 billion, or 84 cents a share, in the three months ended June 30, helped by a $1 billion gain on the revaluation of larger stakes acquired in UCWeb Inc. and OneTouch.
Value Swells
Alibaba was valued at just a few billion dollars when Yahoo acquired its stake in 2005, and rose to $32 billion after Silver Lake Management LLC, Temasek Holdings Pte and DST Global bought in six years later.
Yahoo's valuation is partially pinned on its 22.4 percent stake in Alibaba, as shareholders speculate that the Sunnyvale, California-based company could use the proceeds from the IPO for large acquisitions or investments. In July, the company said it planned to keep a bigger stake in Alibaba post-IPO than it originally projected, and would return at least half of the cash it raises to shareholders.
Yahoo Stake
Yahoo plans to sell 121.7 million shares in the IPO, the filing shows, paring its stake to 16 percent after the offering. At the top of the marketed range, the company would reap more than $8 billion.
Ma will own 7.8 percent after the IPO, while Tsai will hold a 3.2 percent stake. SoftBank Corp., which holds a 34 percent stake in Alibaba, is not planning to sell shares.
Like many Chinese companies, Alibaba will rely on a legal structure known as a variable interest entity, or VIE, required by the Chinese government for foreign ownership of certain industries, including Internet companies.
According to a U.S. congressional commission report, shareholders face "major risks" from investing in companies that use a VIE. While Alibaba gets most of its revenue from wholly foreign-owned enterprises, if China revokes its VIE license, U.S. investors could be affected, filings show.
"They had to be conservative because the world hasn't completely embraced the China model," said Jeff Sica, president of Sica Wealth Management LLC in Morristown, New Jersey. "Despite this immense market, there's still this concern that they exist in this mysterious black hole where shareholder value could evaporate."
Partnership Structure
Alibaba's partnership structure also raises some questions. It enables 30 individuals to nominate a majority of the board, which is then voted on by the shareholders -- thus giving a select group outsize control of the company. That arrangement was rejected by Hong Kong regulators, so Alibaba chose a listing in the U.S. -- where companies with different classes of shares, such as Facebook and Google, are common.
In a July 12 filing, Alibaba gave the partnership additional powers by saying it could appoint more directors without shareholder approval if fewer than a simple majority of the board are partnership nominees.
Credit Suisse Group AG, Deutsche Bank AG, Goldman Sachs Group Inc., JPMorgan Chase & Co., Morgan Stanley and Citigroup Inc. are managing the offering. Simpson Thacher & Bartlett LLP and Sullivan & Cromwell LLP are providing legal advice. Rothschild is serving as the IPO adviser to Alibaba.
(Corrects first paragraph below "Partnership Structure" subhead in story originally published Sept. 7 to show that Alibaba has 30 partners.)
Before it's here, it's on the Bloomberg Terminal.
LEARN MORE