Toronto Film Fest's Makeover Keeps Griping Fans Returning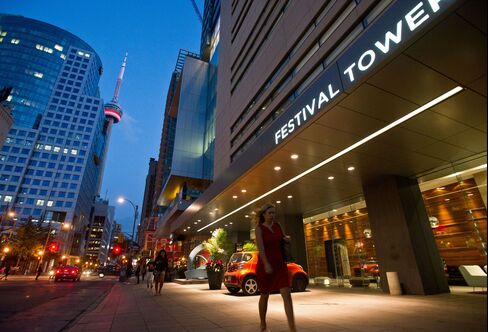 Movie fans might shell out $20 and wait in line at a film festival to indulge their love of the big screen. Those willing to spend $1 million in Toronto get something altogether different.
Romuald Goure did just that in 2012 for a 1,250-square foot apartment in the Festival Tower, the 44-story glass-clad skyscraper that sits atop the Bell Lightbox, home to the annual Toronto International Film Festival that begins today. Goure, who emigrated from France seven years ago, said he loves the cultural buzz that comes from the building, which has two restaurants, a bar, five cinemas and a film-dedicated bookshop.
"The festival tower is TIFF all year long," Goure, 37, said, sitting in the residents' private bar in the tower, a joint venture between local developer Daniels Corp. and the filmmaking Reitman family who donated the land. Ivan Reitman produced "Animal House" and directed "Ghostbusters," and his son Jason directed the Oscar-winning film "Juno."
Since moving into its sleek new building in 2010, TIFF's prominence in the film festival circuit has swelled with renewed vigor. Attendance, the number of films shown, distribution deals inked and Hollywood stars attending have soared while a permanent home has delivered an economic jolt to the city. Some film buffs say the festival has lost a bit of its soul in the process.
"The move to the Lightbox was really the next step for the film festival," said Matti Siemiatycki, associate professor of geography and planning at the University of Toronto. "It's served as a spark plug for development."
Fan Festival
While Cannes, which is closed to the public, is all about red-carpet glamor and Sundance is focused on independent films, TIFF has always been known as the fan festival. The festival unofficially kicked off last night with a charity soiree in honor of Al Pacino, who trod the red carpet with Argentine girlfriend Lucila Sola. Pacino stars in ``The Humbling,'' an adaption of the 2009 novel by Philip Roth that is being screened at TIFF.
Attendance in Toronto grew about 18 percent to more than 432,000 last year from 2010 while its army of volunteers expanded 32 percent to take in the organization's slate of exhibitions, lectures and workshops.
Sharing ticket packages for as many as 100 films, hard-core movie buffs take time off work and plan their movie pilgrimages with military precision, seeing dozens of films over the course of the 11-day festival.
Cannes, Berlin
Matthew Price has been among the faithful. The 43-year-old has been taking all 10 festival days off work for 23 years, so he can binge-watch about five screenings a day.
"There's lots of people that do 50 films, more than you would think," Price said over a lunch of green-bean Caesar salad and mushroom soup in the sun-soaked patio of one the Lightbox's restaurants. "Most of my friends are people I met at the festival, or they're friends of those people. My whole life would be not quite the same."
The huge fan base, Toronto's ethnic diversity and the broad number of films provide industry executives with a unique indication of how movies will play in the run up to the Academy Awards. Thanks in part to savvy local superfans like Goure and Price, three of the past six winners of TIFF's People's Choice Award went on to win an Oscar for best picture: "12 Years a Slave" (2013), "The King's Speech" (2010), and "Slumdog Millionaire" (2008).
Keira Knightley
Film buyers and producers have a "major interest in seeing the films with the public," Justin Cutler, the director of TIFF's Industry Office, said in an interview. "The mix between the public and the industry audience is crucial. That's actually what makes us unique in relation to Cannes or Berlin."
TIFF will show 393 feature and short films this year, including "Wild" starring Reese Witherspoon, about a former drug addict trying to change her life with a 1,000-mile hike; "St. Vincent," about a less-than-savory retiree (Bill Murray) who becomes a positive role model for a 12-year-old neighbor; and "A Little Chaos," starring Kate Winslet, about the landscape designer commissioned to create a garden for King Louis XIV's Versailles.
The festival opens with "The Judge," directed by David Dobkin and starring Robert Downey Jr. as a big-city lawyer who returns to his hometown where he ends up defending his estranged father (Robert Duvall), the town judge, who is accused of murder.
In total, about 200 actors are slated to attend, including Witherspoon, Ryan Reynolds and Keira Knightley.
The move to the Lightbox helped the festival generate about C$189 million ($174 million) for the city's economy in the year through March 2013, according to a recent study. That's up about 17 percent since 2008-09, the last time the economic impact was measured.
Too Corporate
And its ambitions keep growing. For the first time, the festival is offering a C$1,500 Buzz List ticket package, with priority access to premium screenings in an effort to capture more well-heeled movie-goers.
It's all a bit too much for some old-school superfans.
"This is probably the first year that I'm seriously considering not going," said Al Zabas, a copy editor at the Toronto-based National Post, who has gone to the festival every year since 1984.
The lineup for tickets, if you can even get them for your chosen films, are getting longer and the tone of the festival has become too corporate and too little focused on the film-goer, Zabas said. "Before you even see the film, you've got an ad for L'Oreal and something else."
Red Carpet
Sticker shock at rising ticket prices -- the cost of a bundle of 100 tickets rose about 30 percent to C$1,808 from last year -- prompted Price initially to plan only a 40-film outing until he managed to secure a discount on 10 tickets from a friend. He's back up to the full complement for this year's holiday.
The festival has tried to balance the two poles of commerce and art throughout its history, Piers Handling, TIFF's director and chief executive officer, said by phone. It's added activities like a "Bill Murray Day" with free screenings of his films. Streets around the festival will also be closed for four days for a pedestrian promenade featuring pop-up performances, food trucks, music and art installations.
"Some people don't give a damn about the red carpets," Handling said.
There may come a time when it becomes too expensive for Price to take in as many films as he does now, but for the moment he's persevering.
"Why do I keep coming back?" Price said. "Because every once in a while you just see something that changes you."
French Classics
Goure, head of the Canadian unit of Fronius International Gmbh, an Austrian maker of solar-energy equipment, caught nine movies over the course of the event last year and aims to see at least that many this year.
The movie fanatic has bumped into Ivan Reitman, who has an apartment at the Lightbox, and living in the tower creates other serendipitous encounters. On his way home from work during the 2012 festival, Goure ran into star couple Eva Mendes and Ryan Gosling leaving the premiere of "The Place Beyond the Pines" through the theater's back door.
More than star wattage, however, it's access to film and film culture that Goure says he loves. He organizes regular screenings in the residents' private cinema of French classics and finds TIFF is a great way to meet new French directors.
"It's paradise," he said.
Before it's here, it's on the Bloomberg Terminal.
LEARN MORE