Secret Network Connects Harvard Money to Payday Loans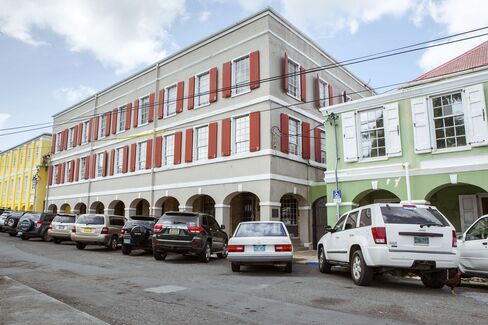 Alex Slusky was under pressure to put the money in his private-equity fund to work.
The San Francisco technology financier had raised $1.2 billion in 2007 to buy and turn around struggling software companies. By 2012, investors including Harvard University were upset that about half the money hadn't been used, according to three people with direct knowledge of the situation.
Three Americans on the Caribbean island of St. Croix presented a solution. They had built a network of payday-lending websites, using corporations set up in Belize and the Virgin Islands that obscured their involvement and circumvented U.S. usury laws, according to four former employees of their company, Cane Bay Partners VI LLLP. The sites Cane Bay runs make millions of dollars a month in small loans to desperate people, charging more than 600 percent interest a year, said the ex-employees, who asked not to be identified for fear of retaliation.
Slusky's fund, Vector Capital IV LP, bought into Cane Bay a year and a half ago, according to three people who used to work at Vector and the former Cane Bay employees. One ex-Vector employee said the private-equity firm didn't tell investors the company is in the payday-lending business, where borrowers repay loans out of their next paychecks.
'Regulatory Risk'
Vector's investment in Cane Bay shows the continuing allure of the payday-loan business, even after most states from California to New York restricted or banned it to protect consumers. The crackdown has driven borrowers online. Internet payday lending in the U.S. has doubled since 2008 to $16 billion a year, with half made by lenders based offshore or affiliated with American Indian tribes who say state laws don't apply to them, according to John Hecht, an analyst at Jefferies Group LLC in San Francisco.
"A lot of these businesses, they run it just knowing that there's regulatory risk and they may have to terminate the business," Hecht said.
Ronn Torossian, a spokesman in New York for Cane Bay, said the company provides services to financial firms and doesn't make payday loans.
"Cane Bay Partners is a management-consulting and analytics company," Torossian wrote in an e-mail. "In the past, the owners held minority positions in some licensed short-term lending businesses, which are no longer in operation."
Vector Response
Slusky, who founded Vector and is its chief investment officer, didn't respond to e-mailed questions and hung up when reached on his mobile phone. David Baylor, Vector's chief operating officer, denied that the firm had misled investors.
"Any implication that we have not provided complete and accurate information to our investors about one or more of our investments is false," Baylor wrote in an e-mail.
Harvard, which was cited in a 2007 Vector press release as a "significant new investor" in the fund, declined to comment, as did other investors including the Massachusetts Institute of Technology, the John D. and Catherine T. MacArthur Foundation and pension funds in California, Oregon and Maryland.
Regulators who have gone after payday lenders said in interviews they hadn't heard of Cane Bay. Jim DePriest, deputy attorney general of Arkansas, said most of the payday-loan stores in his state closed in 2010, when voters passed a ballot initiative capping interest rates at 17 percent. That's when he started getting more complaints about Internet lending.
One of the websites that he said he discovered making illegal loans was CashYes.com. A borrower had told his department that CashYes was calling her to collect more money after she had already paid $3,193.75 on a $775 loan.
Belize Address
DePriest sent a cease-and-desist letter in 2012 to the company, which lists a Belize City address on its website. CashYes replied that it would stop lending in Arkansas, though it maintained state laws didn't apply. At least three other states sent similar letters. DePriest said he wasn't able to identify the principals or trace CashYes beyond its Belizean parent, Hong Kong Partners Ltd.
"We haven't been able to really track down CashYes yet," DePriest said. "If we can pin down who they are, the individuals, we'll go after them. If we can find them, we can serve them and we can sue them. And that's what we do."
Two thousand miles from Arkansas, on an island east of Puerto Rico, David Johnson, Kirk Chewning and Richard Clay set up Cane Bay in 2009, Virgin Islands corporate records show. The company, named for a palm-tree-lined beach near its offices, took advantage of incentives that offer as much as 90 percent off corporate and personal income taxes.
Cane Bay
From a red-shuttered building across from an old Danish fort, Cane Bay's programmers, marketers and data analysts run CashYes.com, CashJar.com and at least four other payday-loan websites, the former employees said. Cane Bay registers the domains, designs the sites, approves the loans and analyzes the returns to adjust algorithms, according to the ex-employees.
The loans were made by companies incorporated in Belize, a Central American country that lets foreigners set up entities that don't pay local taxes or disclose ownership. When a state barred one site, Cane Bay would direct customers to another, according to the former employees.
The ex-employees said Cane Bay had no business other than running the payday-loan websites and that Johnson and Chewning directed operations for all of them.
Johnson and Chewning referred questions to Torossian, who said the men wouldn't agree to an interview. Neither the Belize companies nor the websites returned calls seeking comment.
Montel Williams
Late-night television ads featuring former talk-show host Montel Williams supplied customers, the ex-employees said. The company that runs the ads, MoneyMutual, doesn't make loans. Instead, when people fill out applications, their names and data are fed into an electronic auction system called a ping tree. Lenders have seconds to decide whether to buy their information. The best leads sell for more than $100.
Johnson signed contracts with a MoneyMutual affiliate on behalf of CashYes and CashJar, according to Jeffrey Wilens, a Yorba Linda, California-based lawyer who discovered the documents when he sued MoneyMutual and Williams in 2013 for conspiring to make illegal loans. He expanded the lawsuit to include Cane Bay.
Flip-Flops
MoneyMutual and Williams denied the allegations in court. Jonathan Franks, a public relations representative for Williams, said Williams is just a spokesman for MoneyMutual and never had any business dealings with Cane Bay. Johnson said in a filing that he was acting as a consultant when he signed the contracts.
"That does not mean this 'consulting' is all that Cane Bay did and does with respect to the payday loans," Wilens replied in another filing. Johnson "set up various companies for the purpose of arranging illegal payday loans," added Wilens, whose case is pending.
Johnson wears flip-flops and khaki shorts in the office, while Chewning, who handles day-to-day operations, likes to watch Fox News in the kitchen, often complaining about President Barack Obama, according to the ex-employees. The two, both 41, are still active in the Kappa Sigma fraternity, which Johnson joined when he was at the University of West Georgia and Chewning at Michigan State University.
Island life has been good to Johnson. Photos on his Facebook page show him fishing in tournaments, partying on his boats and chugging Fireball whisky from the bottle. Johnson won the island's Christmas boat parade with a 65-foot yacht named "Living the Dream," according to the event's website. Chewning also is listed as a winner with a 49-footer called "Renewed Interest."
Rolled Over
The loans are usually a last resort for working people who struggle to make ends meet, according to information from more than 250 bankruptcy filings, 300 complaints to the Federal Trade Commission and interviews with 10 CashYes and CashJar borrowers. One said she took a loan to avoid eviction when she missed work because her son was sick, while another said he needed money to feed his starving pets.
The cost for a $500 loan is between $100 and $150 in interest every two weeks, according to four contracts obtained by Bloomberg News. One contract, for a $700 loan, would result in the borrower paying back $3,675 over eight months unless a quicker payment plan was requested.
Borrowers are asked to provide bank-account information, which enables the lenders to deduct payments directly, the contracts show. About a third of the complaints obtained from the FTC were by borrowers in New York, New Jersey and North Carolina, where payday loans are illegal.
CashJar Loan
Gina Smith, 42, a legal secretary in Mount Vernon, New York, a state where charging more than 25 percent is a crime, said she borrowed about $500 three years ago from CashJar. She said she needed money to pay rent and other bills because she was getting just $170 a week in disability payments while she was out of work for medical reasons. When she fell behind, the collection calls started.
"They started threatening to come to my home," Smith said. "They said investigators were coming to serve me court papers."
The calls stopped when she filed for bankruptcy, she said.
Organized Crime
More than 150 other customers said in FTC complaints that debt collectors calling for CashJar and CashYes harassed them. One borrower said in an interview that CashJar called her boss, posing as a police officer. Another said in a complaint that the company called her sister and said she was a slut.
"My clients call me in tears because of these payday lenders," said Charles Juntikka, the bankruptcy lawyer in New York who represented Smith. "I have to tell them you don't go to jail over debts in America."
Payday loans have been around since the 1880s. Within three years of the first newspaper advertisements for them, states started banning the loans, according to a 1935 investigation funded by the Russell Sage Foundation. By the 1960s, with usury laws widespread, the business had been taken over by organized crime, a New York State commission found in 1965.
The thousands of dockworkers who then plied New York's piers were among the biggest customers. The loan sharks on the waterfront charged 15 percent a week -- about the same as CashYes and CashJar. Lacking electronic access to borrowers' bank accounts, they would station themselves outside banks that catered to longshoremen and collect when the workers cashed their paychecks.
Ferrari, Plane
Cane Bay's founders have tangled with state regulators for more than a decade. Clay, 51, had run a chain of payday-loan stores called USA Payday Cash Advance Centers. His green-and-yellow signs, with a dollar sign in place of the S in USA, were ubiquitous in poor neighborhoods in Atlanta about a decade ago, according to Margaret Witten, general counsel for the Georgia Department of Insurance.
After Witten's agency ordered Clay to shut the stores for making illegal loans in 2002, he sued. The cases and related actions dragged on until 2008, when Clay agreed not to make payday loans in Georgia and to pay a $250,000 fine.
During the legal battle, he got into online loans with Johnson and Chewning, who had worked together at a company that makes software for payday lenders. The three set up a network of websites based in Delaware and Nevada in 2005, according to a lawsuit filed by a fourth partner after he was ousted in 2008. Clay had made enough money at that point to have a Ferrari and his own plane, the ex-partner claimed.
Baker Scholar
The former Cane Bay employees said they hadn't seen Clay at the office in the past year. Clay didn't respond to e-mailed questions, and Torossian, the Cane Bay spokesman, said he didn't represent the co-founder. Witten said she didn't know Clay had moved online.
"As a regulator, I spend my whole life trying to put the bad guys out of business, and they figure out new ways to get around it," Witten said. "They can buy expensive lawyers and tie us up and continue to do their business."
Cane Bay was an unusual investment for Vector, which Slusky started in 1997 as a spinoff from the billionaire Ziff brothers' money-management firm, where he oversaw technology deals. He founded the firm just five years after graduating from Harvard Business School as a Baker Scholar, the school's highest honor.
Technicolor Investment
An early win was Corel Corp., the struggling maker of WordPerfect software. After Slusky invested in 2003, the company fired more than half of its 1,000 workers, boosting profit margins above 30 percent, according to an article from the Deal posted on Vector's website. By 2006, Vector had made six times its $58 million investment, the article said.
The Vector Capital IV fund that eventually bought into Cane Bay was raised in 2007 to invest in established technology companies, according to a press release. The California Public Employees' Retirement System, the largest U.S. pension plan, committed $25 million to the fund, its website shows. It joined Harvard's endowment, MIT's pension and other foundations, according to tax returns and Vector's press release.
Vector, which makes only a few investments a year, struggled to find enough companies to buy for the new fund, according to the three ex-employees. It bought an English fleet-management software maker in 2010 and invested in Technicolor SA, a French digital-video company.
By 2012, Harvard was trying to pull out its money because of the investment delays, two people with direct knowledge of the matter said.
The former Vector employees said when they discussed Cane Bay internally they were clear it was in the payday-lending business. Unlike other deals, the investment wasn't announced in a press release or listed on Vector's website.
Choke Point
Regulators intensified their scrutiny of Internet lenders soon after Vector invested in Cane Bay. The Justice Department and other agencies started pressuring banks in 2013 to stop processing payments for payday lenders as part of an anti-fraud campaign called Operation Choke Point. Three weeks ago, prosecutors in New York filed criminal usury charges against a man in Tennessee they accused of running a network of payday sites based in the West Indies.
Cane Bay wasn't involved in the New York case and had already arranged backup payment processors when Operation Choke Point started, according to three of the former employees.
Johnson and Chewning also were working on a deal with an American Indian tribe as a longer-term solution, the former employees said. They set up a new website, MaxLend.com, and a few months ago started redirecting borrowers there, two of the ex-employees said. Other than that, little changed, they said.
MaxLend lists the Mandan, Hidatsa & Arikara Nation of North Dakota as its owner. Richard Mayer, who runs the tribes' lending company, declined to comment.
"There's a lot of money out there looking for a place to go where they can earn a lot of money," said Mark Pinsky, president of the Opportunity Finance Network, which works with lenders that help the poor. "We have laws because there need to be limits on what people do."
Before it's here, it's on the Bloomberg Terminal.
LEARN MORE