Money Funds Urge Wary Fed to Accept Closer Embrace on Rate Floor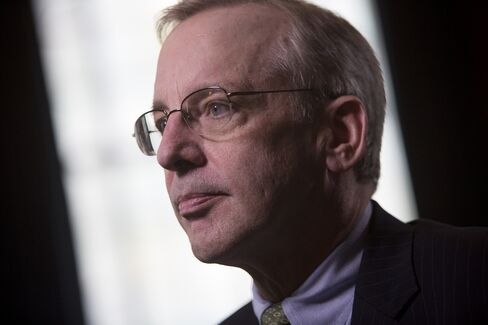 The people who help manage $2.6 trillion of money-market mutual funds have a message for the Federal Reserve: When the time comes to raise interest rates, you may have to rely on us more than you would like.
The managers are urging the Fed to be open to expanding a program intended to help nudge short-term rates higher by removing cash from the financial system through overnight transactions with money funds.
Some Fed officials, such as New York Fed President William C. Dudley, are concerned that depending too heavily on the program could increase instability in a financial crisis. The fund managers warn that the Fed risks undermining the program altogether if it sticks with current constraints on borrowing through the facility.
"They need to be flexible," David Sylvester, head of money-market funds at the investment unit of San Francisco-based Wells Fargo & Co., said in an interview. "They are in uncharted waters in trying to raise rates."
The program -- called the overnight reverse repurchase facility -- exists because the Fed will face an unprecedented situation when it eventually moves to tighten credit in response to a recovering economy, most likely sometime next year.
The Fed's usual means for doing so, raising its benchmark federal funds target rate to make it more expensive for banks to borrow from one another overnight, may not work this time.
Excess Reserves
That's because the central bank has spent the past six years quadrupling its balance sheet to more than $4 trillion in an effort to stimulate the economy, flooding the banking system with excess reserves.
As a result, banks have less need to borrow reserves from each other in the fed funds market, and consequently raising the fed funds rate -- which has been near zero since 2008 -- won't be effective in controlling short-term borrowing costs, market participants say.
"It doesn't seem there are enough participants in the fed funds market at this point to actually allow that to occur," said Deborah Cunningham, chief investment officer for global money markets at Pittsburgh-based Federated Investors Inc.
As a potential solution, the Fed under then-Chairman Ben S. Bernanke introduced the reverse repo program in 2010. Through it, the Fed borrows money, primarily from money-market funds, in one-day transactions and offers Treasuries as collateral.
Rate Floor
Because the Fed is an essentially risk-free counterparty, anyone else wishing to borrow in the overnight repo market must pay more than the Fed does to attract any cash. The Fed therefore sets the floor on short-term rates, if it's prepared to intervene in sufficient volume.
Since the Fed increased its reverse repo payout to 0.05 percent in February, rates paid by private borrowers have averaged more than 0.08 percent, according to the DTCC GCF Repo Index. That compares with an average yield of 0.02 percent for one-month Treasuries over the same period.
That intervention has helped money-fund managers keep their heads above water. The returns they earn investing in short-term debt have plunged so low they've been forced for years to waive some of the fees they normally charge customers in order to keep fund yields above zero. The largest U.S. funds have returned an average 0.02 percent since July 2013, compared with 5 percent in August 2007, according to the Crane 100 Index.
Fund managers have been pushing the Fed to lift the daily limit on borrowing from participating funds, currently $10 billion per fund, and lower the threshold for eligibility, now $10 billion in total assets, to let in smaller funds. They have also sought to have the program declared permanent.
Hard Sell
That's proved a hard sell. Since the collapse of the $62.5 billion Reserve Primary Fund in September 2008 and a subsequent run on institutional funds that helped freeze global credit markets, the Fed has considered the money-fund industry a threat to financial stability and repeatedly urged the Securities and Exchange Commission to enact stricter regulations governing it.
In a May 20 speech, Dudley voiced a more specific concern. He said removing the program's caps could prove dangerous in a crisis by encouraging runs away from assets like commercial paper in favor of doing business with the Fed, starving the financial system of liquidity. When minutes of the Federal Open Market Committee's April and July meetings were published, they showed members harbored broader doubts.
"Participants generally agreed that the overnight RRP facility should be only as large as needed for effective monetary policy implementation and should be phased out when it is no longer needed," the July minutes read.
Sharp Divisions
Comments from Fed governors reflect sharp divisions. St. Louis Fed President James Bullard said the Fed will probably use the program to borrow "several hundred billion" dollars from money funds, while Philadelphia Fed President Charles Plosser said "we may not need the reverse repo facility at all." They spoke in separate interviews on Aug. 22 during the Kansas City Fed's annual symposium in Jackson Hole, Wyoming.
The minutes and other comments revealed a continuing debate at the Fed over how deeply officials want to engage with non-bank counterparties, according to Alex Roever, head of U.S. interest-rate strategy at JPMorgan Chase & Co. in Chicago.
"The view within the FOMC is evolving," he said. "But if they want to keep a floor under those rates, they'll need to deal with those counterparties."
While the reverse repo facility is maintaining that floor with about 95 participating funds and their $10 billion caps, fund managers point out the tool hasn't been tested in a scenario where the Fed is seeking to increase interest rates. In addition, the overnight repo market is changing in ways that work against the Fed's goal to hold up rates.
Borrowers Scarcer
Private borrowers in the market are dwindling as banks reduce debt to comply with tighter capital requirements and liquidity rules under Basel III international banking standards.
"We think that continues through the end of this year and potentially gets worse," said Steven Meier, chief investment officer of global fixed income, currency and cash at State Street Corp.'s investment unit.
At the same time, Roever said, the amount of cash available to lend will probably be increased by recent rule changes for U.S. money-market funds. Designed to make the funds safer, the rules could push money into funds that do the most buying of Treasury-backed repos.
Fewer borrowers and more lenders means rates will fall and potentially require more borrowing by the Fed in the repo market to prevent rates from dropping through the Fed's floor.
Usage Increasing
Average daily use has gone from $73 billion in January to $137 billion in August, with a peak of $339 billion on June 30, according to data compiled by Bloomberg.
None of the managers interviewed for this story was certain the Fed would have to beef up reverse repos. Most said they hoped to hear after the next FOMC meeting Sept. 16-17 that officials will leave that possibility open.
"There has to be some give," Joseph Lynagh, head of money markets and short cash funds for Baltimore-based T. Rowe Price Group Inc., said in an interview. "You're in this max liquidity situation. How do you create lift on the extreme front end of rates without it?"
Before it's here, it's on the Bloomberg Terminal.
LEARN MORE