Cuomo Under Pressure to Pick Winners in Saturated Casino Market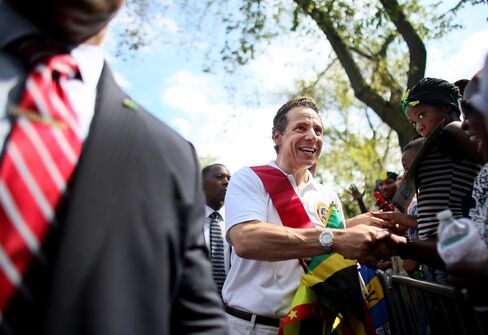 New York Governor Andrew Cuomo is playing a game of chance with his plan to buoy the upstate economy with four Las Vegas-style casinos.
If a board named by a Cuomo-controlled gaming commission picks the right bids from a pool of 16 that includes Genting Bhd. and Caesars Entertainment Corp., jobs and tax money that the 56-year-old Democrat promised may come through. Choose wrong, and the casinos could crash in a market that was fatal to four gambling halls in the resort of Atlantic City, New Jersey.
The siting panel, which the state's gambling chief said could award no licenses, will hear final pitches next week. It will then weigh Cuomo's stated hope that casinos can add $430 million to state and local coffers against the reality that there's little room for growth. Operators say they can overcome that as they try to set themselves apart.
"No doubt there is a saturation issue in the Northeast," said Stefan Friedman, a spokesman for Genting, which is proposing a $1.5 billion resort-casino in Tuxedo about 45 miles (72 kilometers) northwest of New York City. "What resorts like ours are trying to do is attract a new clientele."
Genting, the largest casino operator in Malaysia, would tap a database of Asian customers. Caesars would draw on its list of 45 million gamblers and celebrity chefs including Gordon Ramsay and Bobby Flay to get attention for an $880 million casino about 50 miles north of Manhattan, according to filings with the state. Mohegan Sun's $550 million casino about 90 miles northwest of the city would build on a local tourism association's efforts to attract the lesbian, gay, bisexual and transgender community to the Catskills.
Rejection Power
If those arguments don't sway the panel, there may be no new casinos in the third-most-populous state, Rob Williams, acting director of the New York State Gaming Commission, said in a telephone interview.
"The regional market is being viewed by the members," said Williams, speaking on behalf of the siting board. "If they determine that the demand is not there or the model is not appropriate, they have the ability to reject every application."
Recent events don't bode well:
-- One-third of the gambling halls in Atlantic City are going dark, putting more than 7,300 out of work and adding pressure on homeowners to make up the difference in taxes.
-- Garden State officials are considering expanding gambling in northern New Jersey, the closest option for New York City's 8.4 million residents.
-- New York's own video slot parlors outside the metro area are off to their worst start since 2011.
Pulling Back
Voters in neighboring Massachusetts will decide a referendum in November to overturn a 2011 law that allowed three casinos and a slots parlor. Like Cuomo and New York lawmakers, Massachusetts wanted to stem the tide of gamblers leaving the state and boost revenue slow to recover from the 18-month recession that ended in 2009. As the economy improves and the casino industry struggles, there's less cause to move forward.
"What surprises me about New York and Massachusetts is that they got into this game so late," said Gary Green, a casino consultant in Boca Raton, Florida, and a former executive for Donald Trump.
In June, Moody's Investors Service changed to negative from stable its outlook on the U.S. gambling industry. A month later, Fitch Ratings said revenue for casinos "will remain challenging," citing saturation in regional markets and the growth of Internet betting.
Fading Out
The casino cash haul in Atlantic City, the erstwhile East Coast gambling mecca, has fallen about 44 percent since 2006 as options expanded in Maryland and Pennsylvania. The $2.5 billion Revel Casino Hotel closed this week, the third Atlantic City gambling destination to shut this year after Caesar's Showboat on Aug. 31 and the Atlantic Club in January. Trump Plaza is set to close Sept. 16.
The pinch has been felt in Cuomo's state, too. The seven slot parlors, tied to horse tracks outside the New York City metropolitan area, collected almost $2.6 billion in the first four months of the fiscal year that started April 1, according to state records. That's the least since 2011 when they gathered less than $2.5 billion. In fiscal 2014, about $7.4 billion was gambled at those halls, down 1.3 percent from 2013.
"Given the rapidity of expansion of 'supply' in the casino entertainment space, it is unlikely that demand will expand commensurately," Las Vegas-based Caesars said in state filings.
The best chance for New York's new casinos to survive would be to pull back residents gambling in neighboring states, said Kahlil Philander, the director of research at the University of Nevada at Las Vegas's International Gaming Institute. The licenses would be distributed across three regions, one in the Catskills, the closest to New York City, another in the area around Albany and the third in the Southern Tier along the Pennsylvania border.
"New York is doing it the right way by taking a measured approach to put casinos in regions that will maximize the ability to recapture residents," Philander said.
Before it's here, it's on the Bloomberg Terminal.
LEARN MORE