BMW to Audi Splurge on Incentives Boosting U.S. Demand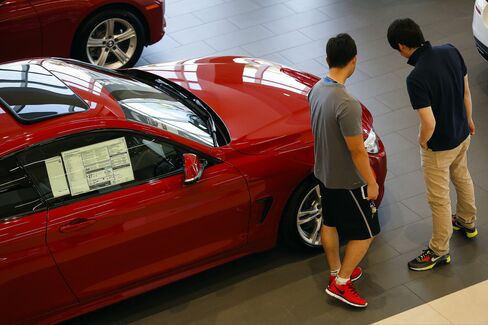 Sept. 4 (Bloomberg) -- Bayerische Motoren Werke AG, Volkswagen AG's Audi and Daimler AG's Mercedes-Benz were among a series of carmakers doling out discounts to U.S. auto buyers in August, helping drive sales to the best month in eight years.
BMW, the biggest spender among the three on a per-vehicle basis, boosted incentives by 45 percent from a year earlier, according to researcher Autodata Corp. Promotional spending surged 30 percent at Mercedes and 71 percent at Audi, pacing an 18 percent jump for the total industry, the Woodcliff Lake, New Jersey-based researcher said.
More aggressive incentive spending casts a shadow over an industry that is driving U.S. economic growth and entered the month having kept promotions in check. In the first seven months of the year, the industrywide average discount per vehicle had risen 5.5 percent. Bigger deals helped automakers report August sales that reached an annual pace of 17.5 million vehicles, the highest since January 2006.
"Between rising incentive spend, higher subprime lending, and longer loan terms, there is certainly cause for concern and reason to think the massive growth should eventually slow down," Akshay Anand, an analyst at Irvine, California-based auto market researcher Kelley Blue Book, wrote in an e-mail.
Several full-line automakers joined luxury brands in boosting discount offers. Incentive spending climbed 43 percent at Nissan Motor Co., 24 percent at Chrysler Group LLC and 23 percent at Ford Motor Co., Autodata said.
The average cost of incentives per vehicle varies widely by brands, with sellers of higher-priced models such as luxury cars or full-size pickups tending to spend more to boost deliveries. Spending by vehicle averaged $4,912 at BMW last month, followed by $4,189 for Mercedes and $3,236 for Audi.
Chrysler was the biggest discounter among full-line carmakers last month, with average spending of $3,856 per vehicle, followed by $3,595 at Ford and $3,587 at General Motors Co.
"Incentive spending changes reflect consumer demand shifting to higher-MSRP, higher-profit vehicle segments, which is a net positive for most full-line automakers," said John Krafcik, president of auto-buying website TrueCar Inc.
To contact the reporter on this story: Craig Trudell in Tokyo at ctrudell1@bloomberg.net
To contact the editors responsible for this story: Young-Sam Cho at ycho2@bloomberg.net Frank Longid, Brendan Scott