Billionaire Klesch Seeks to Buy More European Oil Refineries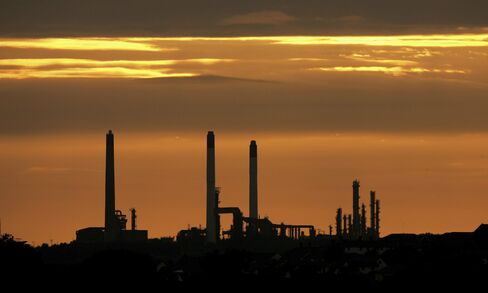 Gary Klesch, the billionaire who's buying an oil refinery in Wales, said he plans to purchase five or six more in Europe.
The owner of Klesch Group is considering investments over the next two years in England, Germany, Italy, France and central Europe, he said in an interview in London yesterday. His Geneva-based company agreed to buy the Milford Haven refinery from Murphy Oil Co. at the end of July, a transaction scheduled to close next month. The plant is the U.K.'s smallest, handling 135,000 barrels a day.
Klesch is betting some plants can be profitable by processing a higher proportion of fuels for domestic markets. He said when the Milford Haven deal was announced that his first step would be to increase diesel output. Companies including Eni SpA and Total SA say they are anticipating closing plants because of overcapacity. Sixteen refineries representing about 16 percent of the region's processing shuttered in the past six years, according to the International Energy Agency.
"There is a natural tendency to conclude there is an oversupply from a refining perspective in Europe, but that needs to be challenged," Klesch said. "It's clear majors want to reduce their exposure to refining. We are in discussion with all of them."
Klesch Group was started in 1990 and has units producing and trading oils, metals and chemicals. The company employs more than 2,000 people in 17 countries. It will also announce transactions in the European metals industry within the next two months, he said, declining to elaborate.
European Slump
Klesch said he favors buying oil refineries where there's union backing and the plants can start processing crude soon after a transaction is completed. Milford Haven stopped in May and he hopes to have it producing fuels within weeks of the deal being finalized, he said in July.
Consumption of oil in the European Union has fallen every year since 2006 amid slowing economic growth, according to data from BP Plc. It will slide again this year, according to Wood Mackenzie, a consultant.
Surging imports mean refiners in Europe are facing their least profitable year since 2011, which prompted Petroplus Holdings AG, the largest independent refiner at the time, to file for bankruptcy, according to Wood Mackenzie. While the most sophisticated refineries continue to make a profit, an increasing amount of European refineries are struggling with weak margins with at least half of them losing money last year, according to the consultants.
European Glut
"There is a glut of refining capacity in Europe due to weak demand growth and cheaper supplies of oil products available elsewhere such as the U.S. and Saudi Arabia," Jonathan Leitch, a London-based senior analyst at Wood Mackenzie, said by phone yesterday. "We've seen a decline in demand for products and that is going to continue. More refineries in Europe will have to close."
Total, Europe's biggest refiner, plans to adapt its refining capacity in France to cope with a drop in fuel demand, the company's chief executive officer, Christophe de Margerie, said Aug. 28. Eni, Italy's largest oil company, began negotiations in July to shut as much as half of its refining capacity.
Vast Chasm
Exxon Mobil Corp., the world's largest energy company by market value, announced in July that it will invest $1 billion to increase diesel production at its Antwerp refinery in Belgium. The company already spent $2 billion on expansions at the plant in the past decade as it seeks to maximize distillate output at the expense of loss-making products such as fuel oil.
While oil majors are viewing refining as a less profitable sector when compared with their upstream assets, Klesch believes the sector is still profitable if each plant is viewed in isolation.
"There is a vast chasm in how we look at a refinery versus a major," Klesch said. "I am looking at the individual refinery and how it can be optimized and that's it. I am not looking at it as part of a portfolio of refineries."