At Lego, Everything Is Awesome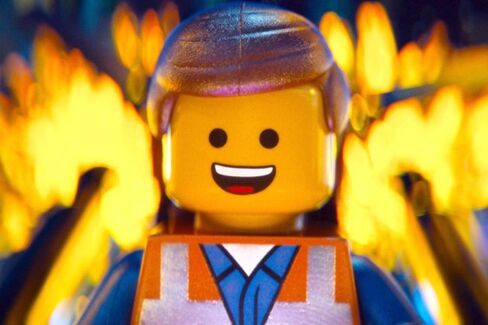 Lego's little plastic blocks and boxy-headed figurines are taking over the toy world.
In the first half of the year, the privately-held Danish company passed Mattel in total sales, large part because of the surprise success of its namesake feature film, which garnered $468 million in box office revenue around the world and, more importantly for Lego, inspired thousands of kids to whine for the products on display. Lego shot past Hasbro in sales last year.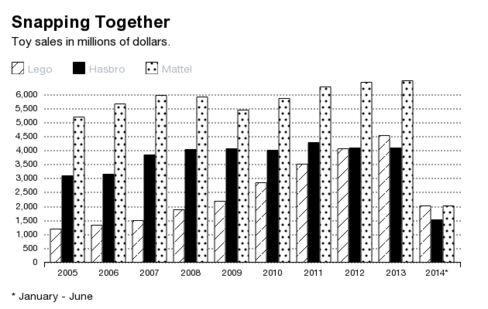 Part of the shift in the toy game comes from trouble in traditional U.S. brands. Sales of Mattel's Barbie line have been slumping for two years. And though Hasbro is seeing a resurgence in its Transformers and My Pretty Ponies, its board-game business has been dismal of late.
Lego taking the sales crown is certainly a big deal, but the company trumped its American rivals in profit three years ago. With essentially one product and a bunch of new manufacturing facilities all over the world, Lego has built one of the most solid corporate models in the toy business—or any business for that matter. Its profit margin has been more than 20 percent in each of the last four years and was almost 24 percent in the first half of 2014.
In that same period, Hasbro's profit margin has fallen from 9 percent to 4 percent, while Mattel's margin dropped from 10 percent to barely breaking even.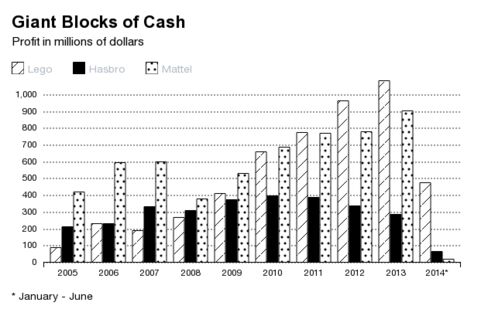 The other advantage for Lego is that there aren't a lot of competing products. When a little girl wants a doll, there are a slew of options; not so in the building-block space. And the switching costs for a six-year-old with a big chest of Legos are massive. All that adds up to pricing power.
Killjoys say 3D printing will crush the Lego model. It will no doubt present a challenge. But Lego has its own 3D printing patent. Meanwhile, a sequel to The Lego Movie is slated for 2017. The theme song is easy to imagine: "Everything is still awesome!"
Before it's here, it's on the Bloomberg Terminal.
LEARN MORE