Putin Offers Ukraine Peace Plan After Truce Talks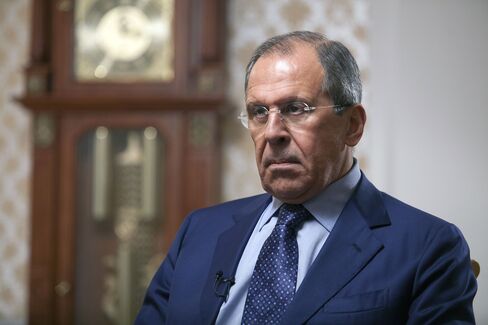 Russian President Vladimir Putin outlined a peace plan for Ukraine after agreeing with his Ukrainian counterpart Petro Poroshenko on steps toward a cease-fire in the conflict that has raged for more than five months.
Putin called for an end to the rebels' offensive in the country's easternmost regions and urged the withdrawal of the Ukrainian military from residential areas as part of a seven-point proposal he presented today in Ulaanbaatar, Mongolia. A final agreement may be reached at a Sept. 5 meeting, he said. Putin and Poroshenko agreed on a "cease-fire regime" and the steps toward peace, the Ukrainian president said.
A lasting truce would be the biggest breakthrough yet in the conflict that the United Nations estimates has cost at least 2,600 lives. Ukraine, the U.S. and Europe accuse Putin of backing pro-Russian rebels with troops and equipment. Russia, which faces further sanctions as early as this week over the unrest, has repeatedly denied involvement. Even amid talk of a truce, the fighting in eastern Ukraine simmered, with government forces bracing to defend the port city of Mariupol.
"The lack of clear chains of command on both sides and the likely popular backlash in Kiev mean that any kind of agreement could easily fail even before it is supposed to come into effect," Otilia Dhand, an analyst at Teneo Intelligence in London, said by e-mail.
Ruble Rebounds
Emerging-market stocks rallied, the ruble rebounded and oil prices jumped. The MSCI Emerging Market Index advanced 1.2 percent to its highest level in three years. Russia's currency strengthened 1.7 percent against the dollar, the most since April, and oil rose 1.7 percent. The Micex stock index jumped 3.5 percent in Moscow, its biggest gain in three months. The Ukrainian Equities Index climbed 1 percent and Ukraine's 2017 Eurobond rose for the first time in 11 days, pushing the yield 91 basis points lower to 12.637 percent.
While conciliatory statements from Russia haven't led to de-escalation in the past and previous cease-fires failed to hold, this is Poroshenko's most definitive statement yet on progress in finding a solution to the conflict.
U.S. President Barack Obama, in Estonia today to reassure eastern European NATO members of their security before heading to the alliance's summit in the U.K., expressed skepticism over the announcement.
Follow-up Needed
"We haven't seen a lot of follow-up on so-called announced cease-fires," Obama told reporters in the Estonian capital, Tallinn. If Russia "is serious about a political settlement, that is something we are hopeful for. I'll leave it up to others to interpret Mr. Putin's psychology on this."
Putin said his plan includes an end to the military offensive in the Donetsk and Luhansk regions by all sides. He also called for "full-fledged" international oversight over the truce. He also urged an end to the use of warplanes against civilians and settlements in the conflict zone, proposed prisoner swaps without conditions and called for humanitarian corridors.
The plan is a proposal for initial steps in the peace process and isn't exhaustive, said Dmitry Peskov, Putin's spokesman, according to the Interfax news service. It doesn't cover broader issues beyond ending the bloodshed and providing humanitarian aid, while "everything else is a matter for further negotiations," Peskov said when asked about the status of Ukraine's battle-torn regions, Interfax reported.
Minsk Talks
Representatives of Ukraine, Russia, the rebels and the Organization for Security and Cooperation in Europe will meet to discuss the plan Sept. 5 in Minsk, Belarus.
Poroshenko said in a statement that he is hopeful that the peace process will begin at the Minsk negotiations. Ukraine is seeking to end "constant violations of agreements, shooting of captured people and civilians, the destruction of schools and infrastructure," he said.
If the government declares a unilateral cease-fire, the separatists "will be obliged to do the same," said Andrei Purgin, a rebel leader, according to the Interfax news service.
A cease-fire mutually declared by the members of the so-called contact group would allow Russia to avoid further sanctions, according to a German government official who asked not to be named discussing internal policy matters.
'Window Dressing'
Ukrainian Prime Minister Arseniy Yatsenyuk dismissed Putin's peace plan as "window dressing for the international community ahead of the NATO summit" and a ploy to duck the sanctions. Putin's "true plan is to ruin Ukraine and restore the Soviet Union," Yatsenyuk said in an e-mailed statement.
EU diplomats today discussed proposals by the European Commission, the bloc's executive, to impose a second round of economic penalties, possibly by the end of the week. France suspended the delivery of the first of two Mistral warships, saying that Russia's actions in eastern Ukraine go against the interests of European security.
The considerations "regard access to capital markets, defense, dual-use goods, and sensitive technologies," the commission, the EU's executive arm, said in an e-mailed statement in Brussels today. "It is now for member states to discuss and assess the commission's proposals."
Peskov denied Poroshenko's earlier assertion that the leaders agreed on a permanent cease-fire, saying Russia can't reach such an accord as it's not a party to the conflict. The Ukrainian president's office deleted the word "constant" from its statement.
Fighting Continues
Meanwhile, fighting intensified in eastern Ukraine, with government troops killing 200 rebels in the past 24 hours, military spokesman Andriy Lysenko told reporters in Kiev today. Insurgents were stealing coal and destroying gas pipelines in actions that Ukrainian authorities said were aimed at curbing energy flows to the EU.
Fighting continued near a border crossing between Russia and Ukraine, with the flow of young people in military gear over the frontier in either direction increasing in the past week, the OSCE said in a weekly report on its observer mission in the region.
Ukraine was preparing to defend Mariupol from rebel attack from land and sea and has sent more troops and equipment there, Defense Minister Valeriy Geletey said today on Facebook.