PVH Rises After Second-Quarter Profit Tops Estimates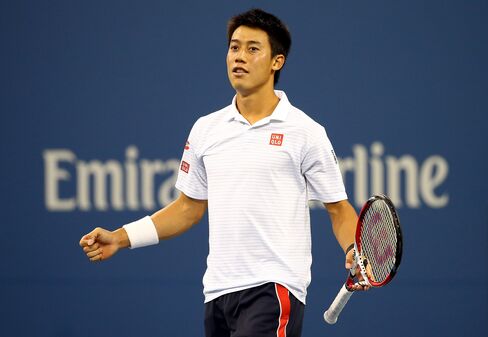 Novak Djokovic advanced to the semifinals of the U.S. Open for the eighth straight year with a four-set win against Andy Murray in a clash of former champions.
Djokovic, the top seed from Serbia, needed 3 hours, 32 minutes to fight past the eighth-seeded Briton 7-6 (7-1), 6-7 (1-7), 6-2, 6-4 in a match that ended at 1:17 a.m. today at the National Tennis Center in New York. Kei Nishikori of Japan also advanced to the semifinals with a five-set upset of third-seeded Stan Wawrinka, while Serena Williams and Ekaterina Makarova completed the final four in the women's draw.
Djokovic improved to 13-8 against Murray and avenged his five-set loss in the 2012 U.S. Open final, the only previous time the two met at the season's last Grand Slam tournament. Djokovic, the 2011 champion, joins Roger Federer and Ivan Lendl with eight straight semifinal appearances at the U.S. Open, tied behind the record 12 in a row by Jimmy Connors.
"That was a very physical battle; the first two sets took more than two hours," Djokovic said in a televised on-court interview. "The last five times we played each other, we went over three or four hours, so I didn't expect anything less. I'm very glad to get through to another semifinal."
The other two spots in the men's semis will be filled today as five-time champion Roger Federer, the second seed from Switzerland, is scheduled to face No. 20 Gael Monfils of France. The other quarterfinal pits No. 6 Tomas Berdych of the Czech Republic against No. 14 Marin Cilic of Croatia.
Final Sets
Djokovic and Murray, both 27, split the opening two sets in lopsided tiebreakers last night at Arthur Ashe Stadium. Djokovic then had two service breaks in winning the third set against Murray, who had spent about 3 1/2 more hours on the courts than Djokovic through the first four rounds.
In the final set, Murray appeared to show signs of discomfort in his surgically repaired back, moving slower, stretching and applying a heating pad at one point. Djokovic broke Murray's serve in the final game to win the match.
"I got stiff in my hips and my back towards the end of the third set," Murray said at a news conference. "It was just fatigue I think and I stiffened up towards the end."
With the win, Djokovic improved to 50-8 at the U.S. Open, becoming the seventh player in the Open era with at least 50 match victories. He'll next face 10th-seeded Nishikori, who is the first Japanese man to reach the semifinals at the tournament since Ichiya Kumagae in 1918, when it was known as the U.S. Championships.
Nishikori, 24, pulled out a 3-6, 7-5, 7-6 (9-7), 6-7 (5-7), 6-4 win against Wawrinka with a break of serve in the final game of his four-hour, 15-minute match. He's the first Japanese player in the semifinals at one of the sport's four Grand Slam events since Jiro Satoh at Wimbledon in 1933.
Favorite Slam
"I feel amazing," Nishikori said in a televised on-court interview. "I'm especially playing well and this is my favorite Grand Slam. I have good memories here, so very happy to be here first time semis."
Nishikori's victory came less than 48 hours after he won a five-set match against No. 5 Milos Raonic of Canada that ended at 2:26 a.m., tying a U.S. Open record for latest match.
Nishikori's match yesterday against Wawrinka also went five sets, as the 2014 Australian Open champion took the fourth set in a tiebreaker to force a decider. In the final set, the players were on serve until the final game, when Wawrinka -- trailing 4-5 -- fell behind 15-40 and staved off one match point before hitting a forehand into the net to end it. Nishikori clenched his fists in celebration as one of his coaches, former French Open winner Michael Chang, applauded the historic victory in a nearby box.
"I started a little tight, but I got more and more confidence," Nishikori said.
Williams Wins
Williams, the women's top seed and two-time defending champion, beat No. 11 Flavia Pennetta of Italy 6-3, 6-2 to reach her first Grand Slam semifinal this year.
Williams trailed 3-0 in the first set on Ashe before recovering to win the next six games. She then broke Pennetta's serve in the fifth game of the second set en route to the victory in one hour, three minutes. Williams improved to 6-0 against Pennetta, whose semifinal appearance at last year's U.S. Open is her best showing in a major.
"She was playing really well and she was playing very aggressive," Williams said after her 19th straight U.S. Open win. "So I had to just step up my level, as well."
Williams has yet to lose a set in this year's tournament and next faces Makarova, the No. 17 seed from Russia, for a spot in the final. After losing her four previous trips to a Grand Slam quarterfinal, Makarova beat 16th-seeded Victoria Azarenka of Belarus 6-4, 6-2.
"Today definitely was a different feeling, and I really believed to myself that I'm ready to go forward and to be in the semis," Makarova, 26, said at a news conference.
Unseeded Peng Shuai of China and No. 10 seed Caroline Wozniacki of Denmark will play in the other women's semifinal. Those matches are scheduled for tomorrow.
Before it's here, it's on the Bloomberg Terminal.
LEARN MORE