Khan Shows Willing to Resume Talks Amid Pakistan Standoff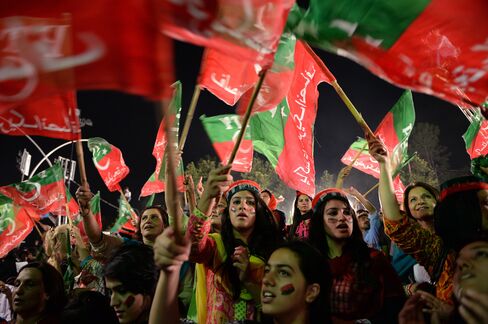 A top aide of Pakistani opposition leader Imran Khan signaled willingness to resume talks with lawmakers that had broken down last week when anti-government protests turned deadly.
"I have no dispute that this democracy, constitution and parliament should be strengthened," Shah Mahmood Qureshi said yesterday, amid heckling from the ruling party at a special session of parliament in Islamabad. "We're ready for negotiations."
Discussions resumed late yesterday for the first time since three people were killed and more than 500 were injured when demonstrators moved toward Prime Minister Nawaz Sharif's residence on the night of Aug. 30, prompting police to respond with tear gas and rubber bullets.
Khan's Tehreek-e-Insaf party will meet with the goverment's negotiating team today, Arif Alvi, a leader with the party, said in a telephone interview after the talks. A government delegation met representatives of Tahir-ul-Qadri's Pakistan Awami Tehreek party last night and early today, television channels showed. Both sides agreed to continue talks.
The military has asked politicians to end the crisis, which risks stalling an economic overhaul that's necessary to fulfill conditions under an International Monetary Fund loan.
"If the current protests can be brought under control, then the Sharif government may be able to return to pressing economic matters and re-establish its credentials," said Paul Kenny, a research fellow at the Australian National University. "The longer the instability lasts, the more problematic Sharif's presence becomes. The longer the military sits on the sidelines, the more likely it becomes that the government will fall."
Weakened Rupee
Protestors led by Khan and cleric Tahir-ul-Qadri allege that elections held in 2013 were rigged and have demand Sharif's resignation. Sharif plans to improve Pakistan's finances through a privatization drive and power subsidy cuts, while broadening the tax base.
The KSE100 stock index rose to a one-month high yesterday on optimism the standoff will ease. The turmoil fueled an almost 6 percent fall in the gauge in August, the biggest monthly drop in three years. The Pakistan rupee has weakened about 3 percent against the dollar during the protests, which began in mid-August.
The political standoff also threatens to distract the military from its fight against Taliban insurgents near the Afghan border. The operation to clear terrorist strongholds in the area is progressing as planned, the armed forces' media unit said in a statement yesterday.
The army isn't backing Khan or Qadri and supports democracy, its press office said Sept. 1 in a text message. The military has ruled the nation for more than half its history and previously ousted Sharif in a coup in 1999.
"An outright coup remains highly unlikely" this time, Omar Hamid, an analyst at IHS Country Risk in London, wrote in a research report yesterday. "There is little public or military appetite for the army to take over direct responsibility for the country's precarious economy and persistent power shortages."