How $300 Check Turns Into Millions for Peso Bondholders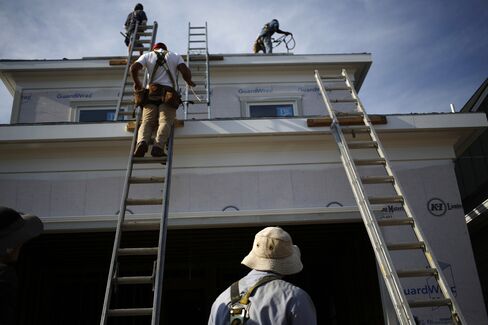 Esteban Prado, a math professor in Mexico City, was surprised when he received a check for $300 in July from a cousin who's a construction worker in Texas.
"I wasn't expecting it," Prado, 46, said in an interview yesterday. "He's doing better than he was last year."
The money Prado received was part of $1.9 billion in remittances in July, when Mexicans living abroad boosted the amount they sent back home by 8.4 percent, the biggest increase since March, the central bank said Sept. 1.
Prado isn't the only one benefiting from the pickup, which is being driven by an increase in U.S. construction and agriculture jobs. The jump is also promising to bolster returns for holders of Mexico's peso-denominated bonds, Corp. Actinver SAB and Deutsche Bank AG said. The notes returned 1.1 percent in dollar terms in the past month, aided by the second-biggest currency gain in Latin America, according to Bank of America Corp. That compares with a 0.2 percent fall for emerging markets.
"Remittances are an important factor, since they are a constant flow of dollars into Mexico, and the peso will behave with a certain appreciation due to those flows," Araceli Espinosa, the head of fixed-income research at Corp. Actinver, said by telephone from Mexico City.
The peso has gained 0.7 percent in the past month, the most in the region after the Brazilian real, data compiled by Bloomberg show. Mexico's currency climbed 0.2 percent to 13.0832 per dollar as of 1:06 p.m. in New York.
'Even More'
In 2012, 98 percent of remittances to Mexico came from the U.S., according to the Pew Research Center.
An increased number of transactions point to a trend of improving conditions in U.S. labor markets, Alexis Milo, the chief economist at Deutsche Bank, said in a Sept. 1 report.
Spending on construction projects in the U.S. increased 1.8 percent in July, the most since May 2012, according to the country's census bureau. A report Sept. 5 will show the U.S. added more than 200,000 jobs for a seventh month, based on a Bloomberg survey of analysts.
"We expect remittances to strengthen even more in the coming months," Milo said by phone from Mexico City. "In this case, if the peso has a better performance than other emerging economies, all peso-denominated debt would perform better."
Pimco 'Overweight'
Firms like Pacific Investment Management Co. have loaded up on Mexico debt after its deputy chief investment officer, Scott Mather, said the fund was "overweight" Mexico, citing "improving fundamentals" and prospects of increased investment after laws were signed last month that will open the nation's state-controlled oil industry.
Prado, who teaches at the local Universidad Autonoma Metropolitana and hasn't seen his cousin in seven years, said he wanted to save the money he received but had to use it to pay his monthly bills.
"These payments are usually a type of support from family to family," he said. "It was a relief."