Gnome Maker's Slump Shows China Export Threat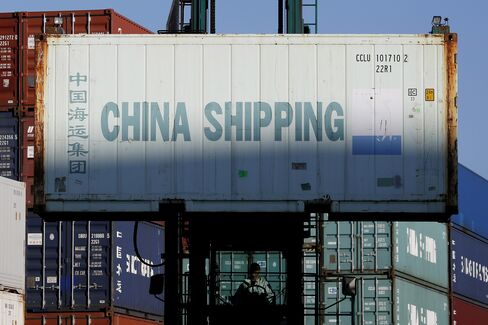 Yu Guoying is struggling to halt a plunge in developing-market sales of her grinning garden gnomes.
"I feel a bit lost," said Yu, co-owner of Bo Lun Resin Craft Products, based in China's southeastern Fujian province. Her company, which exports mostly to Russia, Turkey and South Korea, saw profits fall to less than 4 million yuan ($650,000) last year from 10 million yuan in 2008.
Her plight is mirrored in factories across China as sales growth to developing nations, which surged to help offset tepid demand from advanced economies since 2009, now wanes. Expansion in shipments to other emerging countries moderated to 9.7 percent last year, less than a third of the 2010 pace, eroding one of the economy's strongest pillars as the property market falls and the central bank seeks to rein in debt.
"Chinese exports to other emerging markets have lost their pizazz," said George Magnus, a senior independent economic adviser to UBS AG in London. "The fact that the emerging-markets growth story has become more pedestrian will be a large, enduring factor."
Gauges of the small and medium-sized manufacturers that dominate shipments of cheap goods signaled contraction in August while large enterprises continued to expand, the government's Purchasing Managers' Index showed this week. Exports in August rose 10 percent from a year earlier, according to the median estimate of 27 economists ahead of data due Sept. 8.
After rising 71 percent in 2010 and 18 percent in 2011, China's export growth to Russia plunged to about 3 percent in 2013, according to International Monetary Fund data compiled by Bloomberg. Growth in shipments bound for Turkey slowed to 16 percent last year, from about 36 percent three years earlier.
Emerging Slowdown
Higher interest rates and other policies designed to curb external deficits are behind the slowing growth in demand for imports in many developing nations, Magnus said.
Average economic growth in those nations is estimated to moderate to 5 percent over the next five years from about 7 percent from 2003 to 2008, the IMF said in a statement accompanying a July report.
"Emerging-market economies are slowing in a synchronized and protracted manner," the IMF said. "This trend carries sizable spillovers to the rest of the world through trade and finance."
The deceleration presents another challenge to the government's economic expansion target of about 7.5 percent this year. Total export growth averaged 10.3 percent annually in the five years since the global financial crisis, tumbling from an average 26.8 percent in the 2004-2008 period.
Property Plunge
The moderation in external demand comes as internal risks escalate. Home sales fell 10.5 percent in the first seven months of the year from the same period in 2013, while new residential construction dropped 16.4 percent, according to the National Bureau of Statistics.
The nation's broadest measure of new credit plunged in July to the lowest since the global financial crisis.
Rising wages and business costs that include compliance with environmental regulations are squeezing manufacturers' margins, said Shaun Rein, author of "The End of Cheap China: Economic and Cultural Trends That Will Disrupt the World."
China's unit-labor costs, a measure of expenses based on compensation and productivity, have climbed 150 percent since 2000 and 70 percent since 2007 in dollar terms, UBS AG economists Bhanu Baweja and Andrew Cates wrote in a March report.
Shipments Share
Even as export growth to developing economies moderates, China's slice of shipments to those nations is holding firm. Chinese goods increased their share of emerging-market imports by 0.5 percentage point last year to 10.3 percent, said Mark Williams, a former U.K. Treasury adviser on China who's now chief Asia economist at Capital Economics Ltd. in London.
The slowdown in growth, along with rising wages, means manufacturers still face a three-to-five-year adjustment that will cause "serious pain" and "economic dislocation" in manufacturing provinces including Zhejiang and Guangdong, said Rein, managing director of China Market Research Group in Shanghai.
Yu has laid off 100 workers in the past two to three years, leaving 200 now as her entire industry "sits on a downward slope," she said. "I don't know what the future holds."
— With assistance by Kevin Hamlin
Before it's here, it's on the Bloomberg Terminal.
LEARN MORE