Citigroup Deal Just an Appetizer as BB&T Expands in Texas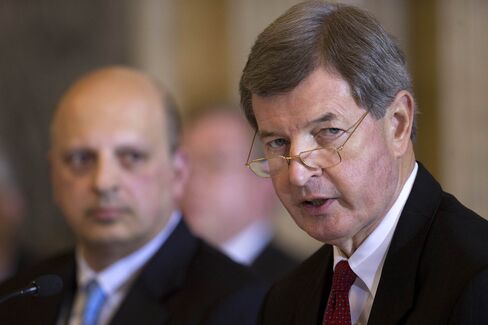 BB&T Corp., the regional bank that bought 62 Texas branches from Citigroup Inc., is seeking to make more acquisitions in the state, Chief Executive Officer Kelly King said.
"We are talking to our friends in Texas and if the time is right when one is interested in combining with us, and it's a reasonable price, we'd be interested," King, 65, said today in a phone interview. "But no one should assume we won't achieve our goals without a whole bank acquisition -- between organic growth and non-whole bank acquisitions, we can accomplish our goals."
Regional lenders including BB&T, U.S. Bancorp and Huntington Bancshares Inc. are scooping up pieces of rivals as some of the industry's largest lenders including Citigroup and Bank of America Corp. exit regions and lines of business. Citigroup is selling its Texas branches as CEO Michael Corbat narrows the New York-based firm's focus to businesses with higher growth potential.
"All of the banks today are rethinking their strategies given the new world of banking we are in with new capital requirements, new liquidity requirements and huge changes in complexity of regulation," King said. "Banks are concluding today that they will probably only end up doing things they are big in and can do really well."
BB&T agreed to buy 41 retail branches from Citigroup in locations including Dallas and Houston for a 5.3 percent premium to book value on about $2.3 billion in deposits as it seeks to expand in the nation's second-most populous state, the Winston-Salem, North Carolina-based bank said today in a statement. In December, the lender said it would purchase 21 Citigroup retail locations in San Antonio and Austin, among other Texas cities.
'Rethinking' Strategies
BB&T, which pushed into Texas in 2009 by purchasing the failed Colonial Bank, will have about 123 branches and $5.3 billion of deposits in the state after the acquisition announced today is completed, the firm said in the statement.
"I certainly expect within the next five to 10 years we'll be a $15 billion institution in the great state of Texas," King said. "If we are fortunate to combine with other Texas operations, it will be faster. We'll be methodically trying to pursue both of these options."
Feeding on castoffs has allowed smaller lenders to sidestep pitfalls of acquiring whole firms including regulatory holdups and crisis-era liabilities. A regulatory review has held up M&T Bank Corp.'s merger with Hudson City Bancorp Inc., the biggest pending U.S. bank merger, for two years.
BB&T fell 0.2 percent to $37.46 at 11:50 a.m. in New York. The shares have increased 0.5 percent this year, trailing the 3.6 percent advance of the 24-company KBW Bank Index.
BB&T will supplement the retail branches with commercial lending in some cases, while adding mortgage, wealth management and other services, King said.
Before it's here, it's on the Bloomberg Terminal.
LEARN MORE